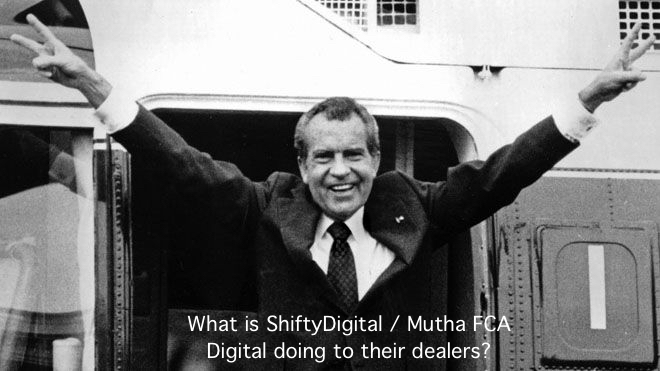 Just what is ShiftyDigital / Mutha FCA Digital doing to their dealers? If you don't already know, you're about to find out!
I am going to preface this article by strongly encouraging Chrysler Dealers to take a few minutes to read and familiarize themselves with 
Brian Pasch's recent expose
prior to reading this.
I can easily pin the origins of my distrust of Chrysler to around 2 years ago. The Dealer group I was working for at the time had just received a report from Chrysler, showing that our internet closing ratio had dipped over a 3 month span for reasons that seemed to be unexplainable – even to Chrysler.
The best course of action would be to create a handful of email addresses and submit bogus leads (primarily through our own website) to determine any issues. Within minutes we found a potential issue, the Chrysler Concierge service.
For those unfamiliar with Chrysler's Concierge program, it's essentially a third party company employed by Chrysler to follow up with CDJR dealers' internet leads.
The first thing they typically ask is cc"did ______ Chrysler, Dodge, Jeep, Ram store contact you?"
Sure, it's a great question, however I feel it is better asked after the internet lead is passed along to the dealer's CRM so they can respond. This was not happening at our dealership. Too often we were not receiving leads from our own website because Chrysler was getting them before we were and responding to them before we even knew they existed.
After learning about this program, I responded in the only logical way I could, I opted right the eff out! Here are 5 Tips for Chrysler dealers for a smoother opt-out process.
TIP #1 – Opt-out of the Chrysler Concierge program

All it takes is a few minutes and a phone call. My Second negative "run in" with Chrysler Digital occurred the following year when I repeatedly needed to call Dealer.com and Chrysler Digital and beg them to stop putting OEM sponsored incentives (homepage graphics) on our website which were showing offers much less enticing than the ones we were producing in-house.
In addition to our website slides being de-prioritized so Chrysler could show less enticing offers first they also added expiration dates to all of our slides. Which many times went unnoticed until we couldn't locate our Wrangler slide mid-month. I can't begin to explain how frustrating this was. The good news, YOU CAN KILL THIS TOO!
TIP #2 Opt-Out of the Chrysler Website Updates

Again, it's only a phone call away. At this point I had grown very apprehensive of any Chrysler Digital efforts and began to research what other "things" Chrysler Digital/Shift Digital was up to.
Chrysler Digital goes to great lengths to disguise the origin of leads generated by YOUR OWN WEBSITE. For example: if you have added Kelley Blue Book/ KBB Trade Driver via Dealer.com Upgrade Center, you will have a hard time distinguishing which leads originated on your Website's KBB trade in page verses leads generated by third parties that aren't iframed on your site. Almost every lead source Chrysler has anything to do with will come in as "Chrysler Digital" lead.
Hint: Most CRMs will work with you to further decode your lead sources so you can better understand their origins. But here is an even better and foolproof idea – Buy your Retailing and Conversion optimization tools direct instead of going through the Upgrade Center or FCA.
Going direct will likely cost you a bit more but in my opinion it's worth it. KBB costs $199/mo direct vs. $149/mo subsidized through the Upgrade Center. Use Dealer.com's Digital Retailing Suite vs Chrysler Capital forms, Opt for CarChat 24 over Gubagoo.
Using any of Chrysler's preferred providers, agencies, or recommended software/technology is a guarantee that you'll be receiving all of your reports and leads second hand. Sharing is not caring in this situation, and given PCG's recent discovery that Chrysler will not link your analytics, I recommend being as opaque as they are. If they won't be transparent, neither should you.
TIP #3 – Buy Direct vs FCA or Upgrade Center or work with companies not on the preferred provider list

Be VERY mindful of what tools, technologies, and products you place on your Chrysler Big Brothered website.
If you read the Shift Digital/ FCA Digital end user agreement, you'll see they reserve the right to take, build, reverse-engineer, distribute, claim as their own, and resell (ROYALTY FREE) anything put on your website. Including technology and products that you built yourself.
I know what you're thinking… WHAT THE F*CK?!
TIP #4 – DUMP OEM DDC Program in favor of Retail Website

Dealer's looking to explore this option, I invite to contact me so I can explain the best way to do this. I can't publish it here. It's not easy for the faint of heart or those easily startled by prices that are not exactly rock bottom.
Hint: You do not need to leave Dealer.com in order to reap the benefits of telling Chrysler to go pound sand. DDC is a fine website choice when they aren't inhibited by OEM BS.
Take an active role in your dealerships marketing. Your lack of marketing intensity, your back seat role, and your over-reliance on OEM hand-me-downs have created two very dangerous situations.
The creation and adoption of FCA Digital/ Chrysler Digital
Highly progressive individuals and dealers who are eating your lunch, and you don't even know it.
TIP #5 – Get In The Game Or Take a Permanent Seat on the Bench
Either develop an in-house team with skin in the game to oversee your marketing or sit back and bask in opaque mediocrity. The Choice is Yours.
Have you been following this whole ordeal with Chrysler and Shift Digital?
What do you think… are we (dealers) over-reacting or is this something to be truly concerned about?