If there is one thing that remain constant throughout the automotive industry today, it is that change is inevitable. Change will never cease to come along and disrupt the way we sell cars and service customers. If we aren't willing and prepared to adapt our thinking, our strategy, and our tactics then we might as well as fold up our chairs and step aside to make way for those that are.
Much like with the game of baseball, dealerships and OEMs must continue to introduce new rules into their playbook due to the inescapable realities of change and evolution, especially when it comes to their digital marketing strategies.
There are three myths that dealers must consider right now when it comes to their automotive digital marketing strategy.
Combined they speak to common misunderstandings about the way consumers behave online and how should approach them digitally:
Myth #1: "It's all about driving traffic to your website."
Myth #2: "Most consumers click on search and display ads."
Myth #3: "If you do paid search right, you won't waste ad dollars."
Because of these misconceptions, SEM costs are on the rise. In February 2016, Google removed paid ads on the right side of SERPs – leaving less ad real estate and of course, more competition amongst dealerships.
The result of this change? Industry-wide panic followed by increases in cost per click (CPC). Based upon the laws of supply and demand, as well as the history itself of search engine marketing (SEM), these increases will undoubtedly continue to rise.
Contrary to the market's alarmed reaction to this change, the fact that paid search ad costs are surging is nothing new to search marketers. A few years ago, AdGooroo performed a study examining the rise in CPCs from 2012 to 2014 across nine different industries. Automotive had an 83% increase in CPC – the second highest out of all nine categories.
Dealers unaware of these changes and making adjustments to their strategies are willingly throwing money in the garbage.
This eBook from AutoHook provides automotive marketers with four vital rules that will give you the adaptation skills you need to prepare for the imminent digital disturbances of the future:
RULE #1: Constantly Reevaluate Your Game Plan
RULE #2: Seek Out Change Before You Strike Out
RULE #3: Never Settle for Mediocre Players
RULE #4: Deliver a Grand Slam Ballpark Experience
Adapt or Die and download your free copy today of the Auto Dealer's Digital Adaptation Survival Guide or click below for more information.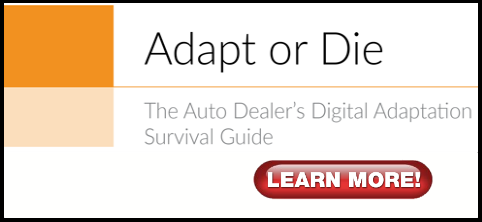 A
AutoHook has shattered the trend of vague industry metrics with concise attribution reporting that proves actual ROI. No other digital endeavor has co...