Over the last few weeks we've discovered some FB Marketplace activity by third parties that is not pro-dealer. Third parties are posting the dealers inventory, in many cases without their knowledge, and hi-jacking the traffic back to the third party site.
Some really disheartening tactics by major players, hopefully the do an about-face. Here's the post: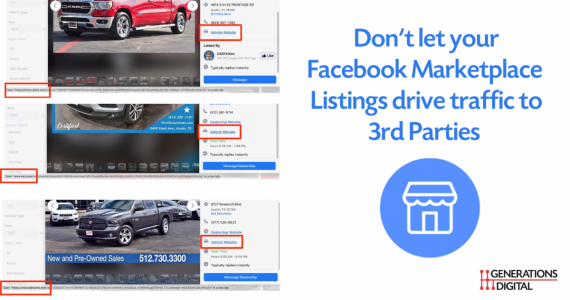 There are only two kinds of Facebook Marketplace vendors, the ones that link your inventory listing back to your website (good), and the ones that link your inventory to their website (not good).
Let's face it, FB Marketplace is pretty much a commodity. Everybody offers it, but dealers rarely inspect their listings. Dealers should immediately audit their inventory and find out what the customer experience is, and where shoppers are being directed.
The attached screenshot shows three major providers who are funneling your shoppers to their 3rd party site. Does it make sense to provide your inventory to a third-party so they can then hijack your Facebook marketplace listings, sending shoppers to their website portals, and then taking credit for those conversions?
Even worse, once those shoppers are taken to the third parties, they can easily shop your competitors! No way, choose a solution that funnels the shopper to your website for conversion.
Also, stop allowing multiple vendors to send your inventory to FB Marketplace, you only need one vendor who will channel those shoppers back to your site.
————————————————————