As digital marketers, it's your job to attract buyers that are shopping online, and as GMs, you have seen the impact that online media has on sales and the bottom line. However, with new players coming into the fold and existing dealers upping their investments, it will be increasingly difficult to reach car buyers with your dealership's message.
One way to increase your message reach is to customize your marketing on different parts of the buyer's path to purchase.
In 2012, Microsoft Advertising created a report that identified the stages of a car buyer's journey from the initial realisation of a need (or want) all the way beyond the purchase to ownership.
Each of these stages has a variety of media outlets and online information sources which are useful at each stage. Back in the day (or until just a few years ago) we marketers would have to rack our brains to determine the best time and place to display each ad. Fortunately, in today's digital marketing age we can get extremely targeted with our messages and our content.
Thus, the ability to move from "educated guessing" to "data driven certainty".
What we found missing from the stages that Microsoft had outlined is that car shoppers aren't actively engaged in shopping 100% of the time. As a result, we need to add another dimension to these stages.
Active Auto Shoppers
Passive Auto Shoppers
Active Auto Shoppers
Actively shopping shoppers can be classified under two prime categories – Actively Researching and Actively Searching. Traditionally, the only way to get your dealership's message out to car shoppers in the research phase was to promote a generic offer. New inventory display advertisements now allow dealerships to show these buyers their actual inventory while they are researching.
Actively searching shoppers can be reached with SEM and listings campaign, but competition is high which causes prices to be high. Inventory Display Ads are effective to attract shoppers at this stage but do not suffer from the high competition found in SEM and listings ads.
Passive Auto Shoppers
Typically, dealerships rely on retargeting or demographic targeting for this phase. However, retargeting only works if the buyer has gone to the dealership's website and targeting by demographics paints everyone with a wide brush and may not be as effective as you think.
A better method would be to combine retargeting from the dealer's site and behavioural targeting based on the shoppers actual online auto browsing history, learned by a Data Management Platform (DMP) in the Active Stage. By doing this, you can deliver advertising that is relevant even in an environment that is not automotive specific.
Nobody knows your market better than you and auto shopping behavior changes constantly and quickly. Don't be left playing catch-up in an increasingly competitive marketplace. Take the time to sit and brainstorm the next evolution in your dealership's marketing direction.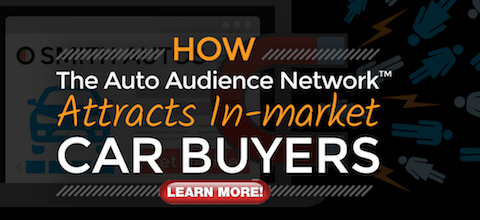 S
AutoConversion is the exclusive Sponsored Content Advertising Partner for DealerRefresh. With Sponsored Content Advertising by AutoConversion, DealerR...