Certified pre-owned (CPO) sales volume set another record in 2019 – marking the ninth consecutive year of record-breaking sales. CPO sales reached 2.80 million vehicles in 2019, up 4% from 2018, exceeding the Cox Automotive forecast of 2.75 million.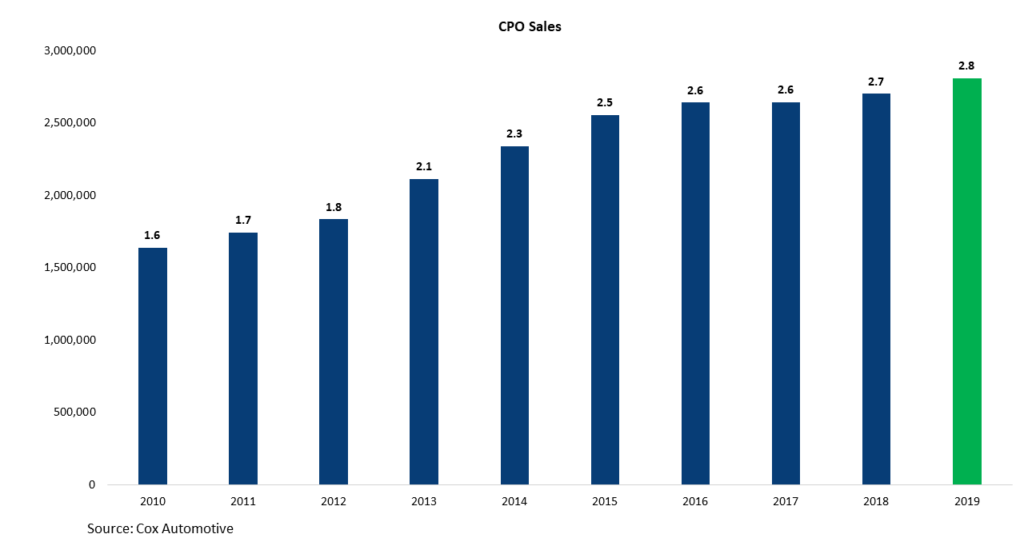 2019 was the last big year of growth in off-lease units as we reached a total of 4.1 million leased vehicles hitting the end of their lease term.  That volume isn't changing for 2020.  The high tide in off–lease units will continue to fuel strong sales of higher priced "gently used" vehicles and CPO units. Off-lease vehicles are very competitive products that returning to dealerships that are selling at a 30-50% discount compared to very similar high-contented brand-new counterparts that are in the market today. Given their younger age, CPO vehicles are likely equipped with highly desired technology such as blind-spot monitors, Bluetooth, navigation and backup cameras. And because SUVs and crossovers have been popular with new-vehicle buyers for the past several years, there are more of them coming back off lease and available for certification.
The CPO market remains top-heavy with a few brands accounting for the majority of sales. Toyota, Honda and Chevy continue to be the biggest players in the  CPO  market, collectively representing almost a third of all  CPO  sales. Those three plus Ford and Nissan accounted for 47% of  CPO  sales in 2019, reflecting that more brands increased  CPO  sales. In 2018, Toyota, Honda, Chevy and Nissan accounted for 48% of the total industry  CPO  sales.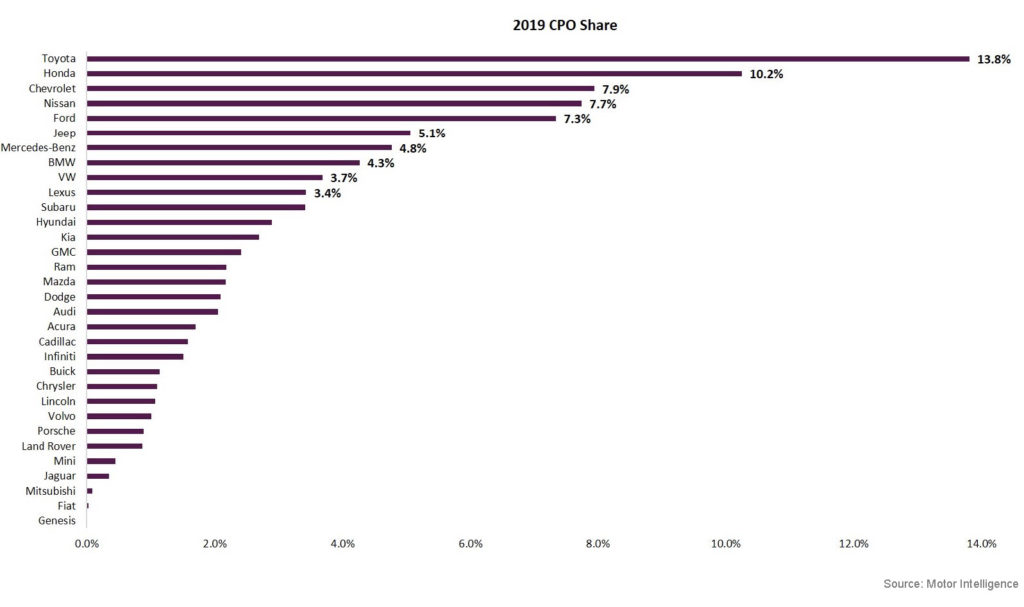 In 2020, a headwind to CPO units will be incentives on new vehicles. Cox Automotive Rates & Incentives reported that 2019 was a record year for new-vehicle incentives – both in terms of volume and percentage of average transaction price. At the same time, favorable supply and demand for used retail units will continue to provide strong tailwinds to the CPO market. The Cox Automotive 2020 CPO sales forecast is 2.80 million units.

Brad Korner is general manager of Cox Automotive Rates & Incentives. The  Cox Automotive Rates & Incentives  (CAR&I) team has develope...