If automotive retailers want to maximize their opportunities with Google My Business (GMB), they must create separate departments for sales, service, parts and body shop. I've seen this topic debated online, and though some may disagree, I want the data to speak for itself in making this recommendation.
Let's first establish what winning on GMB means. It doesn't mean winning on branded search, since Google takes care of that. Precisely 100% of the time someone searches for a specific business name on Google (i.e. Nenni Chevrolet), that business' GMB appears. However, when someone searches for a category (i.e. "car dealer near me"), Google delivers the local-pack of three search results. Winning on GMB is about winning in the local pack on category searches, and is one of the most important local-SEO investments a dealer can make. The good news is the investment required is mainly time, and the steps are fairly simple as outlined in our new book, "A Car Dealer's Guide to Google My Business", launched in February 2020 on Amazon.
I spend a lot of time researching GMB listings, performing various testing queries to determine which dealership ranks for various terms. The proof is clearly in the results, when businesses who offer multiple departments, create GMBs for each department, they outperform their competitors. And how exactly do they outperform? By winning on category searches in the local pack, with departmental GMB listings. By creating departmental GMB listings, a business can create more "real estate" on GMB, and cast a wider net for winning on local organic search queries.
Outside of automotive, there are plenty of examples of big-box retailers successfully employing this practice. Companies like Walmart, Home Depot, Lowes, and Cincinnati's own Kroger, all take advantage of departmental GMBs. Here's an example of Kroger in my hometown of Middletown Ohio.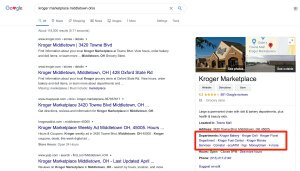 Above is a screenshot for a simple Google search to find the Kroger Marketplace grocery in Middletown Ohio. Notice that on the main GMB page for this Kroger location, you can see they've created 13 additional GMBs for various departments. Why would Kroger take the time to build and maintain 14 total GMBs for each of their stores? To maximize their local SEO results on category searches of course. Let's look at some examples.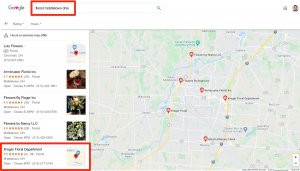 A Google search for a local florist in Middletown delivers the above results. There are three (3) good local providers, and Kroger is also included in the map results also, with one of their department GMB listings.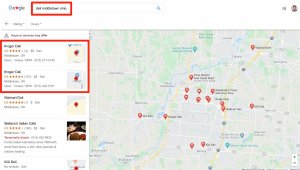 Another search for a deli in Middletown delivers multiple wins in the local pack for Kroger, displaying their "Kroger Deli" departmental GMB pages for two locations.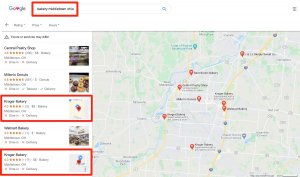 And finally, a search for a local bakery once again delivers multiple Kroger GMB department pages in the top-five Google Maps results.
Automotive examples are harder to find, since few dealers are taking advantage of the power of departmental GMB listings. Here is one from our home market: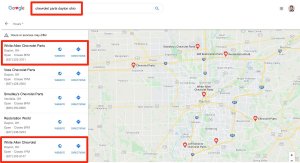 A search for "Chevrolet parts Dayton Ohio" delivered the above results. Note that the number one result is White-Allen Chevrolet Parts, a department listing from their main Chevrolet listing. You can also see that dealer's main listing in the fifth position for White-Allen Chevrolet. So, in essence, this dealer's departmental listing helped them appear in the first position, and their main listing still made the cut. This dealer has effectively doubled their real estate for these local Google search results.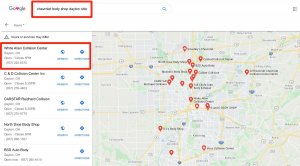 Here is another search in Dayton Ohio for "Chevrolet body shop". White-Allen also won this search, with their separate GMB for their collision center.
These examples allow the data to speak for itself. Local businesses with multiple departments and profit centers, either in the same building or not, should create departmental GMB listings to win more non-branded, category searches.
__________________