In August 2016 at Digital Dealer 21 in Las Vegas, Digital Marketing Mysteries were exposed during the Naked Truth panel session moderated by April Rain. In the weeks leading up to the event, hundreds of questions were submitted through the AutoHook website which a committee then sorted through to select but a few to address with the panel.
The collection of "Hard Questions" that were tackled by the hard knocks panel (see below) centered largely on paid media spending, social media, and attribution, and effective tactics.
Included on the panel were:
Scott Empringham, Owner/CEO of Flashpoint Communications
Alex Jefferson, E-Commerce Director of Proctor Dealerships
Kelly McNearny, Senior Auto Retail Strategist at Google
The Naked Truth stripped down the roaring complexities of the digital world to reveal the most common pain points dealers face today when shaping their marketing strategies and we were able to capture it live on Facebook for people not attending the event. Be sure to check out the recording and let us know what you think.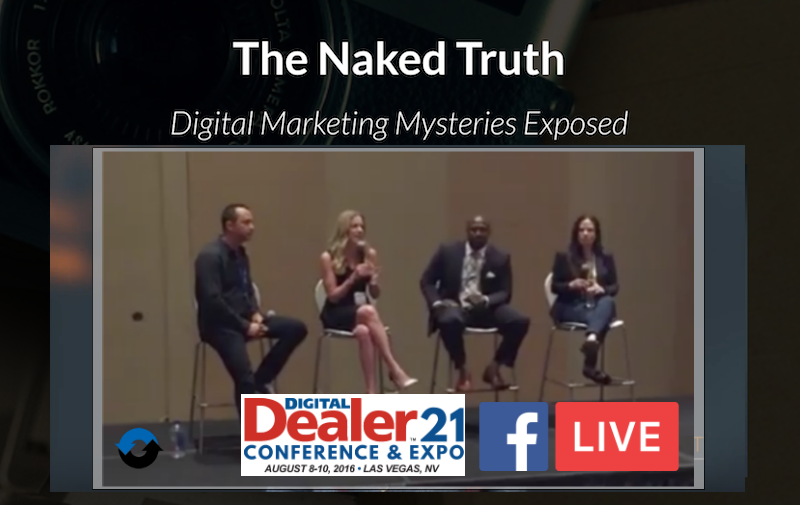 The Naked Truth campaign was a real success for AutoHook and for Digital Dealer and it brought up new ideas and opportunities for doing something similar at future such events as well. Shouts out to everyone that was involved and be sure to stay tuned for future similar initiatives.
A
AutoHook has shattered the trend of vague industry metrics with concise attribution reporting that proves actual ROI. No other digital endeavor has co...