Aboot f'n time we honored our friends in the North! Canada
takes over RefreshFriday this week.
What the heck do those Canucks do up there? How do they sell cars and what's so different to the US?
Longtime community members
@Mitch Gallant
and
@craigh
are going to tell us the differences between the provinces and the states… when it comes to the car biz. Catch us LIVE on Facebook at 1:00 PM EST – Like the
DealerRefresh page
and turn on notifications.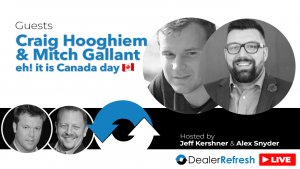 ———————————————–

Who knew an argument with Jeff Kershner, in 2005, would lead to Alex becoming a partner with him on DealerRefresh. Where will the next argument take ...