Dealers in 2017 report that their number one priority for digital marketing is increasing lead conversion.  However, there's more to reaching online customers than getting them to fill out forms, since we know only 10% of car shoppers will fill out an online contact form or communicate via email. Many car shoppers engage with your site for information and resources, with no interest in converting at all– but they are still there for a reason.
A great digital strategy should include website optimization for both lead capture and lead engagement. With both more, and better, opportunities for conversion, and resources to engage buyers at every stage, dealerships can expand their reach online– which is the first step to making more sales in person. Let's attack each category to get to the bottom of this.

[highlight color="#d65a3e" font="#ffffff"]
[/highlight]
Increasing Lead Capture
When we talk about lead capture, the key to remember is value for the customer. Shoppers will offer their information, but only if they get a clear benefit for doing so, such as convenience, discounts, or better service. With this in mind, here are some ways to offer value and increase leads:
A seamless website experience.

We've all seen websites with poor navigation, overwhelming design, or multiple popups that accost visitors the second they arrive onsite. Websites that do this require too much effort from visitors. Make sure your website is easy to get around, and optimize any overlays to appear at times when customers have time to get oriented and build interest. Customers are less likely to leave, and more likely to convert, when they can get what they need from your site, easily.
Ask for the bare minimum.

How much personal information do your conversion tools ask for? You will need a name, phone number, and email address to get in touch with your leads, but beyond that, remember that each added field decreases the odds of conversion, especially if the shopper isn't quite ready to buy.
Optimize for mobile.

Every aspect of dealership websites must look great and be fully functional on mobile. That's where your customers are, so if you're not, you'll miss opportunities.
Personalize.

It is critical to

personalize your your website

to respond to individual customers' needs. On your website, use smart targeting technology to track user behavior, understand their needs, and show them content and offers tailored to their interests and stage in the buying funnel. Shoppers respond well to personalization– and businesses report improved results from using it.
Don't chase features. Chase solutions to pain points.

Your website likely has several conversion tools, such as specials and sales overlays, chat, and valuation tools. These features can be great for collecting lead information, but don't lose sight of your customers' reasons for using them. A chat tool that takes too long to respond or lacks actual answers, an overly complicated valuation tool, a discount overlay with a poor incentive, confusing CTA, or too many fields– these tools do not offer enough benefit to offset the frustration of using them. Good tools, on the other hand, make it easy for customers to connect with you, get the discounts they want, and simplify their buying process. So don't focus on your tools– focus on your shoppers' problems and then see if your tools actually solve them. If they don't, consider if your tools are worth keeping, or if your customers might be better served in a different way.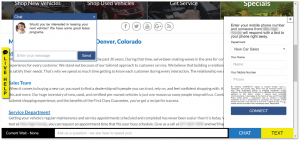 Increasing Lead Engagement
Now that we've covered the basics of capturing more leads by providing more value, let's shift to increasing the engagement of those customers who want to browse but not convert. Here too, providing value is key: the value of content and tools that help customers while they spend more than 10 hours researching online. Even if customers are not speaking to you, you can still speak to them. Here are some strategies:
Content that is exciting, reassuring, and informative
People make buying decisions in the gut, not the brains (most of the time). Make sure your content speaks to the emotional journey of the car buyer by exciting, reassuring, and informing them.  After all, car shopping can be overwhelming, but your content can be a resource that helps shoppers get what they need. Specifically, make sure to include:
Videos

. Studies show that almost half of shoppers view videos before visiting a store. Videos can educate about features, technology, and the experience of your vehicles in a way people connect to.  
Feature explanations and comparisons.

Equipping your site with research tools can keep customers from having to look elsewhere for help and information. If at all possible, do not link to third-party tools, because once your customers leave your site, they may never return.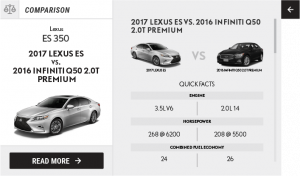 Customer reviews.

So many customers rely on reviews today to make their decisions. A wide variety of reviews builds  trust and connection.
Measuring engagement
It's important to measure not only conversions, but also users' engagement with your website. Check metrics such as VDPs per session, time on VDPs, new vs. returning visitors, and video engagement. These numbers will assess the benefit of your website to car shoppers.
A strategy that maximizes both conversion and engagement with value online has the potential to reach more customers. Both aspects are crucial to building a loyal customer base and increasing revenue.
[highlight color="#ffffff" font="#000000″]
Join the Discussion
Want to chime in about this article or topic? Head on over to the Dealer Forums to discuss. You can create a new discussion or join an existing one.
>> Proceed to Forums <<
[/highlight]