When we talk about 'connected consumers' it's usually in the context of a customer's online presence; how they expect – and in some cases demand – transparency and information, especially when it comes to big ticket items. But giving customers information and the tools they want to comparison shop is one part of the equation when it comes to the idea of a 'connected consumer' because, at the end of the day, consumers want a connection with people as much as they do information.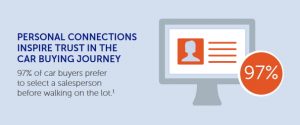 The fact of the matter is, most customers already know exactly what they're looking for when they visit a lot. Either they've seen an ad online or they've already checked out the online inventory. So when they come in, they're not looking for a car exactly, they're looking to connect with someone they trust before they're willing to fork over a substantial amount of money.

[highlight color="#e2562f" font="white"]
[/highlight]
When customers have already done the research on what vehicle they want, they often turn their attention to researching which dealer they want to work with. 1 in 3 shoppers reported they sought out a specific salesperson within a dealership based on positive reviews. Interestingly, cross-shopping between dealerships has become increasingly common. A Cars.com study found that, even while in a dealership, nearly 30% of customers will

continue to read dealership reviews.
Companies have said for years that people are their greatest asset, but today that adage is more important than ever. In an age where customers can look for – and purchase – cars from dealerships across the country, you need to have more than the right cars. You also need to have the right people and a way for customers to know who to deal with once they know what they want.
D
DealerRater is the world's leading car dealer review website that helps connect consumers with the right person at the right dealership. DealerRater...