Oh man. Google. Facebook. You guys keep moving my cheese!
Let's talk about all the changes for our most popular digital marketing spots and how those changes impact car dealers.
Jon Berna (the D.R. Truth) is all up on these changes and will help us navigate to the cheese
.
Friday at 1:00 PM EST on
Facebook Live.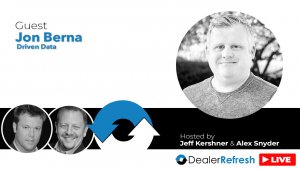 ————————————————

Founder of DealerRefresh - 20+ Years of dealership Sales, Management, Training, Marketing and Leadership.