Customers love the freedom and accessibility of live chat. And why shouldn't they? Online shoppers can chat directly from a webpage, from the comfort of their own home, and with no wait time.
Aside from customer satisfaction, live chat is an essential tool for converting online leads. And when chat leads are combined with efficient follow-up tactics, the end result can be significantly beneficial, even if there's one person working following up on leads.
In an interview with Jake Davis, Manager of Internet Sales and Business Development for North Georgia Toyota, he provided some unique insight into how a one-man BDC leverages chat to drive sales for his store.
Let's get started Jake…
Why did you decide to invest in live chat?
Jake Davis: Coming into the role of Internet Sales Manager, I wanted to accommodate the needs of our customers. Today's consumers want to engage with businesses when it's convenient for them — when they're ready.
In chat, online shoppers have control of the conversation in that they can start and end the chat at will, ask questions any time of day, and have plenty of time to formulate questions without worrying about being pressured by salespeople.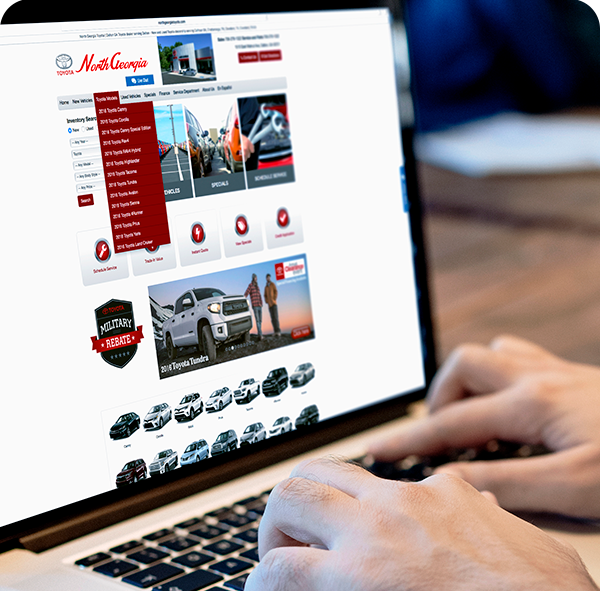 What prompted you to outsource chat instead of managing it in-house?
Jake Davis: Managed chat just seemed like the natural choice for my store.
Being a one-man BDC, I didn't have the time to get to the chats quick enough, nor did I have the capability to be there 24/7. I figured that a chat team that focuses solely on chatting has more experience with online customer service and can see to it that our shoppers are taken care of after my dealership is closed.
It also seemed like the obvious choice since the provider I went with constantly trains the chat team to stay both proficient in the art of chat and knowledgeable about my store. There was just no competition between myself and a company that with nine years of live chat experience under its belt.
How have you leveraged chat to follow up with potential customers?
Jake Davis: As soon as a chat lead comes in, I read the chat transcript and try to get them on the phone, answer their questions, and go for the appointment.
When prospects don't pick up the phone, I leave a voicemail and send them an email thanking them for chatting on our website, recap what was discussed in the transcript ("I see you discussed…"), and answer their questions.
Something that works very well for me is that I always mention the chat representative's name in follow-up. There has already been some rapport built in the chat, so referencing the rep shows that I know, understand, and care about the shopper's needs — and shoppers take really well to it!
Have you experienced a positive ROI since investing in managed chat?
Jake Davis: After subscribing to the managed chat service, it began to pay for itself within the first few months. I'm actually coming into the best months as far as appointments and sales from chat leads go.
We sold ten chat leads last month!
So, yes. I'd say managed chat is a very cost-effective way to generate sales opportunities on my website for a minimal cost. It just makes sense.
What's next for your store's Internet Department?
Jake Davis: Business is going so well that we're going to need a BDC soon. I'm very excited about that!
I currently handle most of our website leads, typically about 150 – 200 a month. As our website conversion continues to increase, we'll need to expand to handle the boost in business. Eventually, I hope to have a team in place to help our store capitalize on our leads.
Are you considering any new strategies for the future?
Jake Davis: I really want to engage online shoppers at strategic points in their shopping journey, so I'm looking into behavioral targeting. Presenting shoppers with relevant messages when they're on specific pages on our website would be hugely beneficial.
From what I've researched on behavioral targeting, I'd have the ability to decide when specific ads will deploy on my site, based on consumer activity such as click-path, time spent on a page, and what device they're using.
The more we can cater to our customers and personalize their shopping experience, the more effective our digital marketing efforts will be.

Founder of DealerRefresh - 20+ Years of dealership Sales, Management, Training, Marketing and Leadership.