Build Brand Trust Through Customer Interaction
Customers are making decisions about your business before you've even met. Podium helps over 130,000 users take control of customer interactions by powering more online reviews, multi-location local listing management, online review reporting, messaging, customer sentiment & more.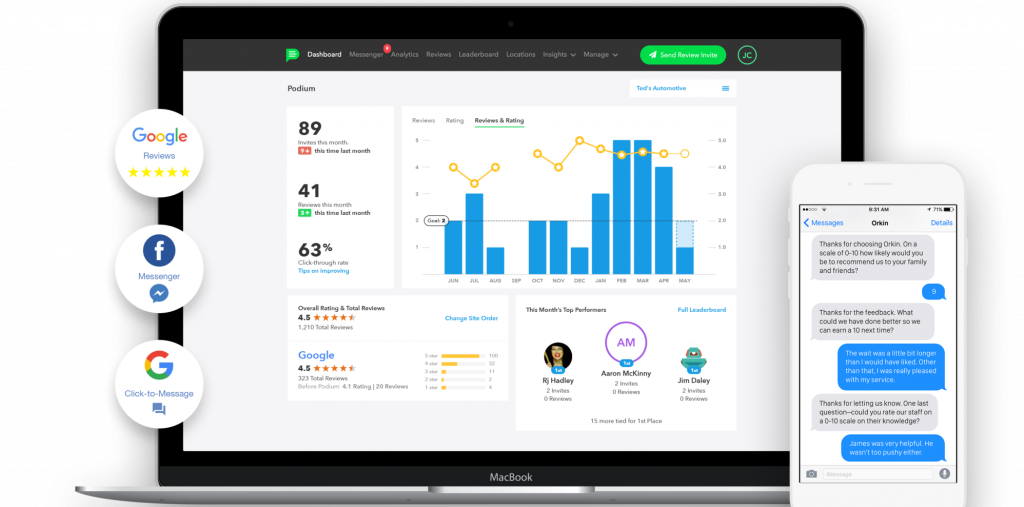 Transform the way you manage your customer reviews
Podium brings your business' reviews, from across Google, Facebook & more, into one centralized place where you can effectively manage your online presence and get more online reviews. With Podium review management, growth & messaging software, it's easy to see your reviews and get more customer feedback to quickly make better-informed decisions and get more customers.
All your customer reviews in one place
Sort, filter, see, and respond to, any and every review that your business collects – right from Podium. No more scouring Google, Facebook and 20+ sites to ensure you're aware of every online review your business receives. Podium brings all of your reviews from across the Internet into one easy-to-understand dashboard.
Customer Messaging
Podium Messenger enables businesses to be there for their customers at the right time and through the right channel. With Podium Messenger, stay connected with your customers and answer questions in real-time via text message – all from one centralized dashboard.
---
[gravityform id="4″ title="false" description="true"]
---
Podium & DealerRefresh content