You know that thing that the Internet is really good at, buying stuff? Let's apply that to the most expensive stuff anyone wants to buy…new cars. -Aaron Krane, Drive Motors.
This is not only the viewpoint of Drive Motors Founder and CEO, Aaron Krane, but also what inspired him to form the San Francisco based company in 2015. And it's this simplicity that is so infectious with franchise dealers.
During my recent interview with Aaron, our second in the last 12 months, one thing was particularly clear to me – Aaron isn't bent on being disruptive to the vehicle transaction process. Quite the opposite. He's seeking to enhance it, for dealers and consumers.
When I first spoke with Aaron in June 2016, we had recently published a piece by Prodigy CEO Michia Rohrssen titled, "Online Sales Isn't The Future Of Car Buying…" that re-kindled a discussion thread in the forums that began in March 2015 titled, "Online Shopping to Online Buying." The debate was (and has remained) one of the most heated discussions on DealerRefresh of all-time.
The reason why is this…if you look at (or pursue) the idea of online checkout as a disruptive threat to the dealer and the sales professional, then you're missing the point.
As Aaron stated in our interview, studies continue to show that consumers prefer to purchase their vehicle from a person at the dealership. But by giving consumers the OPTION (and that's the key, the option) to facilitate some or all of the process online, on their own time, on whichever device they prefer, this can give your dealership a competitive advantage.
Why? Because nowadays, people are accustomed to buying things online and this it's become an expectation for them. 
When do people buy cars online?
During our discussion, Aaron points out that depending on which state you're in, car buying may never become a full online experience – as some documents can only be signed offline.
However, there is a growing segment of car buyers that prefer to make their vehicle purchase on their own time. In fact, based on 4,310 vehicle orders across 140 dealer websites using the Drive Motors online checkout within 5 months, 58% of the transactions happened during office after hours, from 5 PM to 10 PM.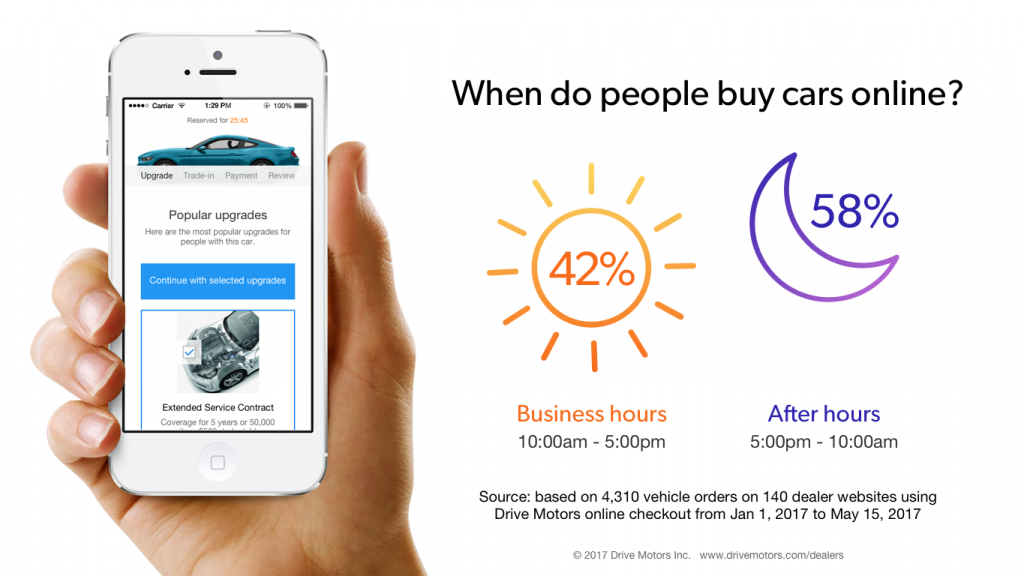 More purchase intent than the average TV customer
Drive Motors is helping to facilitate more than 1,000 vehicle orders each month across its dealership base. This comes to about 50 per day, and 40-50 per month per dealership, with an average gross profit of $500-600 per unit.
Through all this, there are two key metrics they are observing:
The drop-off abandonment rate is relatively high compared with other forms of e-commerce. This is to be expected however when you consider the novelty and newness of buying a car online, and the fact that it's a car which requires significantly more time and information.
The return rate is noticeably higher than typical e-commerce levels, also to be expected when you consider the nature of the product being purchased.
But here's the most interesting point. Although the abandonment rate is high, the ratio of people who enter the online checkout funnel and complete the process entirely is higher than the average for e-commerce retail.
As Aaron suggests, the purchase intent of people doing online checkout is higher than your average TV customer.
Give Customers What They've Come to Expect
The average online checkout time with Drive Motors ranges between 15 and 30 minutes, plus about 30-60 minutes at the dealership. But as we stated earlier, most abandon the first time.
This is why Drive Motors recently added a feature to their checkout system which saves all of the buyer's preferences, including their trade-in and financial information, for a later time. When the buyer comes back to the dealer's website to complete the transaction, all of the information they entered remains.
This was a key feature introduced as an answer to the high abandonment rate – because as Aaron says, "almost no one will complete the transaction in the first visit, but they will the second or third time."
Aaron says that the online checkout system has to be developed to match the psychological buying process that buyers are used to.
It's about helping dealers integrate a simple online checkout
We want to help our dealers turn their customers' phones into cash registers.
This is Aaron's goal with dealers – to turn customers' phones into 24/7 "cash registers." Those are his exact words. The online checkout system needs to complement the buying process, not turn it upside down and certainly not replace the existing one already in place. This is accomplished but giving dealers and consumers a simple yet intelligent tool that integrates seamlessly with the dealership website, inventory, and their back office.
Online checkout isn't a magic pill by any means. In fact, when you listen to the interview, you will hear how Aaron is clear about the online checkout component being part of an already well functioning process and customer experience.
Chat and Mobile
When I asked Aaron about mobile adoption, he stated that 30 to 40 percent of online checkout users are on a mobile device. Plainly put, your online checkout experience must be designed with mobile in mind – first.
Additionally, the chat experience is also an integral component leading up to the online checkout process. Listen…
Highlights of my interview with Aaron Krane
Continue the Conversation
Do you think online checkout is right for your dealership? Continue the conversation in the forums using the link below and also be sure to check out our new podcast featuring this interview with Aaron Krane.
[highlight color="#f7b32e" font="black"]Discussion: Online Shopping to Online Buying[/highlight]
[highlight color="#CCE6FF" font="black"]Podcast: Episode 1 – Online Checkout, 56k modems, and more…[/highlight]
About Drive Motors
Drive Motors builds ecommerce experiences for auto dealers. With the Drive Motors online checkout experience, car buyers can order directly from the dealership website, day or night, including financing, leasing, trade-ins, vehicle upgrades, and pickup or same-day delivery. For more information visit www.drivemotors.com.

In the world of automotive marketing, I blog for car dealers.