Your service department is integral to the success of your dealership. Service brings in vital revenue and often accounts for the majority of a dealership's profit. Yet, it's highly likely that your service department's manpower and resources are already stretched to the max, limiting the number of service leads and appointments your dealership is able to generate.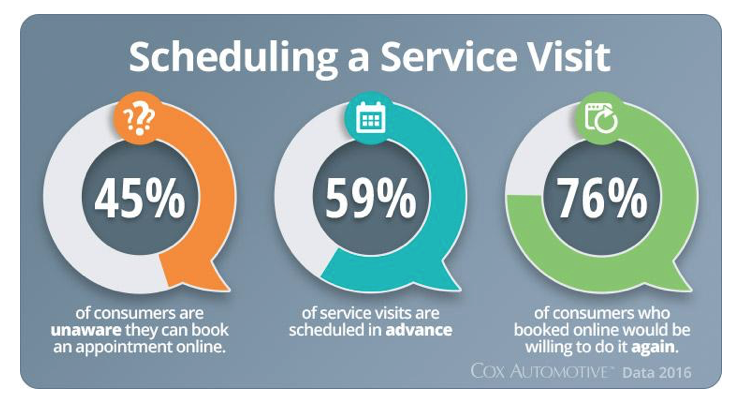 In Part 1 of this article, I explained how live chat benefits your service customers. But, have you thought about what automotive live chat can do for your service department's processes?
Live Chat Increases the Productivity of Your Staff
Your service advisors should not be sitting behind a desk all day picking up chats. A properly managed chat team, whether in-house or outsourced to a provider, can handle a much higher volume of service inquiries, increasing your revenue potential and decreasing your staffing costs.
You can also streamline procedures — such as helping online shoppers set appointments and sending them straight into your DMS — by offering live chat for service. If you think your service customers aren't using chat to set appointments, A) your chat provider is pulling a fast one on you and B) you're missing out on significant revenue opportunities. In fact, 30-40% of ActivEngage chats are related to fixed ops. And the #1 question asked is: "Can I schedule an appointment?"
According to the Cox Automotive 2016 Maintenance and Repair Study, while having appointments is convenient to shoppers, setting them is another story entirely.
Then again, today's consumers have a weird sense of entitlement to fast, easy-to-do experiences — so it could be laziness on their part. And while service scheduling software has made leaps and bounds towards simplifying appointment-setting, many online shoppers still prefer the easiest, quickest method available for setting a service appointment. That's why they click to chat.
If your dealership's service drive has been impacted by OEM recalls recently, your ASM was most likely going crazy juggling between scheduled appointments, walk-ins and everything in between. Having live chat in situations such as this one to manage online appointment setting takes a load off your service staff, which allows them to focus on people at the store.
Some managed chat providers even integrate with popular service scheduling software to set service appointments on your behalf. Having these tools working together will save you time, increase your team's efficiency, and help you fill more service bays.
Live Chat Helps You Streamline Communications
How long does it generally take to build your repair order and answer all customer questions over the phone? Too long? Imagine what would happen to your service team's efficiency if you could have all of the information for your service tickets delivered to you without even having to pick up the phone.
With chat, your staff has access to vital customer information ahead of time. And unlike lead forms on your website, it gives your team the opportunity to acquire additional need-to-know information and rapport, like:
The last time the vehicle was serviced
The car's make, model, and mileage
Any other concerns such as strange leaks
At the same time, the instant communication of live chat allows customers to ask and learn about warranty information, how long a repair will take, estimated cost of repairs, and loaner vehicle options. In that way, chat can streamline and enhance your service lead generation process while helping you build repair orders ahead of time.
Additionally, if you're using your DMS for service (and I hope you are), you can opt for a live chat solution that integrates with it for access to and tracking of the lead information and appointment updates. This smooth transfer of data provides a more efficient way for the service team to obtain information.
Technology + Processes Drive Service Success
Like most digital marketing tools, live chat success doesn't happen on its own. Incorporating chat into your service department's processes takes planning. You can have the most amazing online conversations in the world, but if your staff isn't properly following up with your customers, you won't be reaping all the rewards from chat.
Plan for a successful lead follow-up system at your dealership, and you'll see just how much chat can do for your business.
And remember, technology can be your service drive's best friend; don't limit yourself by refusing to embrace tools like live chat. By integrating technology with well-designed processes, your dealership can set the standard for convenience, value, and trust while maximizing your team's performance.