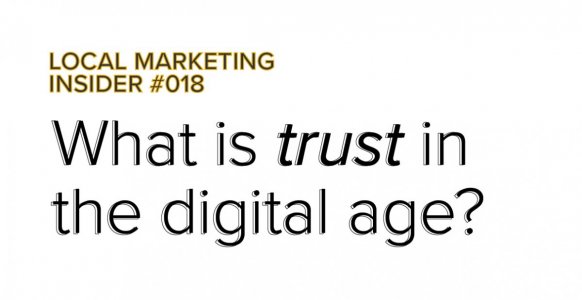 Today I'd like to introduce part one of Insider's new four-part series on trust.
What is trust? How is trust formed today? Why is building trust so influential? How should brands be thinking about building trust across multiple marketing channels?
I'll be exploring each of these questions over the next eight weeks.
At its foundation, trust is a powerful marketing asset that, when properly harnessed, can add value in many different ways for an organization.
What is trust in the digital age?
Commonly, trust is thought about in the context of confidence, certainty, or faith.
I trust that this dry cleaner will be able to clean my expensive clothes well and complete the job by the expected deadline.
It's actually the opposite of that. Confidence is the result of building trust. If you know the outcome of something there is no risk, therefore no trust is required.
Trust is how we rationalize uncertainty and risk. It's how we build enough confidence to pursue the unknown.
You can think of trust as a bridge. A bridge between something certain and something uncertain that allows us to place our faith in unknown people, products, services, or ideas.
It empowers us to be vulnerable. On a broader scale, it empowers us to put faith in new innovations helping society to move forward.
On a local level, it empowers the new-to-town shopper that the dry cleaner down the street will clean the clothes properly, delivering them pressed, beautiful and on time.
How do people normally decide if someone or something is trustworthy?
Trust is very contextual, but we generally look for the same four traits:
Competence:
is this person, company, product able to fulfill my need(s) effectively?
Reliability:
responsiveness, promptness, consistency of behaviors over time
Kindness:
do they conduct themselves in a respectful way, handle a variety of situations with grace and patience.
Integrity:
do the intentions and values of the company align with the individual
How is trust different in the digital age?
The way that humans decide someone or something is trustworthy has always been largely the same. Trust is a judgment call each of us makes on a personal level.
What has changed recently are the tools we use to assess people/companies.
Technology has enabled online marketplaces, places for consumers to easily collaborate, sharing useful information on a grand scale.
The means by which the average person builds trust has been accelerated by technology. For example, it is not uncommon for a business to have hundreds of reviews from past customers. The ratings are aggregated for easy access, taking next to no time for consumers to make a quick assessment.
With all this information at hand, the buyers of today build trust faster. The power they have to make confident decisions quickly is unmatched.
In part #2 I'll dig deeper into the question "what is distributed trust"? We now live in the "third phase" of trust, the nature of which has important implications for your business.

Thanks to Rachel Botsman for spearheading language original research around trust. With her guidance, we are able to better understand trust and its business impact today.

If you're interested in more content like this, consider subscribing to Local Marketing Insider.

See you in 2 weeks – Jake, Marketing @
Widewail
I'm Marketing Manager here at Widewail, as well as a husband and new dad outside the office. In Vermont by way of Boston, where I grew the CarGurus ...