First Name:

Jeff
Company:

DealerRefresh
No doubt the Manufacturers hit the TV Broadcasting waves HARD this past holiday.
From the article…"There was $161 million spent on Black Friday on automotive advertising on TV alone," Cunningham noted. "And the reason is that the industry knows right now is the period when they have to move those vehicles, an inordinate volume of units. And when you need to mobilize customers en masse, in a tight timeframe between now and the end of the year, they understand that TV is going to light up their online instruments and fill dealer showrooms with traffic."

… some more from the article …
"It turned out that millennials were twice as likely to become aware of their local car dealership via TV (56 percent) than the next leading means, online search (26 percent), while 25- t0 54-year-olds were also more likely to turn to TV (53 percent) than search (30 percent). And when it came to deciding to take a test drive, 40 percent of millennials and adults aged 25 to 54 cited TV as their primary motivator."
The study was performed by VAB – Video Advertising Bureau.
With that being said, I don't necessarily question the effectiveness of TV advertising for the Manufactures. They have the budget and resources to saturate a channel with impressions and frequency most other industries can't even begin to imagine.
One study will show television having the most influence on the auto shopper, even millennials. Another study will surface with the opposite data, or close to it. Too often it's how the question is formatted, and let's look at this question…
When You Are Starting To Think About Buying A Vehicle, Where Are You Most Likely To First Learn About Different Vehicle Brands?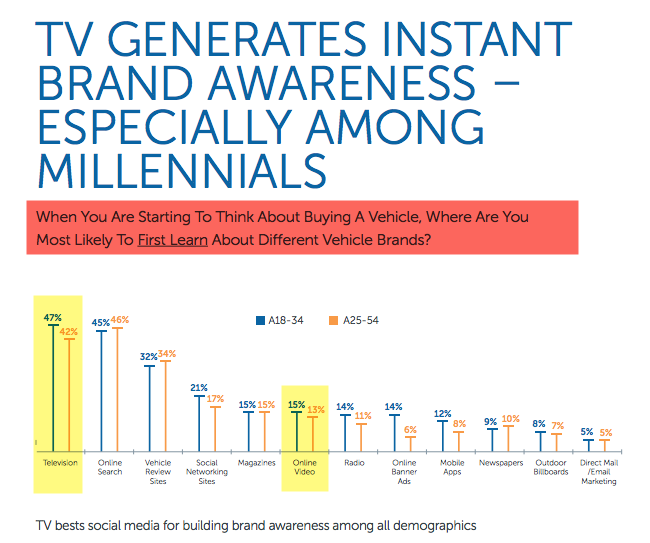 According to most of this study, Dealerships should be spending the majority half of their marketing budget on TV. The more and more I read this study the more I believe it's an early April fools.