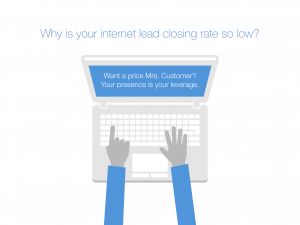 It still happens today. Internet managers, BDC agents, and salespeople still send "your presence is your leverage" emails & texts to customers. Someone just showed me one.
A customer goes onto the dealer's website and clicks the "Get Price" call to action button to receive a slew of emails asking when they can come test drive, if they prefer to communicate over text message, or that their manager is super excited to work with them. And then the customer, in frustration, replies "I just want a price!" To be responded with "your presence is your leverage. We give the best deals to people who are in the showroom."
I shit you not.
Let's give the employee of the dealership the benefit of the doubt that he does not wish to message something so 1973. What happens to drive a perfectly good employee to send that garbage?
How many times can you ask a sales manager for a price before he starts saying "just get them in?" And how many times can you hear "just get them in" before you're tired of asking the boss for a price? You need to get back to these leads quickly. You have too many to answer already. And five more just came in. Screw it! Here's an easy answer.

Who knew an argument with Jeff Kershner, in 2005, would lead to Alex becoming a partner with him on DealerRefresh. Where will the next argument take ...