Every year I like to have some fun imaging what's in store with the future of large scale marketing and technology trends and how it may affect dealerships, consumers and possibly the industry. This is the most exciting list I've put together yet – and with that, I give you my Carstrodamus 2014 picks that may have the furthest reaching impact on the industry!
1. The Semantic web will transform the search engines from keyword index engines to answer engines. Context and relevance are now more important ever. Google wants to create a connection (linked data) between the words on a web page to understand their meaning and your intent. Approximately 20% of organic results are delivered due to this initial wave of structured data added to website content. And the good stuff hasn't even hit us yet.
The quickest solution to help accomplish this is the structured data vocabulary called Schema.org. I believe website vendors will scramble for ways to shift their search marketing teams and respond to the need for structured data solutions – unfortunately they will try to scale what I believe is the wrong solution. Their efforts will be slow, inefficient and terribly difficult to scale. Faster, more complex and more efficient solutions will present themselves for all industries – including automotive. This solution will improve the level of context and overall understanding of the content within the vehicle detail pages and improve their overall lead performance – for those who participate in this massive shift with the proper data structure.
You see, the problem that exists is that content isn't being created for the Semantic web, it's simply being translated into formats such as Schema.org. A standardized solution, which bypasses this process and populates content dynamically for the Semantic Web, using different data interchanges and libraries, will set off an explosive disruption across the Internet. This will forever change the way search marketing is approached.
Conversational search will be a key element of consumer behavior and will drive newer, more valuable content marketing strategies that play nice with the new semantic/structured data search landscape. This will have a profound impact on search marketing and conventional website solutions the industry has yet to experience. I've said it before and I'll keep saying it throughout 2014 – the Semantic Web will be a massive game changer. Bonus item #1: Google+ will continue to grow. G+ will become an important, active element of dealership social media marketing activities because of it's ability to contribute linked data to the Knowledge Graph and support valuable links such as the Author and Publisher attributes. Plus, more automotive marketers will realize this is the second most active social network platform with over 340 million users. They're there for a reason.

2. Social media marketing strategies will shift to include more emotional content in short story format. This approach will be a direct result of savvier content creation teams understanding both the user's desire for higher quality content and Facebook's changing ecosystem. Quality, contextual content will reign supreme while memes will be relegated to a barren wasteland of minimal impressions within Facebook. If that's your social strategy, your newspaper ads may be just as effective – and you know what a waste they can be. Social platforms such as Pinterest, Instagram and Vine will continue to help businesses tell their stories in short-form video format.
Organic exposure for Facebook brand pages has dropped upwards of 40% due to the updates to their content algorithm update. Expect to see a small portion (1-5%) of ad budgets move towards paid campaigns with Facebook, and even Twitter, as the platforms are clearly entering a new phase of driving revenue, improved contextual targeting and better overall performance for those who understand the shift. Facebook is clearly a pay to play platform now – and it's quickly turning into a mobile platform as 60% of it's users are mobile. Bonus item #2: Facebook buys Foursquare for their location based marketing database. Location activity is a weak spot for Facebook and Foursquare could fill a much need void providing better mobile contextual advertising solutions to its user base.
3. Wearable technology including watches, glasses and apparel will become part of millions of people's lives. This will also include connected devices providing more control of our vehicles, including better communication with them as well. This will create a new, early-adopter layer of consumer behavior and connectivity. Brand relationships and unique experiences will drive a new type of notification economy where brands and their products will have the ability to communicate with you about the things that matter the most on the devices you choose. Think Samsung Galaxy Gear smart watches paired to your phones. One of the biggest news items will be the consumer version of Google Glass – look for this around April, 2014 with a cost of $299. I believe the real opportunity for the industry is for content creation and data collection. Dealers will be able to build valuable libraries of images and virtual test drive videos with platforms such as Google Glass.
Activities such as notification alerts from companies, messages from your vehicle and the ability to control connected devices such as the lights and thermostat in your home. Hello Internet of Things. It's here. Other items contributing to changing our mobile behaviors will be shape-shifting mobile devices with bendable glass. Eventually we won't all be clinging to devices in our hands like cigarettes. How is this going to impact the industry? Massive consumer behavior changes as users will continue to explore new ways of staying connected with the things that are important to them.
4. Ride sharing will explode into new markets further changing driving habits and ownership expectations of younger drivers. Leaders such as Uber and Lyft will continue to influence large city driving habits as they continue their massive growth, enter mid-size markets and become a mainstream solution for locals and travelers. Both companies are seeing an incredible revenue surge; Uber does $20 million per week in revenue while Lyft is growing 6% per week! Other companies such as Sidecarr, Hailo and Gett will help push this change as well. This could mark the beginning of a cultural shift as their user base grows and the concept of ride sharing becomes an acceptable ownership alternative.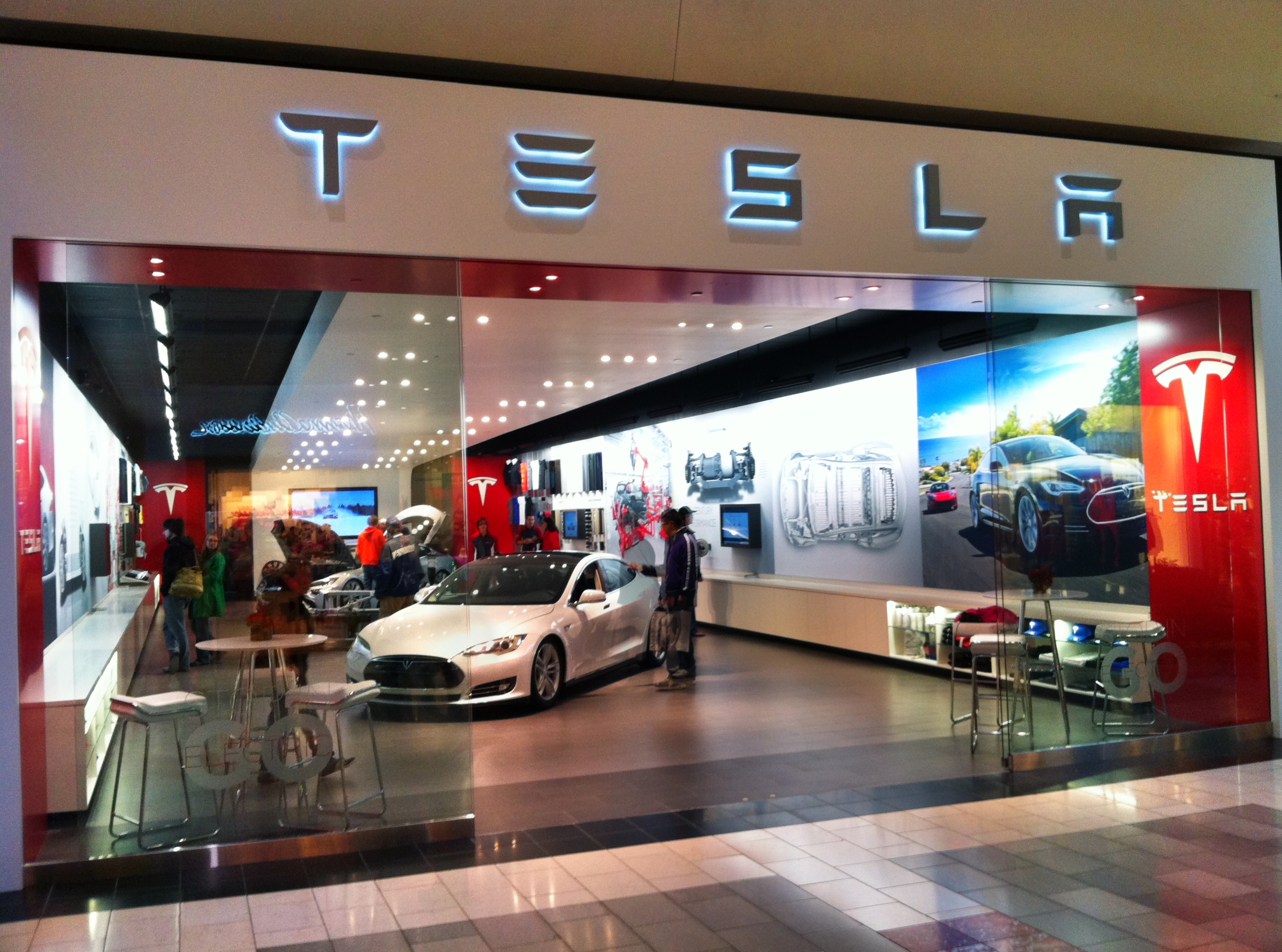 5. Tesla showrooms will grow more than 60% as their product line continues to expand with the introduction of the SUV, possibly a pickup truck and eventually a lower cost, entry level sedan. Showrooms could swell from 52 to 80+ and provide even more convenience to a specific segment of buyers. State dealership laws will continue to be challenged and test widely accepted standards. The industry infighting will continue for years; a recent ABI Research study indicated the electric car market shouldn't begin to make a significant impact to the traditional retail market until 2020.
This equates to the 150,000 estimated EV's expected to be sold this year globally year increasing to 2.36 million units in 2020 – growing approximately 48% per year. Should traditional dealers be concerned about these numbers in the short term? The biggest sellers are currently the Nissan Leaf and the Tesla Model S. Nissan sold 16K+ units in the 1st nine months of the year and Tesla sold 9900 units.
6. Internal marketing departments will continue to add specialists who focus on their individual areas of expertise. Highly focused automotive search performance officers will become integral members of the marketing teams. Dedicated social media individuals and/or small content teams will continue to expand and work closely with the marketing department, the search team and even the dealership staff to drive the socially aware ecosystem every store should have in place.
A State of Word of Mouth Marketing Survey stated that total social media advertising spending will reach $4.6 billion this year, up 35% from $3.4 billion in 2012; looking ahead, they see social media ad spending climbing to $8.22 billion by 2015. This would indicate a total annual growth rate of around 35% over the next two years. This growth will require highly skilled, dedicated professionals who are prepared to manage these efforts effectively.

Husband, Dad, Co-Founder, DealerTeamwork.com We made the industry's 1st #MPOP. Aspiring race-car driver. Happiness optimizer. #SEO #SemanticWeb #Sa...