Welcome back for another 2019 automotive predictions post. It appears 2018's final automotive sales number will come in at approximately 17.2 million vehicles amid a mixed sales environment. The four interest rate increases last year may have slowed progress while the tax reform efforts had a positive impact.
2019 is expected to show approximately 16.7 million vehicles sold. This would be the first time in five years that US sales dipped below the 17 million unit mark. Light vehicle sales continued the year-end downward trend approximately 1.2% lower in 2018 and are expected to fall .6% – 1% in 2019 according to Moody's. Look for the CUV/small and light truck segment to continue its sales momentum this year.
A potential contributor to new 2019 vehicle sales could be rising used car prices. Off-lease vehicles have attracted buyers, but their prices spiked in recent months. Shoppers will continue to look at the cost and value differences in new vs. used vehicles. As this price gap closes, consumers may opt for new vehicles instead.
I noticed a significant improvement in the ways dealers managed their operations last year. Dealers who paid little attention to items such as high-level acquisition and behavior continue to discover the power of the data at their fingertips. Dealers are asking more critical questions and seeing a massive difference between the digital solutions that deliver results and those that don't. This trend shows no sign of slowing, especially with a tighter market on the horizon.
On to the 2019 automotive predictions…
Marketing Automation Will Make Everyone Happier!
This is a continuation of a prediction from last year because of the results it delivers. Marketing automation will significantly impact the efforts towards creating new opportunities, retaining existing customers and reducing marketing costs. These themes will catch the ear of marketers, operators, and especially CFOs as they look to make smarter financial decisions in 2019.
Note the most effective tactics used to optimize marketing automation solutions. (Optimizing Marketing Automation survey – Ascend2 2018)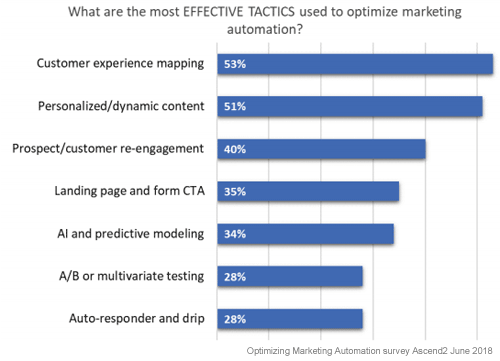 Business Owners, Executives, and Marketers said the most significant benefits of Marketing Automation were (–SmartInsights and Getresponse "Email Marketing and Marketing automation Excellence 2018" (2018)
Saving time (30%)
Lead Generation (22%)
Increase in Revenue (17%)
Customer Retention (11%)
Tracking and Monitoring of marketing campaigns (8%)
Shortened sales cycle (2%)
In 2019 dealers will increase the usage level of marketing automation tools. Dealers must understand the importance of their CRM follow-up, showroom traffic, and management processes that improve results. We will see another leap forward in the technology-based solutions that help dealers achieve the benefits they need – saving time, driving quality leads and increasing revenue.
Always-On Campaigning
Companies will continue to develop advanced frameworks and multichannel campaigns where email is at the heart, facilitated by the shift from customer journeys to total customer experience. Always-on will become the norm – that is, customers, prospects and other stakeholders will be able to join a campaign from email, social or web journeying at their own chosen speed. – (Source: CleverTouch)
Two years ago I predicted that dealers would shift more of their marketing process from manually-managed processes to automated, intelligent marketing process with tools such as Dealer Teamwork's MPOP™. Yes, it's a learning curve and requires a different management approach. Dealer adoption and growth have been significant in the last two years as dealers see the results.
The most useful metrics for measuring marketing automation performance are Conversion Rate and Revenue Generated, say 58% of best in class Marketing Automation users. – Three Deep & Ascend2 "Marketing Automation Trends for Success" (2016)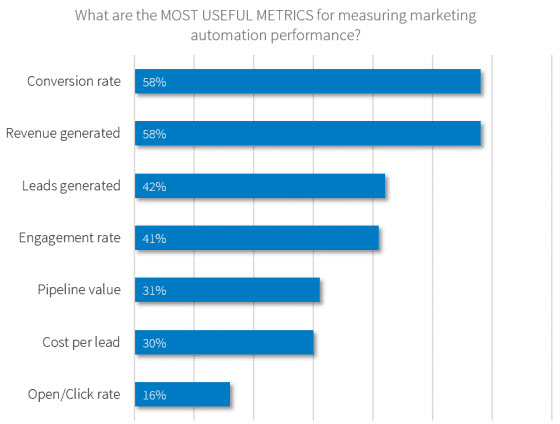 Automate everything – 
Be quick. To succeed, brands must deliver experiences that are fast and frictionless. It's time to invest in mobile experiences as well as a machine learning and automation strategy. Machine learning can help you understand and predict intent in ways that simply aren't possible manually. It can also help you find missed or unexpected connections between business goals and the habits of your key customer segments. – Think with Google
I also expect to see the manufacturers change the way they approach their marketing efforts and take advantage of newer, more efficient tech stack solutions. These solutions will improve the way data is shared with dealers while potentially saving hundreds of millions of dollars.
Last-Click Attribution Will Be Put Out to Pasture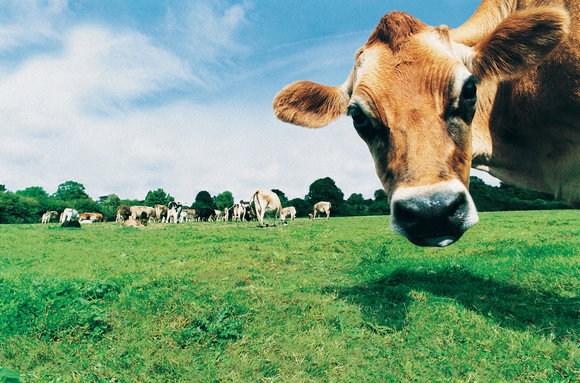 This year a more significant percentage of dealers will (finally) have a healthier understanding of what attribution means and how their marketing efforts contribute to their results. Car shoppers don't buy a car after seeing a single touch point. The average consumer can be exposed to thousands of branded messages daily. Not a single TV commercial. Not a single Google ad. Not an individual YouTube video.
The numerous points along the entire shopping journey contribute to the purchase. I didn't get fat from the last donut I ate. It was from the last 67 I ate.
The conversation around attribution and conversion tracking will drastically change this year. Store visit conversions as a KPI will be accessible for more dealers. A limited number of dealers had access to this data within their analytics accounts. Many dealers aren't even aware this data is available. This elusive metric will be a more substantial portion of the conversations demonstrating campaign performance. I also expect this data to make it easier for dealerships to understand the difference in the results and the value their vendor partners deliver.
How can you take advantage of getting access to store visits? Follow these steps provided by Google to prepare your accounts for access to measuring store visit conversions. Store visits are still only available to a limited number of Google advertisers, and more will have access throughout the year.
Have multiple physical store locations
Receive thousands of ad clicks, and viewable impressions
Have a Google My Business account linked to your Google Ads account
Create each of your store locations in your Google My Business account
Have at least 90% of your linked locations verified in Google My Business
Ensure location extensions are active in your account
Have sufficient store visits data on the backend to attribute to ad click or viewable impressions traffic and pass our user privacy thresholds
Search activity has taught us that organic results add deeper context to their experiences. They're searching for busy times, hidden tips, special offers/coupon codes. Dealers have more channels and touchpoints to reach consumers, but they miss the mark on the content to deliver throughout the journey.
Google's breakdown of search behavior shows how user intent turned market funnels on its head:
The traditional marketing funnel has changed; consumers narrow and broaden their consideration set in unique and unpredictable moments
Consumers research brands more than ever pre-purchase and competitors are dissected
No two customer journeys are precisely alike, and journeys take multiple shapes within the same category
Detailed-orientated service and product optimization searches continue post-purchase to maximize experiences and understanding – Ex: "how does my adaptive cruise control work?"
Dealers need to ask themselves if the content they're providing has the opportunity to educate and inform shoppers. This touchpoint will be more meaningful and move the shopper through their personalized journey seamlessly.
Expect to see even more advanced solutions via Google Tag Manager (GTM) using Google analytics tracking, event codes, and conversion scripts. Dealers will benefit from GTM tags that help improve content personalization, SEO efforts using schema, tracking video plays, phone calls, form submissions, and so much more. Plus, the reporting will be even easier to understand.
The standard marketing sales funnel advanced to a marketing environment that consists of quickly adapting to the customer's intent. The next stage of this growth is predictive intent; I'll save that prediction for 2020's article when the technology catches up to the current environment. Marketing automation will fuel this movement.
Additional prediction: More dealers will eliminate the excessive amount of low-impact, low-priority links within their website navigation. Too many websites have navigation structures as confusing as a Bongard Problem. Dealers will learn how properly organized navigation structures improve performance. Fewer navigation choices drive users to the pages that matter while also improving SEO efforts.
Digital Retailing Will Continue to Confuse Shoppers and Vendors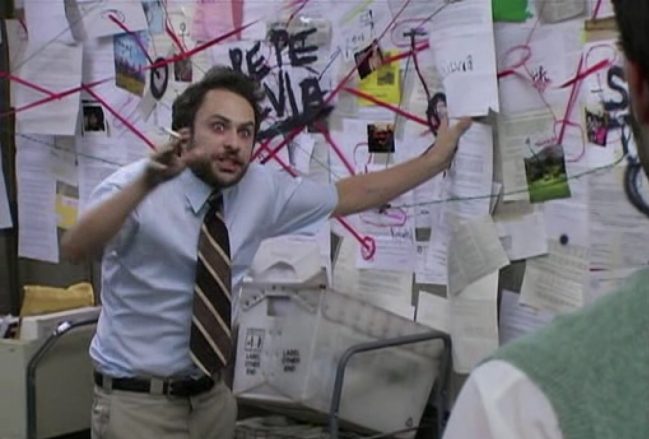 Last year I predicted digital retailing usage would be much larger than it turned out. Yes, vendors did a great job of creating new solutions and selling them to dealers. However, I missed the mark on the anticipated increase of shoppers that would use these solutions in their entirety.
Buyers want simplicity. J.D. Powers released a study last year showing car shoppers spend approximately 13 hours shopping online vs. only 3.5 hours shopping at a dealership. Customers, especially younger buyers, would rather handle these activities online rather than in a dealership showroom but the online experiences aren't there yet.
Brian Pasch shared the results of car buyers using digital retailing solutions in one of the more unique conference presentations last year. Shoppers were filmed trying to buy vehicles using various online shopping solutions available to the industry.
Brian's presentation examples showed what's wrong with this new movement. New digital retailing solutions, which involve a transactional mindset, have been injected into a website experience that was informational. Users were easily confused, and unnecessary details muddied the experiences.
Can a case be made for dealership websites to become smaller versions of "listing sites" and the digital retailing solution acts as a stand-alone solution? The current process lends itself as a new lead capture method, not a transactional one. Does the dealership website experience need a complete overhaul? While numerous dealers see success capturing leased with these tools, many are one-price stores. Their experience has already removed some of the friction.
Smart dealers are integrating vehicle delivery along with pick-up/drop-off services for vehicle trade-ins. Various state laws will continue to be a roadblock for successful mass adoption of an entirely online process. The costs associated with returns and additional delivery methods will eat into thin dealer profit margins. Vehicle acquisition costs and inventory pricing management philosophies create obstacles only the best operators will be prepared to manage.
I believe we'll see more progress with digital retailing solutions this year in the used car market – but not for online purchases. I see more dealers adding convenience and experience items such as transfers between store locations, pick-up/delivery, and remote trade-ins.
Additional prediction: Conference presentations in 2019 will (hopefully) be more interactive and entertaining. Mix it up and try a new format to educate the audience. Hat tip to Joe Webb and Brent Wees for delivering what many said was the best interactive breakout session at a conference last year. ("The Results Are In, You Are Not The Father … Of The Sale")  That is – until they attended my Marketing Jeopardy presentation:)
Tesla Will Add More Pressure To The Market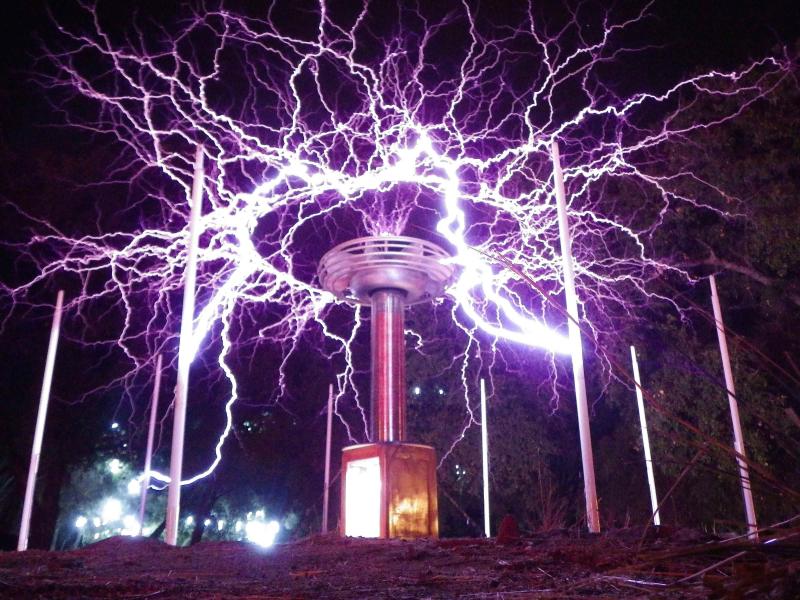 Tesla finished the year selling more vehicles than Mercedes-Benz, BMW, Lexus, Infiniti, and Acura. (Source: goodcarbadcar.net) Regardless of your personal opinions of the company or their CEO, Tesla will continue to add pressure on dealers in 2019. 2017 deliveries totaled 103,097; 191,627 were delivered in 2018. (Source: InsiderEvs.com)
Over three million electric vehicles are operating globally this year. That number is up nearly 50% since 2016. The best selling small/mid-size luxury sedan in the US last November was the Tesla Model 3. (nearly 30k vehicles) That number was enough to outsell the Mercedes-Benz, BMW 6 & 7-Series and the Audi A8 – combined.
The Tesla Model 3 has already been reduced by $2000 due to the federal tax incentive dropping to $3,750 vs. $7,500 per vehicle. Tesla deliveries were up 8% in Q4 2018 with over 90,000 vs. Q4 2017's total of 29,870 and that includes the Model S and Model X. In December 2018, 25,250 Model 3 vehicles were delivered – just in the US. Another record and the highest sales number in one month for an electric plug-in vehicle. They only sold 1,060 last December.
Luxury dealers must find a way to differentiate their content and increase their chances of being found online. Content that compares their vehicles against the competition will help dealers earn valuable search engine real estate. Dealers, it's time to graduate to a new level of content marketing that relies heavily on answering specific questions and addressing the topics buyers need to make a decision. A results page with a list of vehicles won't cut it if you are worried about local competitors, including Tesla.
Electric Vehicle Performance Will Improve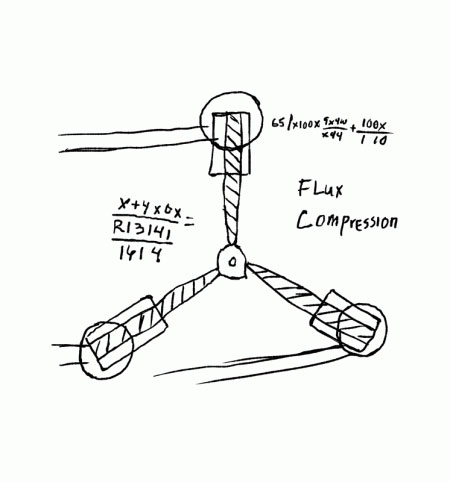 This may take longer than just this year. However, the trend has started. Lithium-ion battery energy is improving at such a frenetic pace. Continental, a major automotive parts supplier, predicted the internal combustion engine could cease to be built by German manufacturers by 2023.
Electric vehicles will continue to get cheaper to build, improve overall quality and drivetrains will improve. One of the best examples is Audi's newest flagship EV – the E-tron SUV. This new vehicle is enticing potential owners with the equivalent of " free gas." Buy an E-tron, and you'll get 1,000 kilowatts of free charging courtesy of Electrify America's network. That's about 10 free charges or a few months of free fill-ups.
I've never been an EV fan, but you've got every ounce of my attention if the rumored Rivian R1T pickup truck ever makes it to production. This beast is slated to whip you to 60 mph in 3 seconds, produce 750 hp and have a 400+ mile driving range. Catch me if you can, Stapleton!
EV marketing will grow stronger in 2019. Content marketing will need to be precise, relevant and optimized for each marketing channel. Tesla is expected to beat the US luxury brands next year; luxury dealers must prepare for this new level of competition. The IEA predicts electric vehicles growing with "rapid market penetration" in states with zero emissions plans, relatively low taxes on fuels. The current administration's desire to change vehicle emissions standards could have a short-term impact on growth as well. (Source: CNBC)
Dealers need to respond with relevant content marketing campaigns that solve the EV shopper's needs. Make it easy for shoppers to discover the relevant information needed to make a decision – within search engines and your website.
Smart Speakers Will Impact Local SEO Efforts
The US hit another milestone in 2018. 41% of consumers now have a voice-activated speaker. That's 21.5% higher than 2017's ownership, with Amazon's Alexa and Google's Home Devices as the top two devices.
How is this significant? The installation and revenue activities have finally reached Amazon's predicted "Critical Mass Platform" status. There are now 100 million Alexa devices installed. Revenue from these speakers is expected to reach $19 billion by 2021. And that's only 5% of Amazon's total revenue.  Google's Home devices, by comparison, are expected to reach just over $8 billion by 2021.
What do people want their smart speakers to deliver from brands?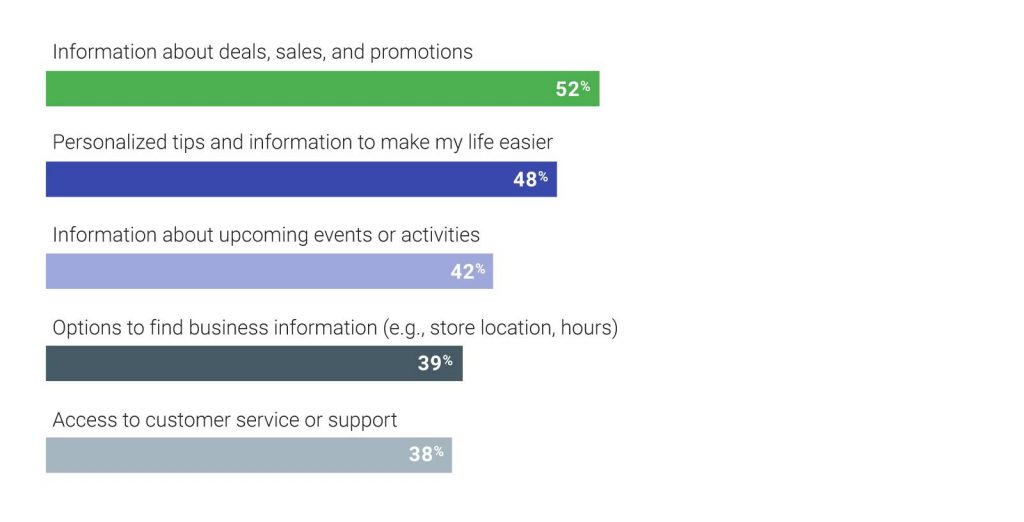 Why is this important for dealers? The behavior continues to shift from just voice to voice+interactive displays that also include a visual element. Dealers need to pay attention to their local SEO and organic results more than ever as smart-speaker/smart-screen behavior continues its rapid user acceptance ascent.
Two-thirds of people who use digital voice assistants, such as Amazon Echo or Google Home, use their smartphones less often. (CNBC, 2018) (Source: Hubspot)
Last year's article mentioned how important Position Zero as the ultimate organic achievement. Voice results unlock new opportunities for engagement and conversion. Voice shoppers will often choose the first result. We trust Amazon. We trust the device we purchased from Amazon. So, why wouldn't we trust the results it gave us?
Amazon's efforts are working. They've managed to change the way we get news, time, and weather updates via these speakers. They also made the device setup extremely easy. This isn't like the old VCR with the flashing clock. (For younger readers, ask your parents what that means.)
Voice Search Optimization will become a factor behind many of the content creation and improvement efforts. Customers now have more choices to purchase consumer product goods, similar to how we experienced a multitude of options in the social media segment a couple of years ago. The smart speaker will continue to shift from searching to interacting. Approximately 21% of smart speaker owners have completed a transaction. (Source: Pivot)
Automotive marketers need to quickly understand three essential factors for their content and how they will fit into their marketing processes.
Answer the consumer's question (How do you expect engagement and conversions when your content isn't helpful?)
Have the proper format for page one results (Position Zero is impossible to reach without being on page one)
Strong local results (Smart speakers deliver local results. Own this element)
Try searching for an oil change in your area. Your ZIP Code and the quality of ratings help power the results. My Alexa speaker gave me four different Valvoline Instant Oil change locations and no dealers. The 4th result is 26 minutes away from me. Why are local searches so important? Local searches lead 50% of mobile users to visit stores within one day. (Google, 2018) (Source: Hubspot)
Another opportunity I predict is the advertising opportunities within the content consumed via smart speakers. The number one smart speaker activity is listening to music and podcasts. OEMs, large dealer groups or even used car supercenters may consider these viable targeted advertising channels.
Amazon's advertising ecosystem will become a land grab. Amazon is already exploring promotional opportunities with consumer products goods. This is always a leading indicator of future retail marketing solutions. Amazon is exploring ways to advertise contextually within Alexa skills. Imagine asking a question about your new Jeep Wrangler pickup truck and getting brand specific promotional offers tied to the answer provided.
Service Conquest Campaigns Will Crush Competition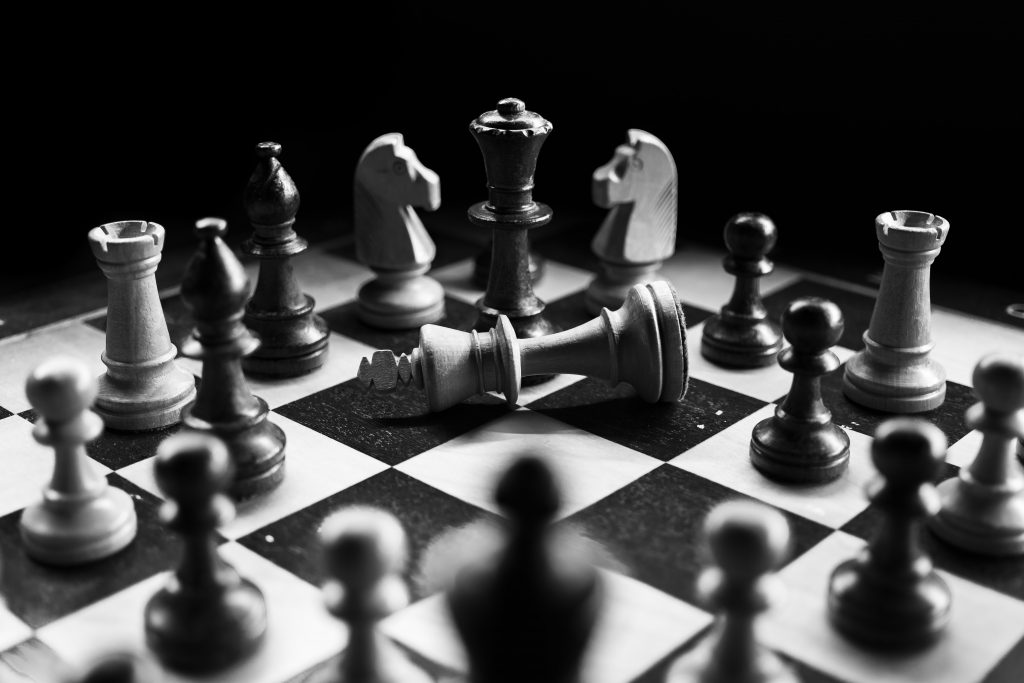 I anticipate an increase in service conquest campaigns. Smart marketers will explore alternatives during a possible decline in new vehicle sales this year. Owners of vehicles beyond their OEM warranty coverage are ripe for acquiring new dealership service relationships and cultivating them into sales relationships.
Dealers should consider focusing ad budgets on their top service and parts activities to attract new customers. Building the relationship using low-cost service campaigns can create results that are up to 20 times more cost-effective than standard sales conquest campaigns. (Source: Wards Automotive, Sept. 18)
Creating a relevant service campaign featuring service coupons and parts specials is no different than managing your vehicle marketing efforts, it just costs less. Many dealers ignore this opportunity altogether due to either a lack of marketing resources or the technology to execute these campaigns effectively and efficiently.
Mentally Promoting Extreme Working Hours Will Run Its Course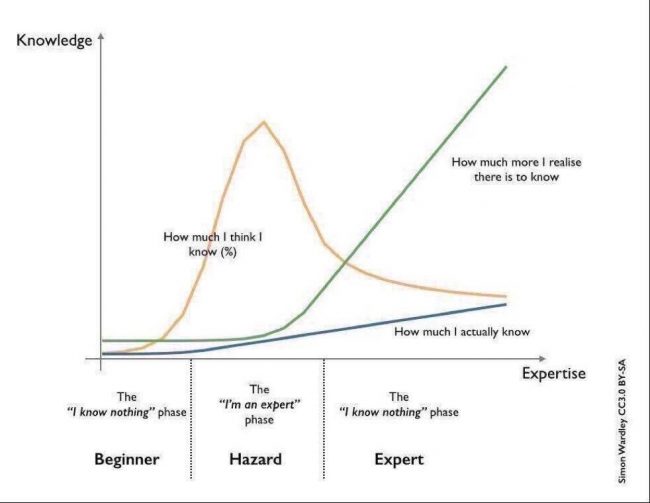 This prediction takes the form of a rant on a topic that drives me crazy Everyone, including me, was enthralled with the early darlings of social media and the endless flurry of self-promotional messages.
Yes, I'm talking about the performative messages espoused a'la the Vaynerchucks and Cardones of the world. And no, I'm not taking anything away from or knocking the massive successes achieved by Gary or Grant. Their personas can't be replicated. They are the result of decades of arduous work, and they rose to the top. I'm referring to those who flout their excessive levels of hustling and grinding. We shall now refer to this as grustling.
"This idea that unless you are suffering, grinding, working every hour of every day, you're not working hard enough … this is one of the most toxic, dangerous things in tech right now," –  Alexis Ohanian
We get it; you worked hard today, and you want to validate those efforts. Find your voice and share it with a specific audience who will benefit from your content. Remember, your content will be successful when it matches the intent of others – not just yours. Want to be successful? Focus on that one thing without having a side-hustle.
True experts know there is so much more to learn.
Expand your exposure to other influencers beyond our industry. Check out this excellent list of top social media/marketing influencers to follow. Notice the quality of their messages and their lack of grustling; my personal favorite for years, Ann Handley.
Of course, you'll need a predetermined level of devotion towards your craft or skill, but it does not need to be a mechanism that destroys the quality of your life or negatively impacts your relationships with family and friends.
Your efforts, hard work, and eventual success will be noticed by everyone around you and by how you carry yourself.
2019 Automotive Predictions from the Community
Sean Stapleton – CEO & Co-founder, Dealer Teamwork
I predict Tier 2 spending models will see the start of the most considerable transformation the industry has ever experienced. Tier 1 will power the redistribution of funds differently to improve the branding messages while also creating a more cost-effective solution with the technology now available. Dealers will benefit from this change by having more control and access to better technology.
The emphasis on accountability and relationships will increase to new levels in 2019 as well. The theme will be Trust. Dealers need to build trust with their customer by delivering exceptional experiences that start online and continue well after the sale. Dealers also need to trust their vendor partner to help achieve those customer goals.
Glenn Pasch – CEO/Partner, PCG Digital
Two words that come to mind for 2019 are Education and Efficiency. Continuing education should be on every list for the coming year. New products are coming on the market, all claiming to help sell cars.
As everyone focuses on the concept of Digital Retailing, these products will be coming at dealers in record numbers. So learning about them and most importantly, determining if your team can use them. Don't just buy products and throw them into your store. Make sure you understand what they do and where they fit into the process.
Secondly, efficiency is the focus for our clients. Making sure Adwords campaigns are set up to maximize spend and generate sales opportunities.
Too often, as PCG audits dealer's accounts, we find lazy campaign set up where one keyword is taking a large portion of the ad spend so other queries are not getting funded. Or the targeting is sloppily set up, wasting dealer's spends. There are many vendors all claiming they have the best tech for this, but still, it needs someone watching to maximize spend. Dealers need to ask the right questions on what their Adwords vendors are doing with their budgets.
That is why I think Facebook is a more efficient place to advertise. I believe. We will see an increase in Facebook ad budgets for dealers, at the expense of Google spend. I see dealers shifting budget because targeting efficiency is fantastic and the cost is still an excellent value for dealers.
Katie Donovan – CEO, Home Local Services – A Digital Teamwork Company
We are at the edge of the tsunami of voice search. Marketing efforts will need to include new voice search optimization tactics. Over 60% of devices connected to the internet do not have screens and the other almost 40% will move to 50% voice search.
Rising interest rates will do away with interest-free financing, meaning the last bastion of affordable payments on new vehicles will go the way of Ford sedans for the average person. Credit unions will start to challenge the captives with lower interest rates, making financing a critical part of 2019. This creates a gap for creative leasing options, including those on CPO vehicles. This also creates a gap for FinTech companies to gather the necessary runway to create a real challenge for traditional lending. Did I mention that fewer cars will be sold?
As dealerships have made themselves the serfs of OEMs, fewer cars sold means the Hail Mary passes for reimbursement will prove themselves to be financially disastrous. As more dealerships lose money to miss their targets, less cash gets pumped into the vendor ecosystem. Those vendors who have grown used to the unjustifiably high-profit margins will soon find themselves trying to move land, air, and sea to become a certified co-opted vendor. Those who don't will be gobbled up by one of the bigs in a fire sale, or find themselves piled on the stack of carcasses of those who came before them get that evidence book ready and get those references paid prepared. Atonement waits for no one.
For those dealerships that have spent the last two years intelligently reigning in their marketing spend, this year will be the payoff. Less dragnet marketing means the likelihood of the right message landing on the right eyes and ears will yield more efficient results. Those consumers, who are forced to spend more, will be much pickier regarding what they want. We will also finally get to hear the voice of merchandising as it will no longer have to scream over the noise. Advertising is only sunk-cost until it yields repeat business.
As we transition to a buyer's market from a seller's market, human capital will become even more valuable. Every department will have to mold itself into a customer satisfaction center, meaning just having a warm body in the chair is no longer adequate. Since most dealerships haven't figured out how to clone commission hungry baby boomers, accommodating millennials will be the cure to continuous turnover. As self-serving as it sounds, training is crucial as the current employees are probably the best ones. Moreover, this also means investing in leadership, not merely management. Being the best salesperson and regurgitating book-knowledge isn't going to be enough. Seasoned professionals from outside of retail will be preferable. Sure they'll want a salary, but they're 30% less expensive than someone who came up in a car dealership.
All of the sudden a salaried workforce makes a lot more sense. We were blessed with an artificially good market. Let's be thankful for it. Now, let's get ready for how things used to be. It's time to earn it.
Dan Moore – President, Vistadash
My automotive marketing prediction for 2019 is we will see a change in advertising investments! With more actionable metrics in digital marketing, it will become more apparent to Dealers on how to better spend with Google and Facebook.
The growing numbers of Digital Agency's and shinning new software tools are driving up the cost per engagement and lack of transparency in where the dollars are going. Dealers are not getting a clear picture of what sales and service campaigns are generating true bottom line results, which led to an increase of blind spending to drive traffic, not ROI
Thank you for reading. Keep learning, become the best version of yourself and continue helping those around you as well. I hope 2019 is a happy, healthy, and successful year for everyone!
For more of Eric's yearly predictions check out his previous posts:
https://dlrfr.sh/predictions2018
http://dlrfr.sh/2017autopredictions
http://dlrfr.sh/refresh2016predictions
https://dlrfr.sh/4predictions2015

Husband, Dad, Co-Founder, DealerTeamwork.com We made the industry's 1st #MPOP. Aspiring race-car driver. Happiness optimizer. #SEO #SemanticWeb #Sa...