Organic social reach is weird, fickle, and fleeting. With some creativity, it can be conquered – or you can just pay to promote your content like the social media giants prefer. A game of attrition.
But that's no fun!
The team here at Widewail has been thinking lately about how to make organic social work better for local businesses.
And we started with this – people follow people, right?
Who are a business's biggest advocates? For most, it will be the employees. And friends of employees, family of employees etc. – a series of concentric circles reaching out into the community.
From our perspective, using employee's personal social media networks to help spread a message into the community makes a lot of sense, and should help expand the reach and impact of brand posts.
On a person-to-person level – it's important that individuals connected to your employees know that they're, for example, their "car guy" or "car gal" – that they work at the local dentist's office or jewelry store or know the world of powersports etc. As an example, when I worked at CarGurus I took a bunch of calls from friends seeking advice before purchasing a car. Nobody thought of me in this way before I worked there.
In the broader marketing community, this concept of leveraging personal networks to spread through leadership related to the business is gaining popularity: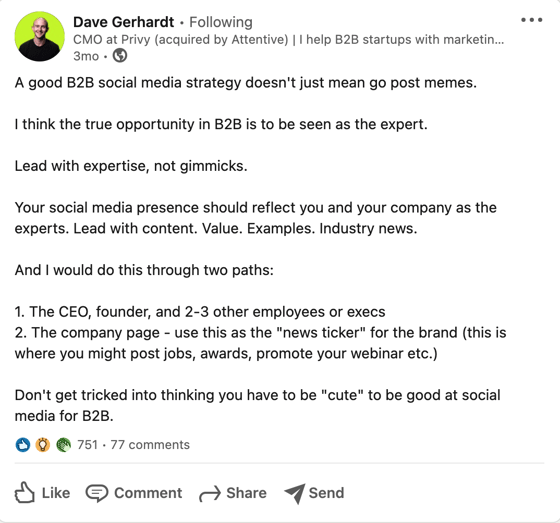 Credit: Dave Gerhardt
To put this to the test, the Widewail team came up with three experiments, using personal Linkedin networks in different ways to expand the reach of a piece of Widewail content. We chose Linkedin because it's most relevant to marketing our business, but it may make sense to focus on other networks for your business.
Widewail combined brand + personal audience (Linkedin)​
Widewail
Brand Page
: 1,218
Combined Sales/Marketing Personal: 22,157
Not only is the team's personal audience larger, but it is also much more likely to drive engagement.
Experiment #1: Coordinated Repost​
A few weeks back we announced the release of our
Hubspot integration
for Widewail Invite.
The brand post looked like this and generated 472 views. Not bad.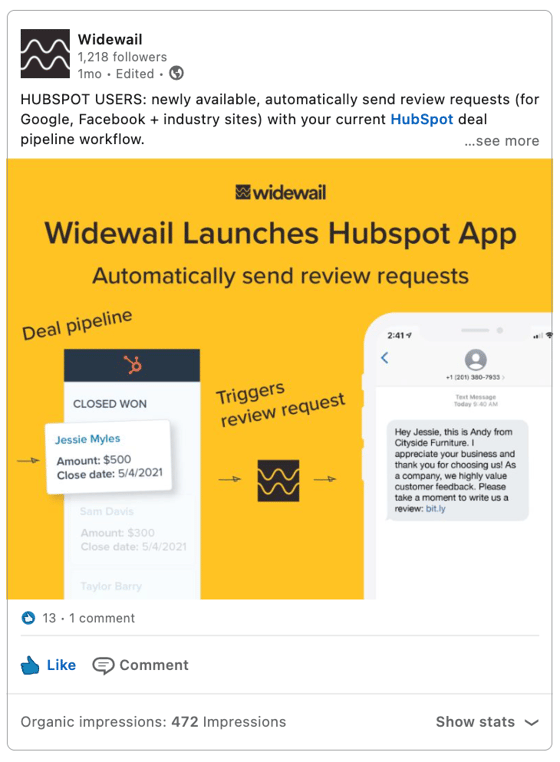 To help spread the word I shared the image internally and a handful of Wailers put up
new posts
using the same media.
Brand reach: 472

Team reach: 15,877
Very nice.
To execute, this technique required more coordination. I had to distribute the content internally and rely on each member of the team to follow through with a post of their own. The Widewail team is relatively small – I can imagine this being more cumbersome as the number of employees or advocates grows.
Experiment #2: Team Reshare​
Trying a different approach, we opted to have the team share this
Widewail post
using Linkedin's share function, rather than each team member posting the content independently.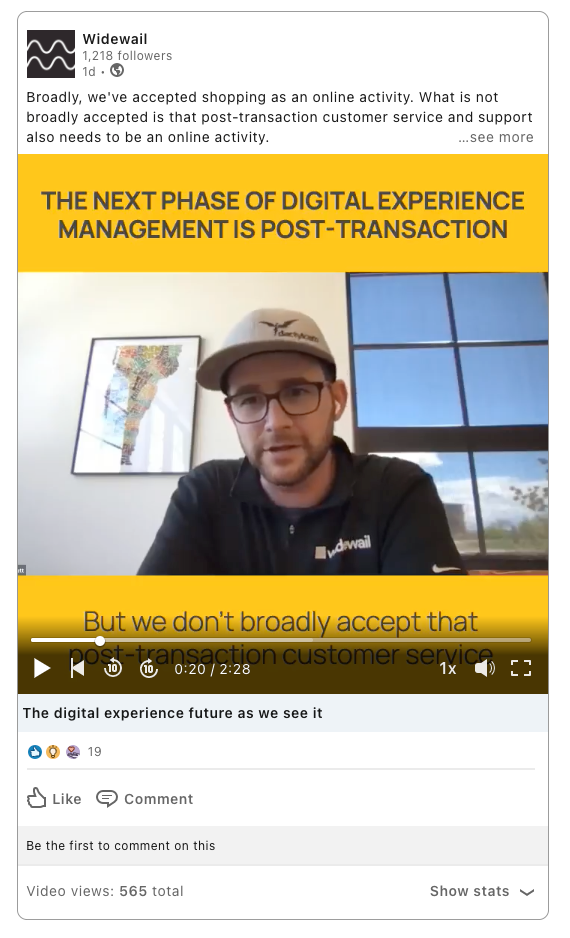 Brand reach: 565

Additional reach from team sharing: 1370
We put this out at the end of last week, so the post has only had a few days on the network, but with the help of the team, we were able to nearly triple the reach of the original post.
Much easier to execute for the Widewail team, I was able to get more participation.
Experiment #3: Tag + Comment​
Our team member,
Justin
, has spent a lot of time experimenting on Linkedin (he has an audience of 3,900) and made the assertion that if you tag someone in the post and they comment, LinkedIn views this favorably and will distribute the post further.
Interesting, definitely worth a test.
Originally, I had reshared Matt's post about a new job listing: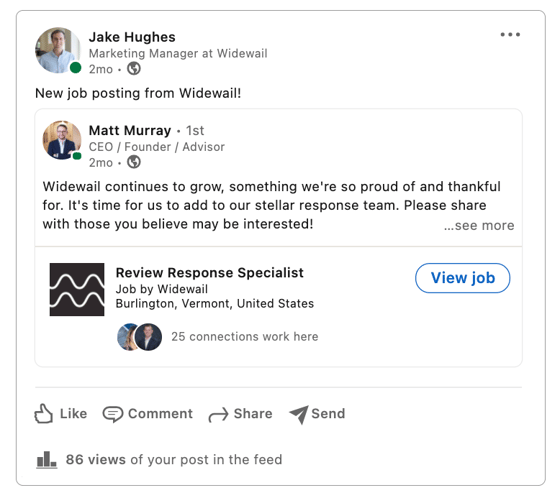 Not inspiring, to say the least. Judging from the comment in my next post, this original post only reached 22 people at the time.
We had some fun in the comments to keep the engagement flowing: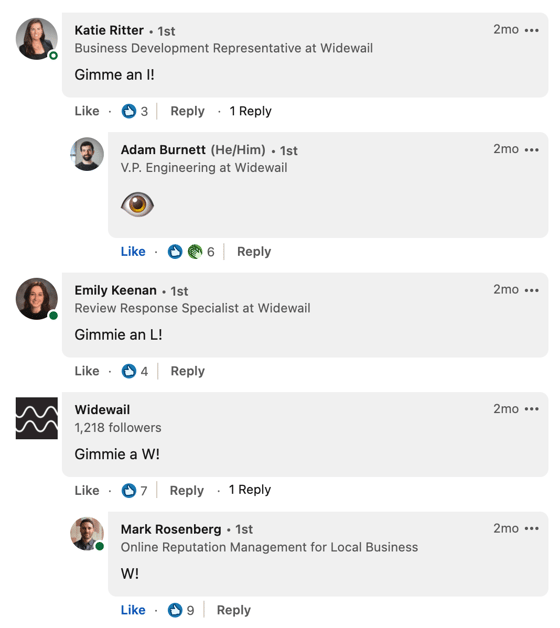 Admittedly, it was a bit out there. But, with the goal to get the job posting in front of more people, Justin's approach was 100% effective (19x if we want to be technical).
Original post reach: 86

New post with tagging and comments: 1,608
Impactful, and the team had a good laugh along the way.
Insider Alley​
More ammo for your marketing meeting.
In the latest Widewail
case study
, Jim Koons Automotive Companies sends 67,820 SMS review invites and increases review volume 633% in the first 90 days on
Invite.
In this
blog post
, learn where you should be using automation in your review strategy and where you should have a team involved.
What is your online reputation score?
Find out here.
DemandCurve's
Linkedin Organic Playbook
is great.
A bit of fun to get us to the finish line – I can't help but
laugh at this photo.
As always, thanks for reading. If you haven't already,
please subscribe.
See you in 2 weeks – Jake, Marketing @Widewail
————————————————-
I'm Marketing Manager here at Widewail, as well as a husband and new dad outside the office. In Vermont by way of Boston, where I grew the CarGurus ...