It is a well-known fact that your online reviews are your first foot-in-the-door with a new customer. It is also widely known that it is essential to respond to ALL reviews – be they negative or positive – but the struggle with online reviews is keeping them up!
Your dealership may be one of the lucky ones. You may have a dedicated staff member that daily monitors your online reviews, but if your dealership is one of the many that do not, I'd like to show you a great way to continue to build consistent online reviews, by creating your Google Review Link.
As technology progresses, consumers collectively have become more and more reliant on what is "easy." How many times has a company directly asked you to review them online, and you think to yourself, "I'll get to it when I get to it."? Most likely that has happened more than you can count, but think of the times when a company has directly sent you a link that you just click on to review them. I know that as a consumer myself, I am 100 times more likely to click on that link and post a review of my experience if the source to do so is sent directly to me.
Setting up a Google Review link for your dealership is easy, and it only takes 5 steps to get started.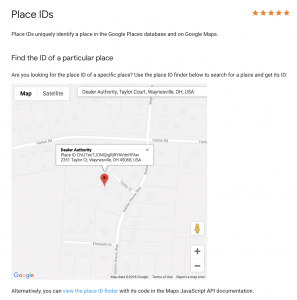 Step Two – Search for your dealership's name.
In the text block on the map, you will enter your dealership's name, and your exact location should populate.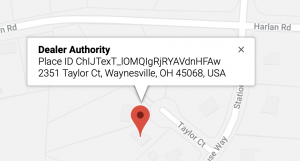 Step Three. – Copy the ID
Copy the ID directly under your dealership's name and paste it into the BOLD section of the URL – https://search.google.com/local/writereview?placeid=<place_id>
Step Four – Save this code in a safe place on your desktop or phone.
There is nothing worse than making an effort to create a new tool and then lose it. Paste the completed code on your desktop so that you know exactly where to find it when you need it.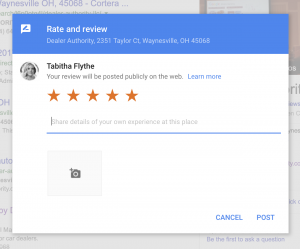 Step Five – Follow up for reviews
Use the link to send as a follow up to customers who have recently made a purchase. Not only have you provided a new customer with a new car, but you have made it extremely easy for them to rate and review your dealership at the click of a mouse.