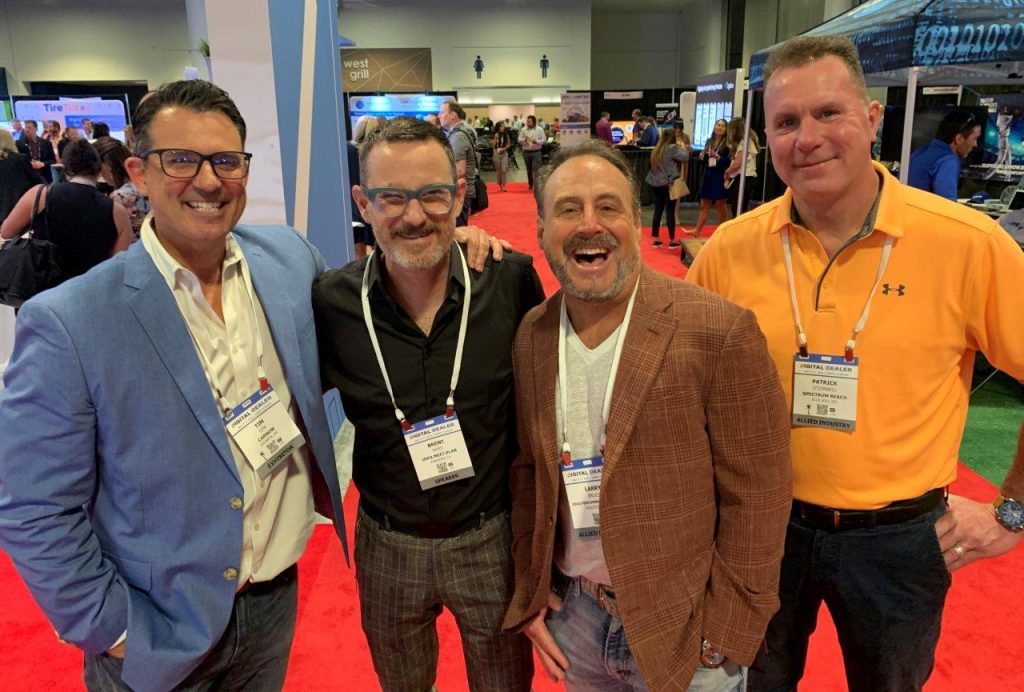 Tim Cox, Brent Wees, Larry Bruce & Pat O'Connell


Who needs some Florida sunshine? ME!!!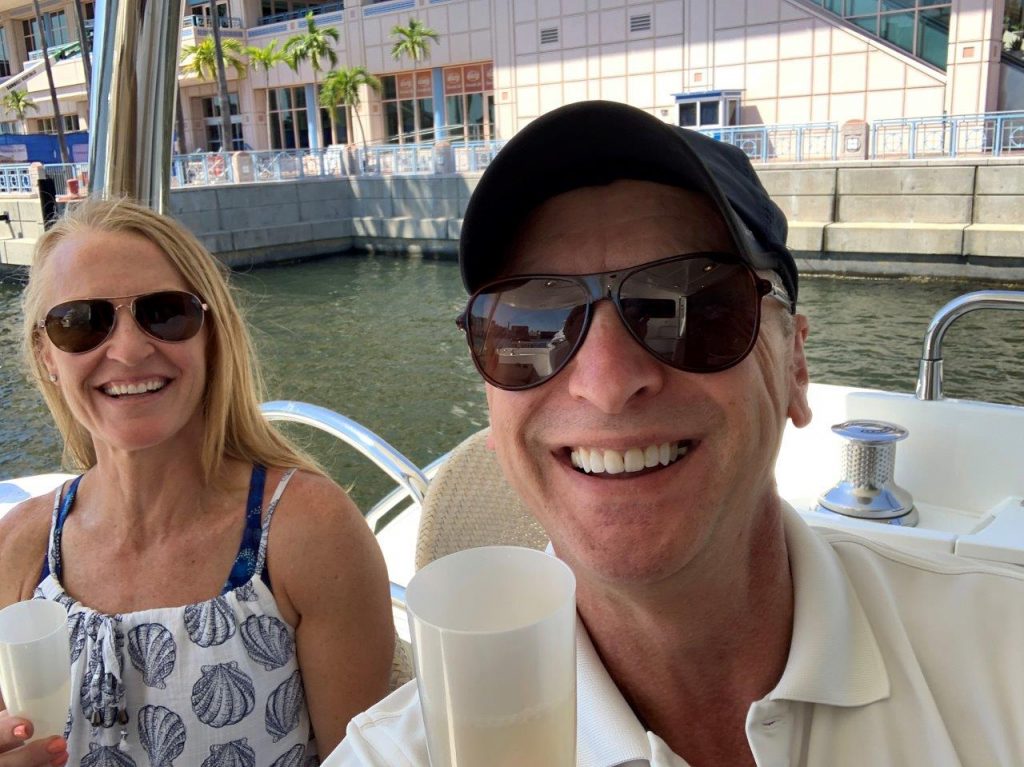 Below Deck – Digital Dealer episode 1: Yes, that would be me, Captain Kevin, on the good ship Matador, docked just outside of Digital Dealer. I had a GREAT time doing a podcast with Jason Harris of Matador, along with Wendy Reeves and Martha Alvarado where we talked about marketing and the user experience. First time I have done a podcast while wearing a swimsuit and sipping some champagne. What a great time, farewell and following seas, and I hope to do this again.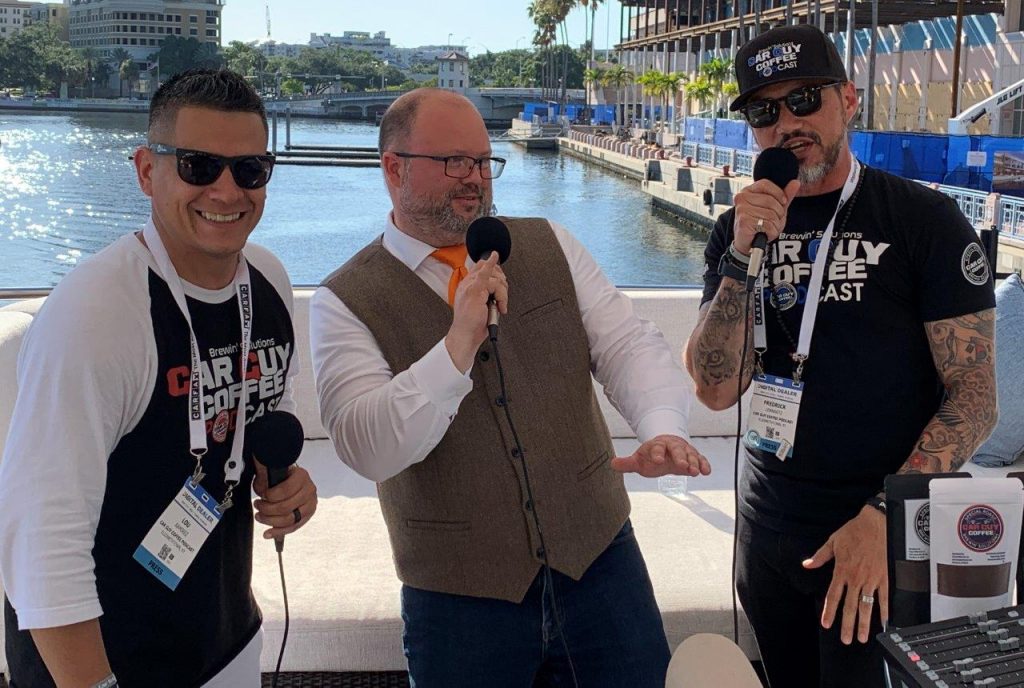 It's that magical time of year again, the spring Digital Dealer show in warm and sunny Florida, where auto dealers emerge from their winter hibernation to gather nuts, berries, and some great automotive knowledge to make them better Digital Dealers when they return. Are you ready to feast???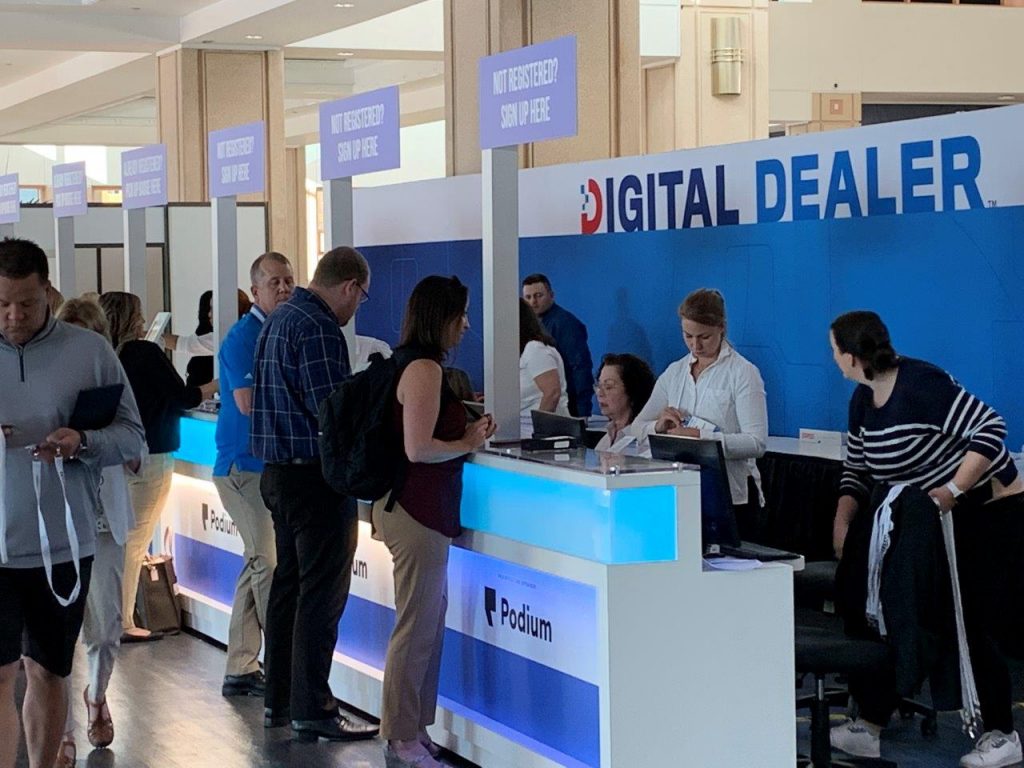 Hey whippersnapper, do you remember the good ole days in Orlando?
Well, that would be me, looking back at early Digital Dealer shows hosted at the Rosen Shingle resort in Orlando, Florida. I gotta tell you that I really enjoy coming down to Tampa, beautiful location on the water, hotels across the street and within walking distance, and plenty of restaurants and entertainment. Sounds like a car-guy/gal kinda place.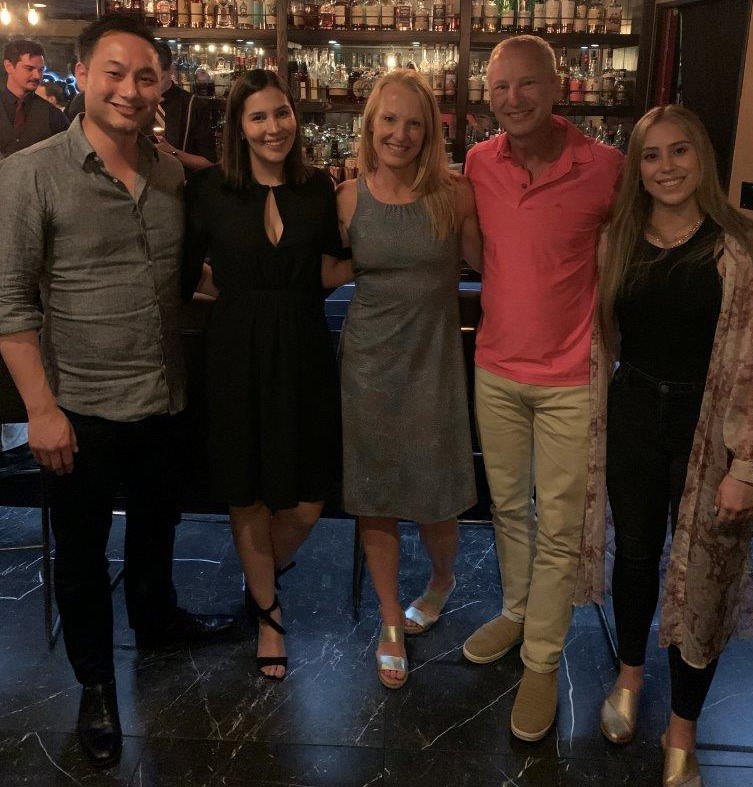 Psst, what's the password?
I think it was "mother" as we answered through the narrow window of Ciro's, Tampa's speakeasy restaurant. Lots of fun with Nick Cybela on Sunday night as we enjoyed absinthe, great food, and better company. Speaking of absinthe, did you know it was once banned and illegal as it caused hallucinations and hysteria? Sounds like a great Digital Dealer conference to me…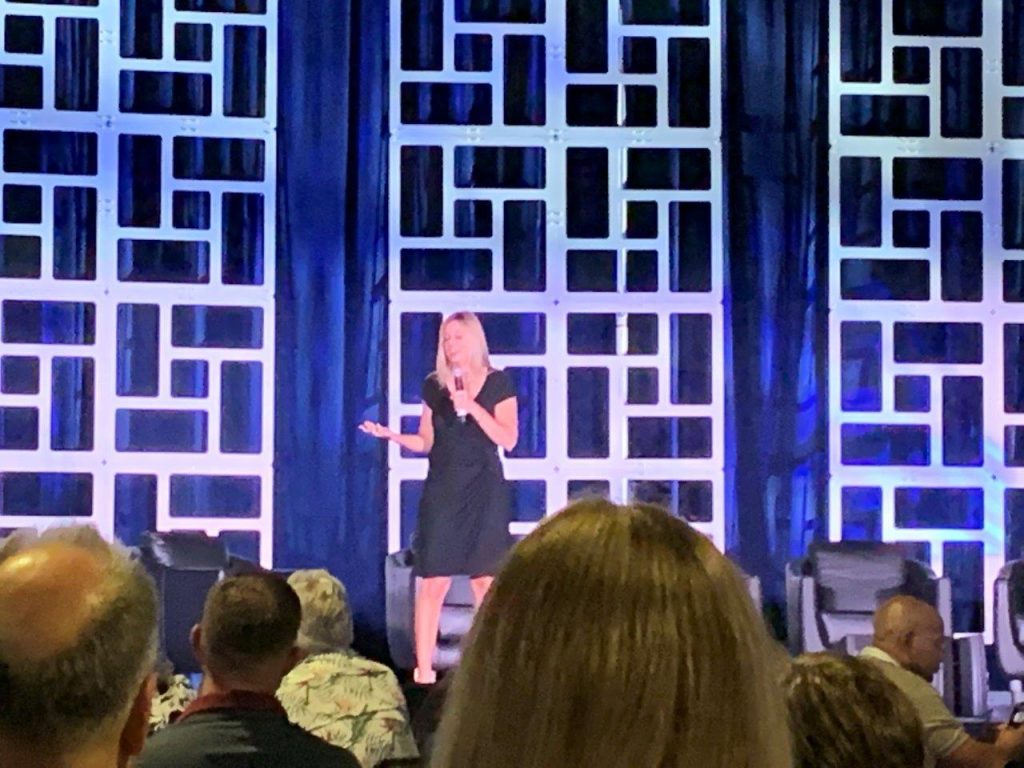 Angie Cucco with Google


Wow, she put the KEY in keynote – Angie Cucco opened up Digital Dealer with a keynote on "Selling More Vehicles in an Evolving Automotive Landscape". As I looked around keynote hall, it was almost full, with lots of dealers ready to begin the show. Angie shared some great insight, with "buy car online" and "home delivery" searches up over 30% on Google. As gas prices reach record levels, searches for EVs have gone up significantly. She also shared that as inventory levels have dropped, loyalty levels have been dropping as well. Should that surprise you? No, Americans want their new car today, and if you don't have the make/model they are loyal to in stock, they are considering options, hence the drop in loyalty.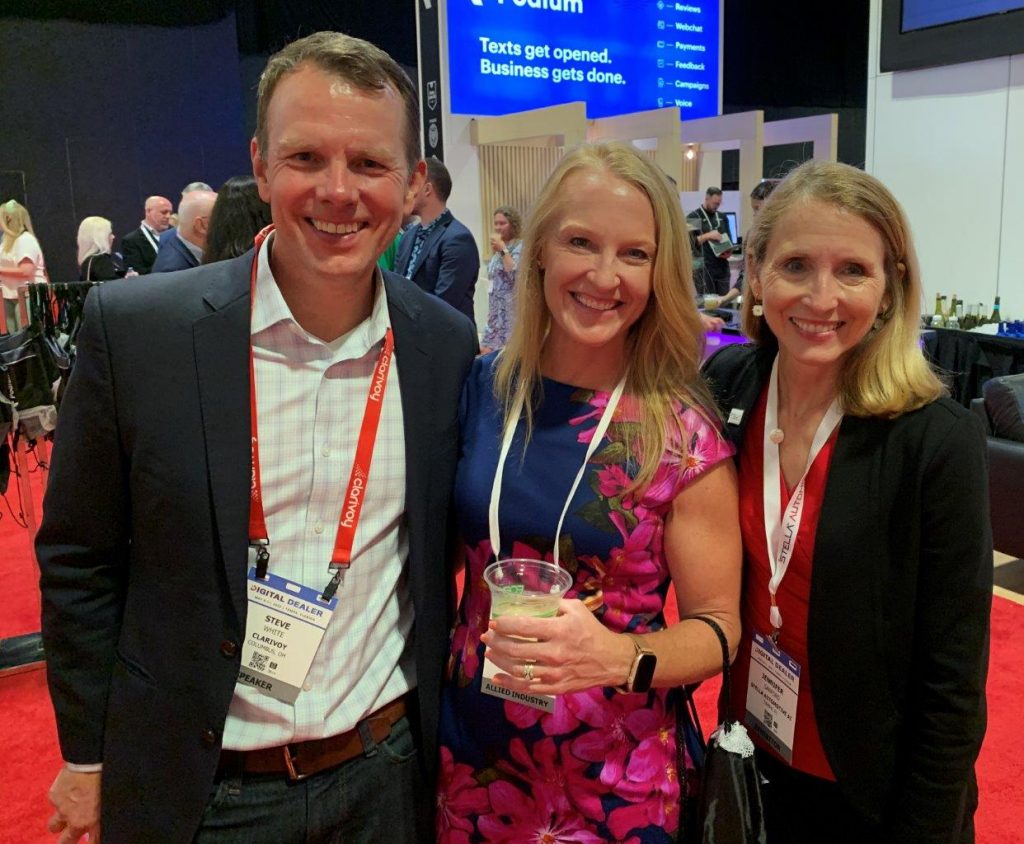 What struck me is that Angie indicated that Google was shifting away from the keyword search experience. This is big news to me, as Google is built around keywords and keyword phrase searches being typed into the search engine query box, and then working to deliver the most relevant result.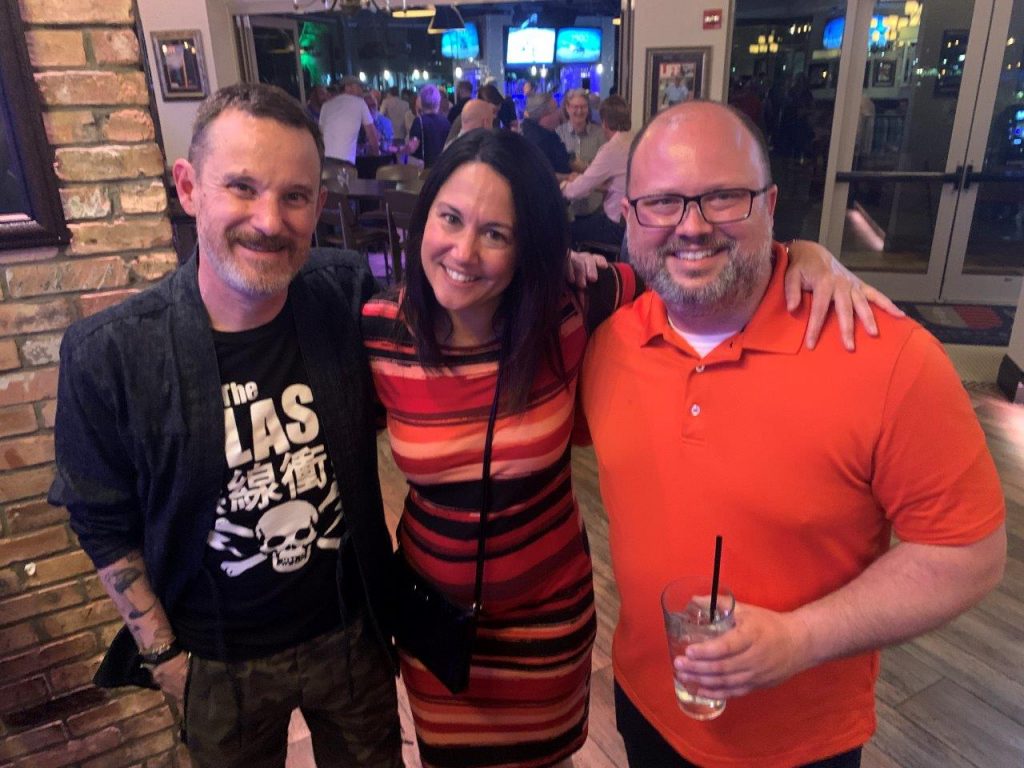 Brent Wees, Laurie Halter and Jason Harris​
Decades of SEO have looked to keyword optimize our websites to be search friendly. Google Adwords is all about placing SEM ads in front of folks searching for keywords that we are targeting. How would shifting away from the traditional keyword experience change? I asked Angie and she shared how Google is looking to reward folks that have a frictionless experience on their website.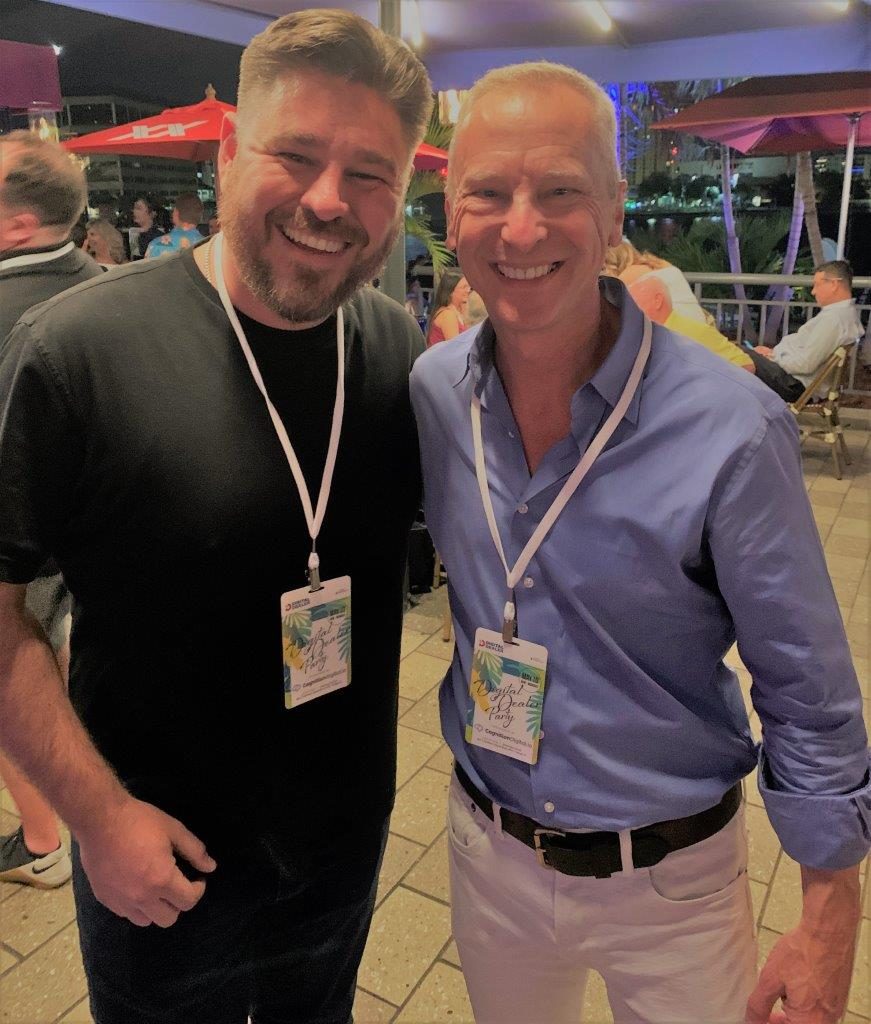 With Rick "Rock Star" Ricart​
I know there have been efforts by Google's algorithm to identify website attributes which provide a smoother website experience, especially on our mobile sites. Does the future Google experience reward sites that have digital retailing tools? Does a 100% online digital retailing tool rank higher than a site with a regular digital retailing tool? And does that site rank above a dealership website with no digital retailing tool? Or does that even matter? Will traditional SEO optimization services not work as well (more on that later)? I am not sure what the answers are, but more reason to attend shows like Digital Dealer to do my best to stay ahead of the market.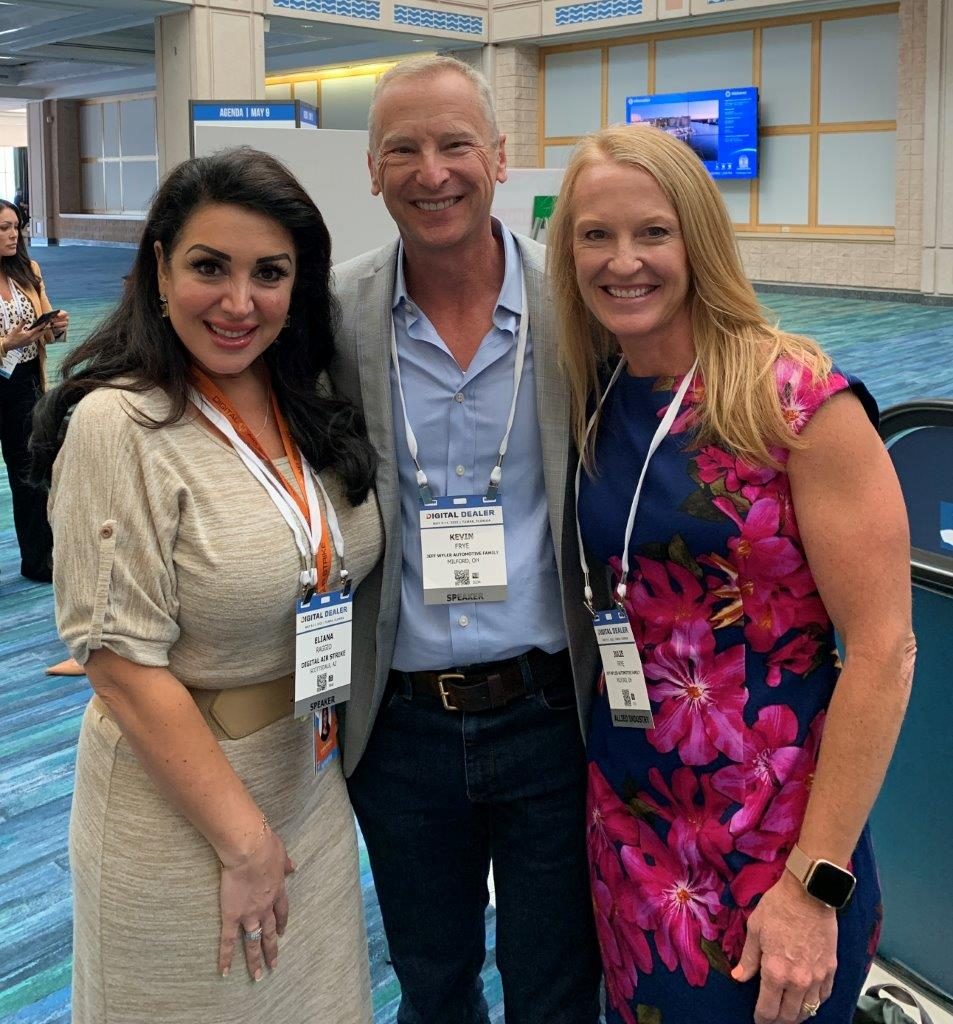 Emcee extraordinaire!
That would be the brilliant and beautiful Eliana Raggio leading Tech Talks. I liked Jackie Studor's presentation about Reach Automotive analytics, where dealers can bring all of their reporting data into one place. As a fellow dealer who is overwhelmed with monthly reports, this is a key concern. Here at the Jeff Wyler Automotive Family, we built a custom reporting platform housed on the Google Data Studio solution. That allows us to pull in multiple sources of reporting data into one place and present it in a convenient, simple report. I believe this is a must for dealers that want to make sound decisions in a fast-moving market.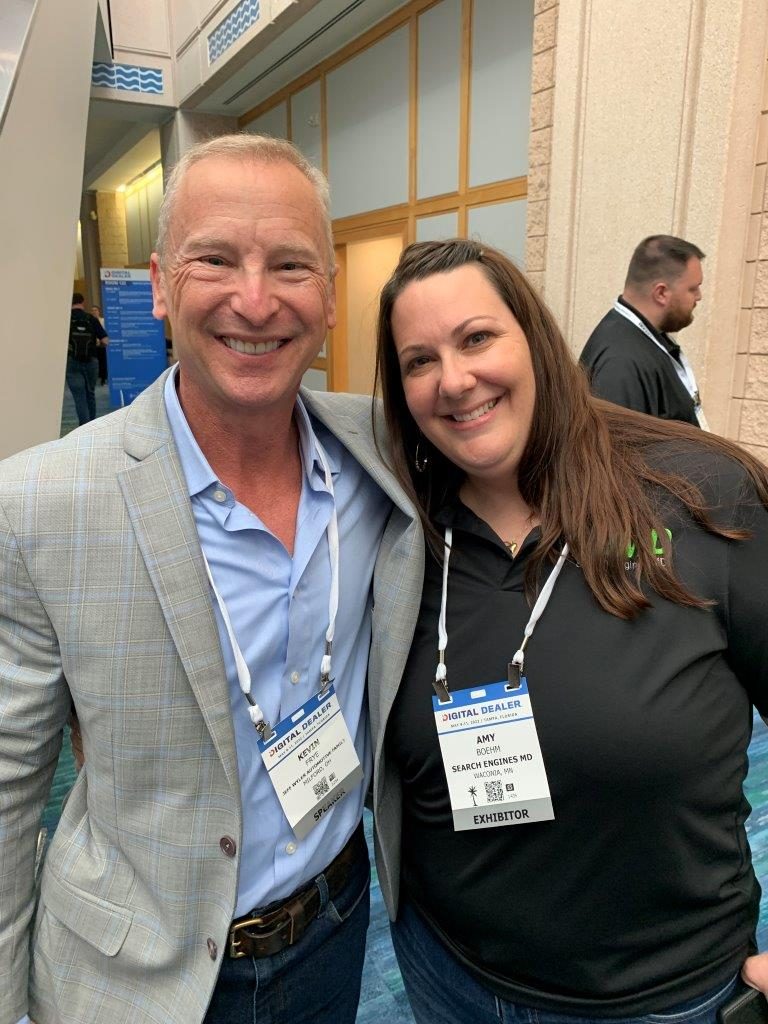 If you want some backspin on that golf ball, take a big pivot!
– Did I mean divot? This was another panel discussion which featured whether dealers are ready to change for the future. My favorite (and simple) takeaway was to go on your dealership website and act like a customer. Then try and do some of the common things we cater to, eg. try and schedule service. Identify the pain points, and then "pivot" to improve your experience to be more frictionless. Hmmm, frictionless? Maybe Google will reward our efforts to pivot towards a better user experience.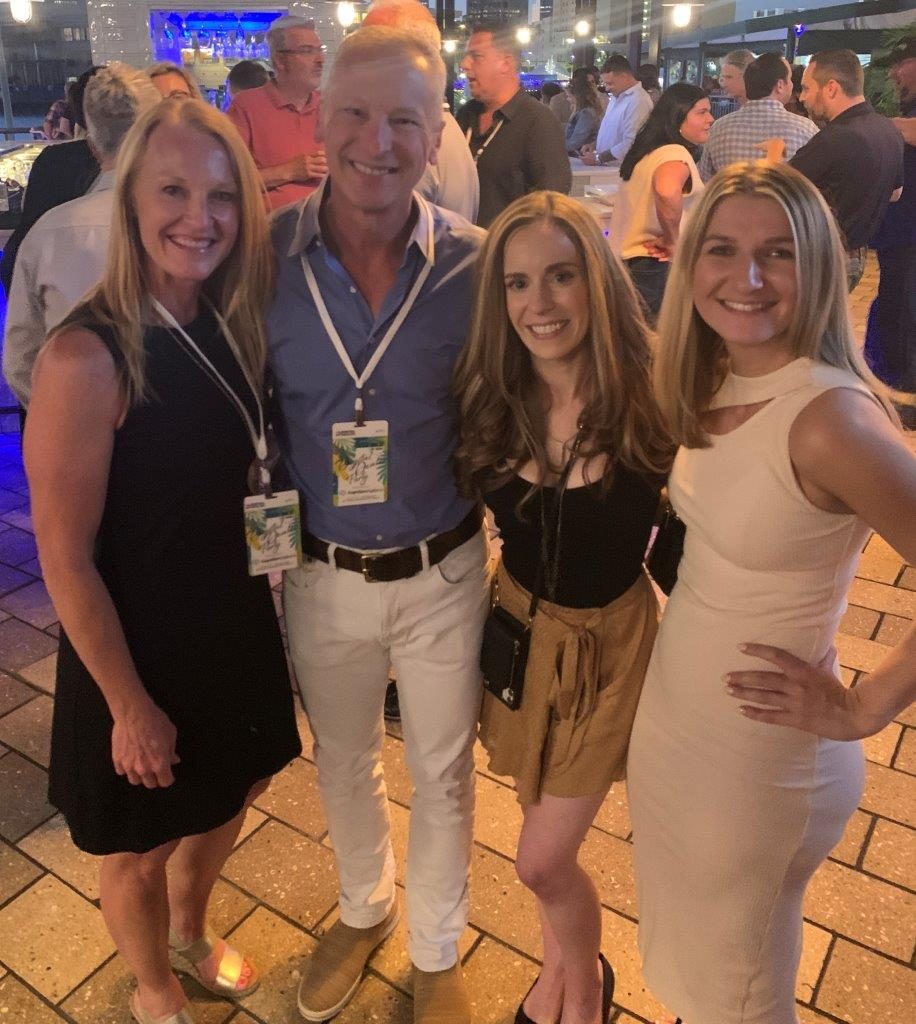 Alissa Calvarusso & Christine Corkran work INCREDIBLY hard to made DD great​
Next up – the Montreal Expos at the Digital Dealer Expo
… maybe not, but I made a dash through expo hall to go get my laptop and notes as I was up to present right after lunch. And you know what goes great with lunch? Some hot tea – as in "Don't Mind Me – Just Sipping Some Tea", my presentation on the latest hot gossip in our industry.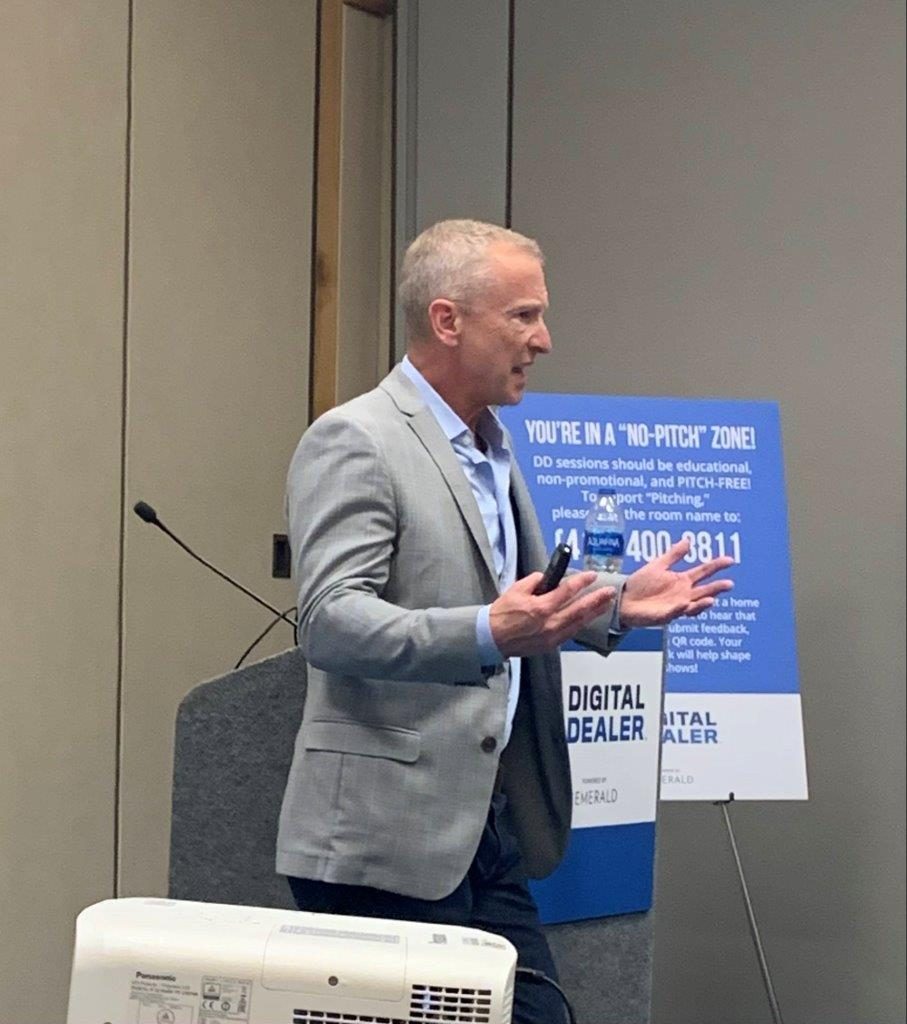 Famous quote by Nelly – "It's Getting Hot in Here"
– my first topic was whether it still makes sense to pay for SEO (search engine optimization services). Alright, before you go into attack mode, let me lay the groundwork. I am often asked how the Wyler Automotive Family continuously innovates and leads in the industry. The simple answer is "we question EVERYTHING" as we always seek to improve. Nothing is off the table, and SEO was one of those solutions that we have pursued for a long time.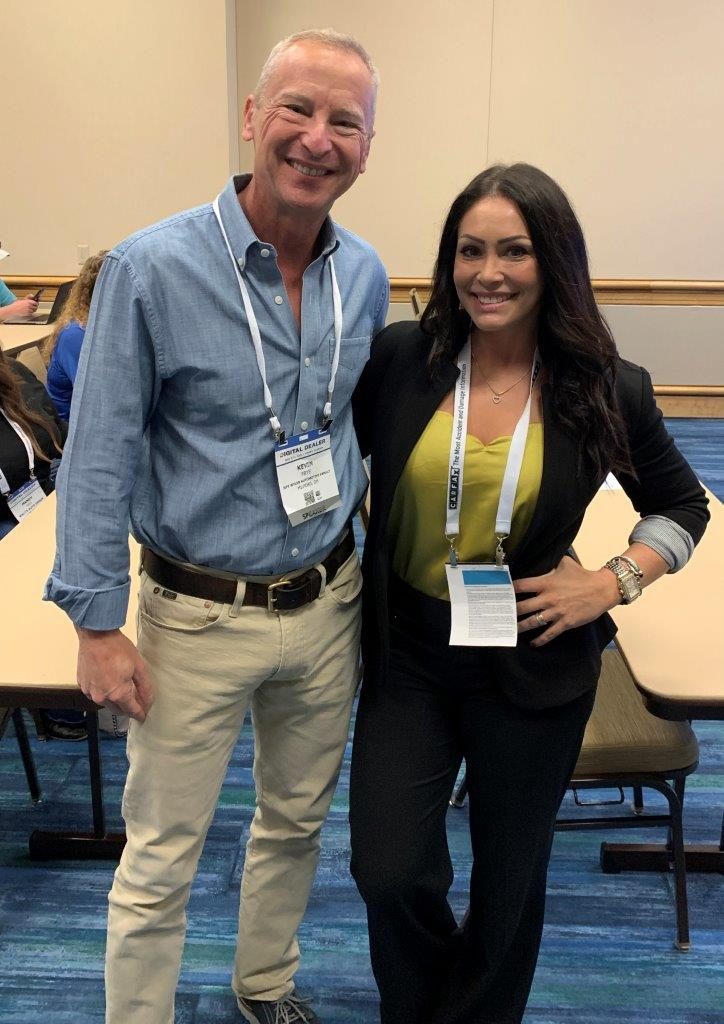 Please note that I used to train on SEO at Digital Dealer, and at outside conferences. Over ten years ago it wasn't that difficult to game the Google algorithm by optimizing your website with keywords, metatags, back-links, and more. As Google improved their algorithm each year, it became more difficult to game (which is what I am calling my armchair SEO back then) Google's search results.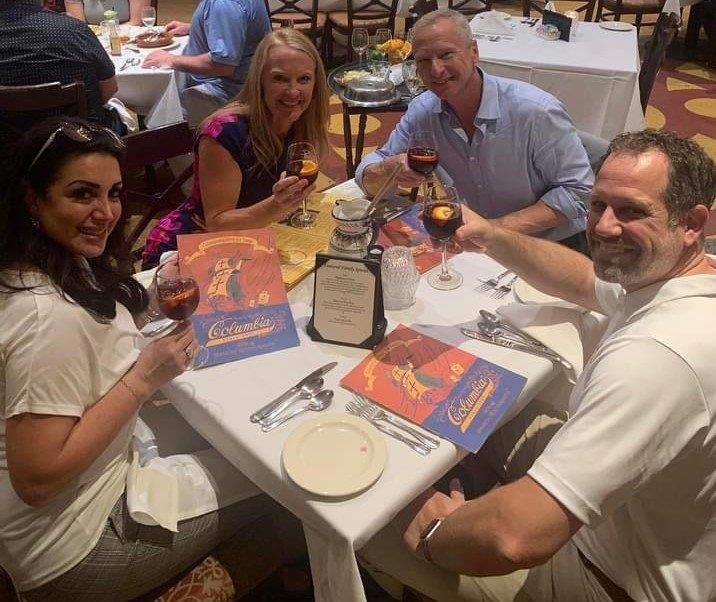 There came a point where I decided to just focus on meeting Google's SEO guidelines, and have my site optimized as well as possible. My first question as a dealer though was this – WHY am I paying for SEO optimization for a very expensive automotive website? It seems pretty reasonable to expect any of our website providers to be experts in this field. Shouldn't they have already built the site to meet Google's SEO guidelines? And even if they did not, why are we expected to pay every month for SEO? If you optimize the site for title tags, meta tags, sitemap, etc, how many times do you have to do that?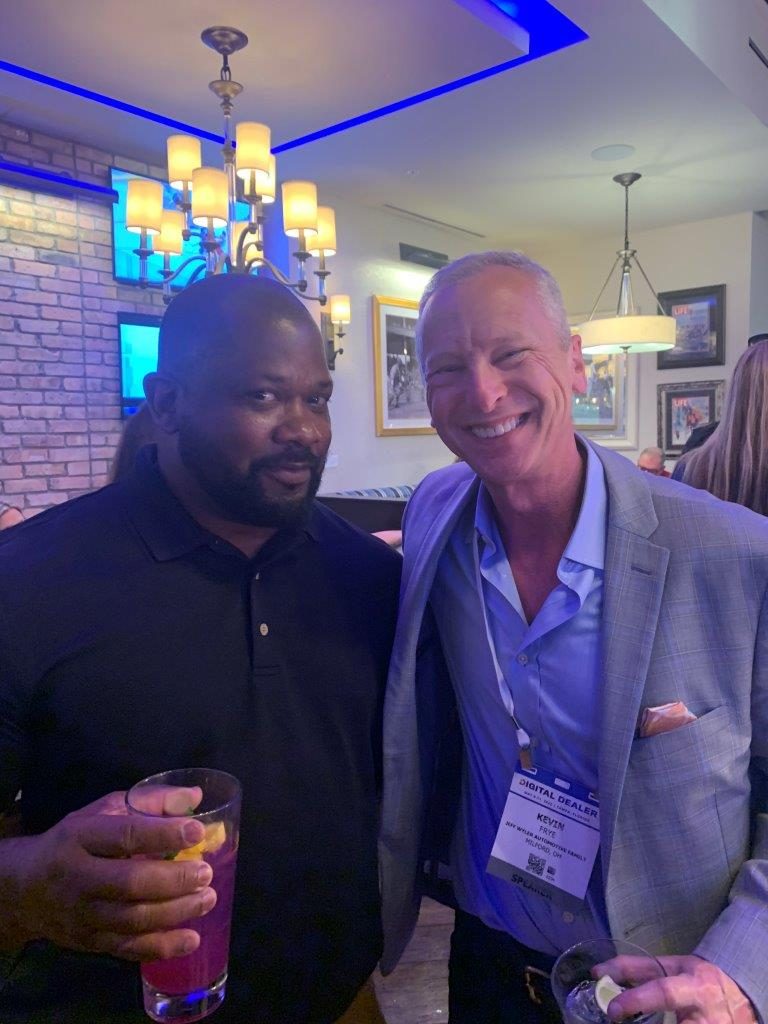 MORE is better!
New content is the medicine for great SEO (or so we are told/sold). If the SEO solution builds SEO friendly pages on our site, that will attract FREE organic traffic which will help us sell more cars or service.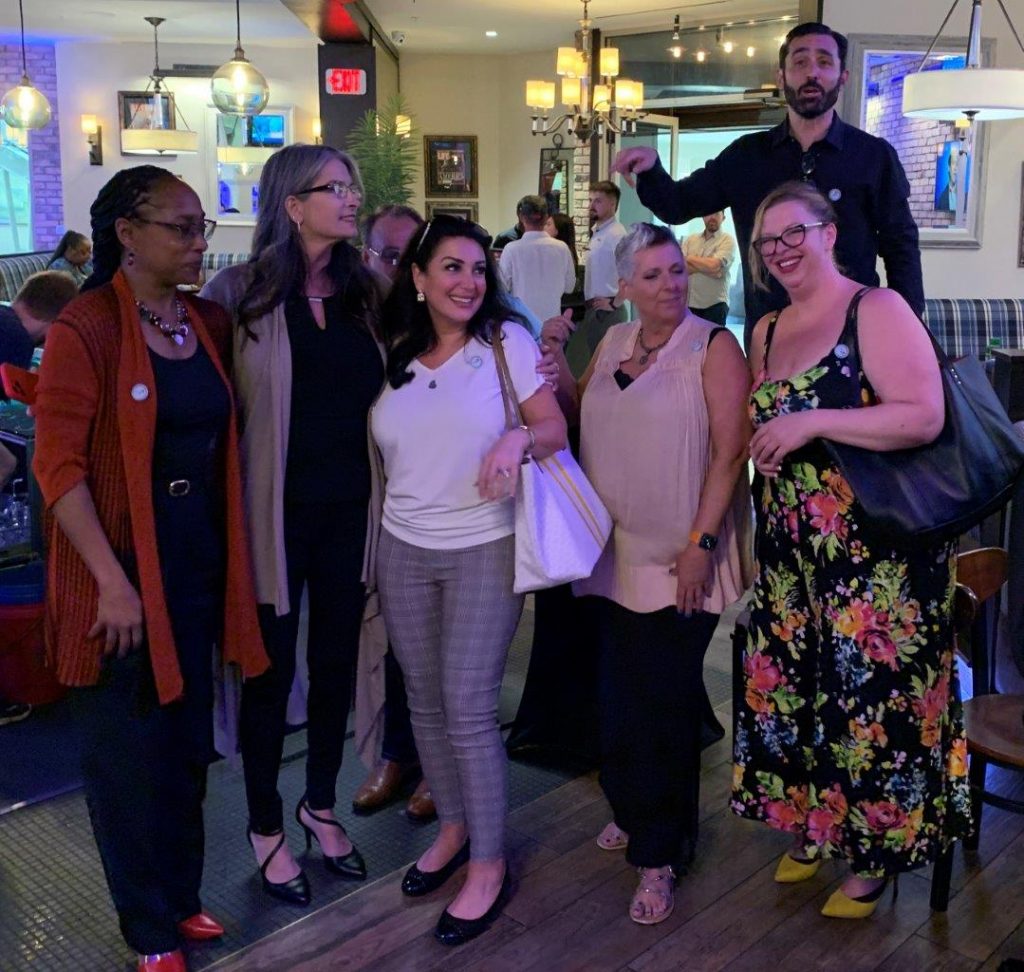 Women in Automotive Cocktail Party​
We recently bought 8 dealerships (in a 45 day period, wow). One of the benefits is that you can take a peek into the Google Analytics of folks that were once your competition. One of these stores was paying ~$2500 per month for SEO services which primarily involved building some model comparison pages each month. How did they perform?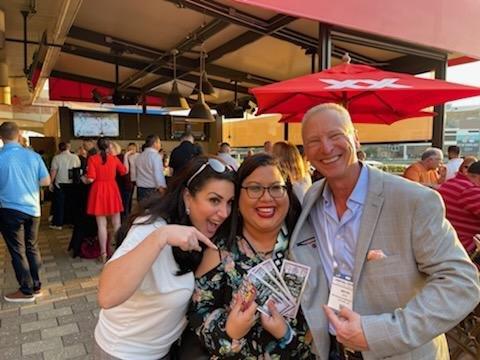 Winner winner chicken dinner for Ashley Cavazos​
First – if I am
paying
for these pages, how is the traffic "free"? This is important, as dealers have a limited amount of money to spend and they have CHOICES on where to spend it to have the greatest benefit to their dealership. When I looked at a 3-month snapshot of performance, I found that the "SEO" pages well less than 1,000 shoppers that were converting at less than 1%, at a cost per shopper ranging between $25 to $50 each, ouch. That is not very beneficial to me.
The argument I presented was this. What if I took $24,000 and spent it on SEO, or alternatively, spent it on a branding campaign, which would give me the most benefit? It is important to understand that the number one keyword(s) that brings organic traffic into your website is your dealership name. Understanding that, what if we took that money being spent on SEO and used it for a branding campaign to draw organic traffic into our website?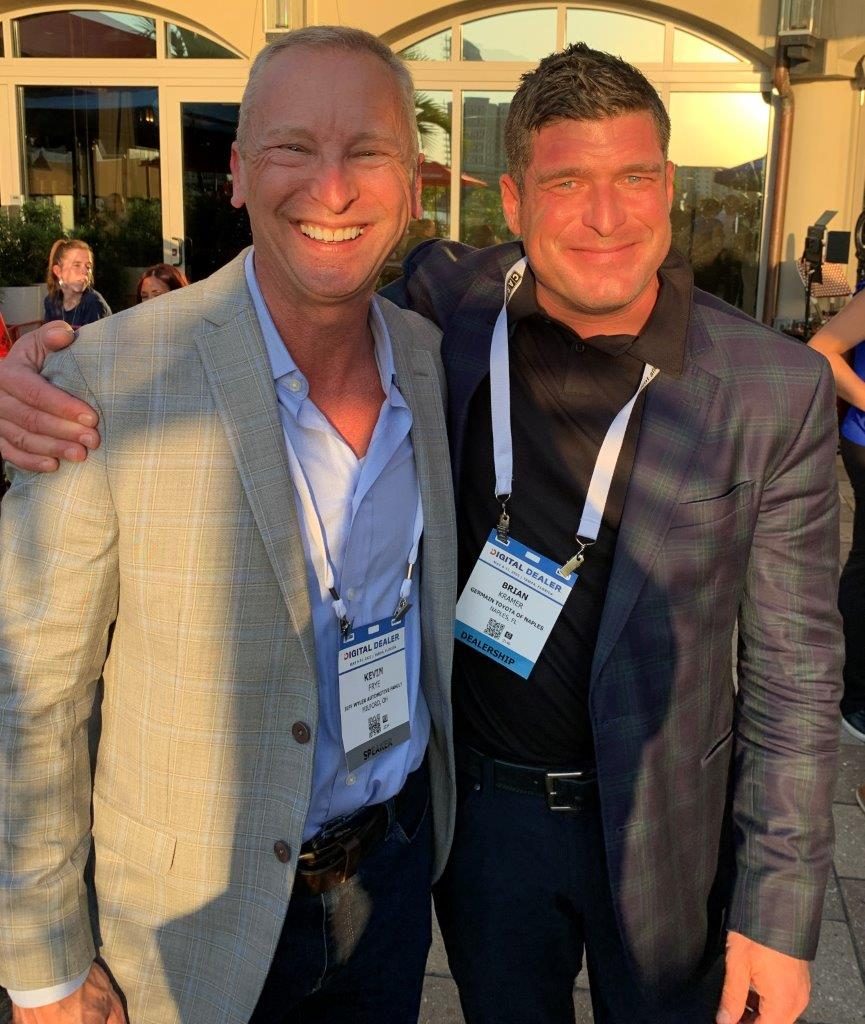 With Brian Kramer of Germain Toyota of Naples​
If I take the cheapest cost per customer of $25 each, and look at a spend of $24k, let's be generous and say I generate 1,000 shoppers which are converting less than 1%. I shared some actual branding campaign results from Jeff Wyler where we generated over 4.2 MILLION impressions using video and display at that same cost. Hmmmm, one thousand visits vs. 4.2 MILLION impressions? Which had more impact???
Drop the mic
– BUT did those 4.2 million impressions matter? I then shared how in 2016, our brand recognition in Cincinnati was 10% when I switched my focus from SEO to branding. Last year, our brand recognition was 21% – more than double than when we focused on branding campaigns vs. spending money on SEO, and we were NUMBER ONE in brand recognition in our market. The next closest in brand recognition came in at 8%. One of our primary competitors who spends a fortune on SEO each year was only at 3% brand recognition.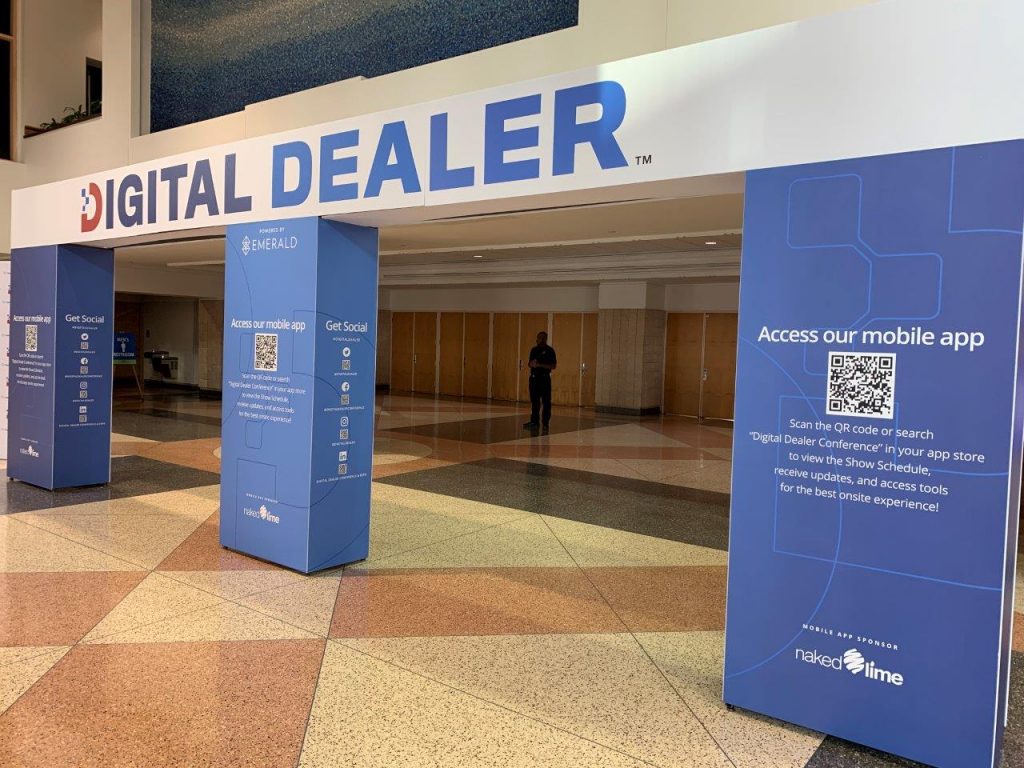 NO, I am not anti-SEO, but as a savvy marketer, I am leveraging every marketing dollar to get the greatest impact. I would emphasize any SEO efforts to focus on Google Maps and Google MyBusiness pages, but for me, outside of that I prefer to spend on branding campaigns.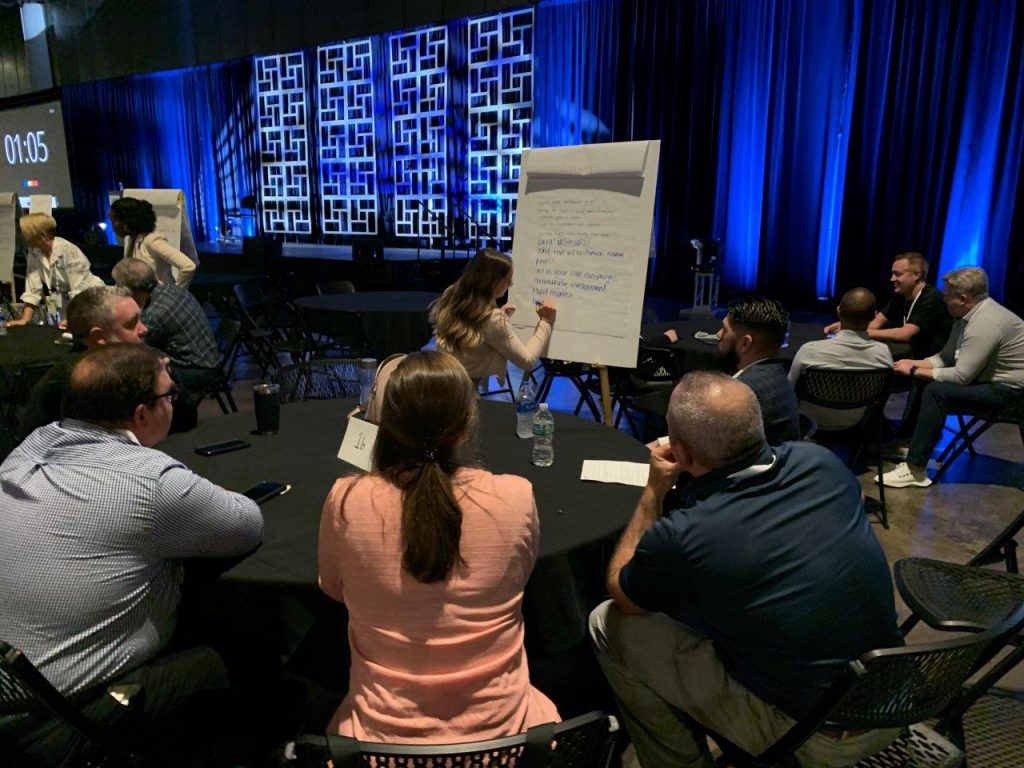 Time to Think Tank
– well in the past, they were called peer roundtables, however Digital Dealer is also always looking to innovate and they looked to try a new format with peer roundtables and rotating moderators (I was one) to spur discussion on marketing strategies, sales and variable ops, and more. It was a bit confusing figuring it out (and I think dealers were confused as well), and by the time we got it down, the time was up. My recommendation – keep it simple. If you keep this format, it needs MORE time. Personally I liked the peer roundtables where dealers choose the table that has a topic they want to discuss and they go from there.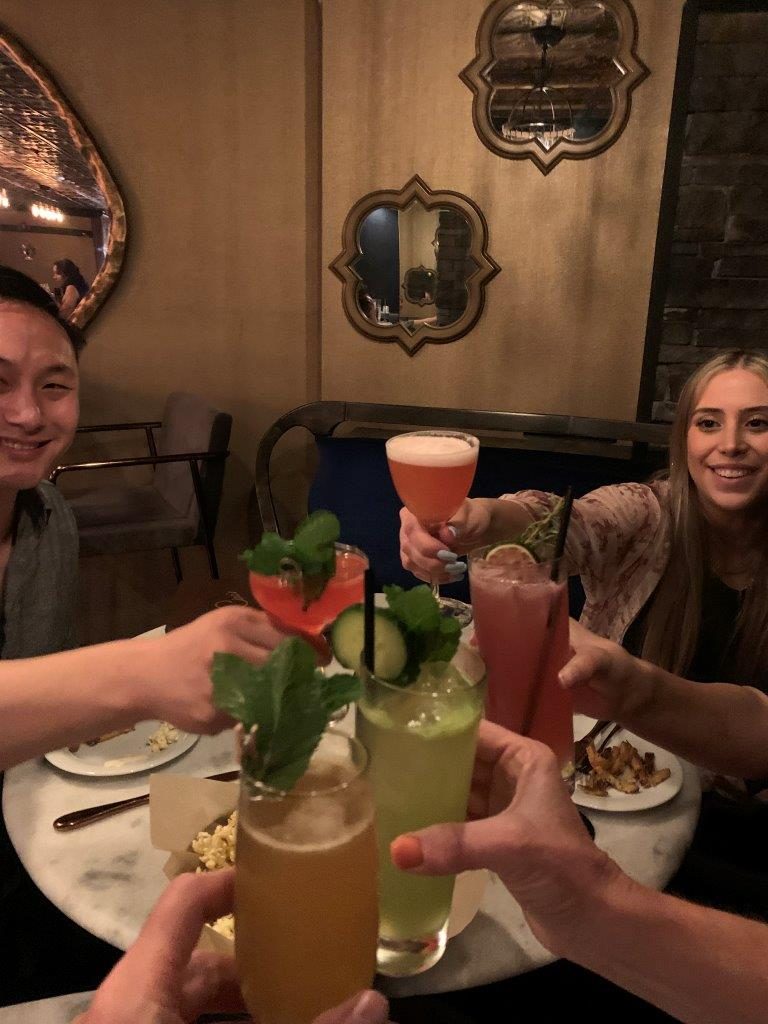 My counter-ego and favorite market Mad Man is Roger Sterling
…
Grab me a Martini and step aside, time for the Expo Hall Cocktail hour. Holy Five Hour Energy drink, this was fast paced, as I spent time at the cocktail hour, then headed to Harpoon Harry's to join the Pasch Consulting Group and FlickFusion for drinks, then back to American Social for the Women in Automotive cocktail hour, and finally the ASOTU event. I am not sure I remembered my name by the time I joined Digital Airstrike for dinner at the Columbia restaurant, but I am pretty sure that the same letter "A" in automotive is also the first letter in alcohol.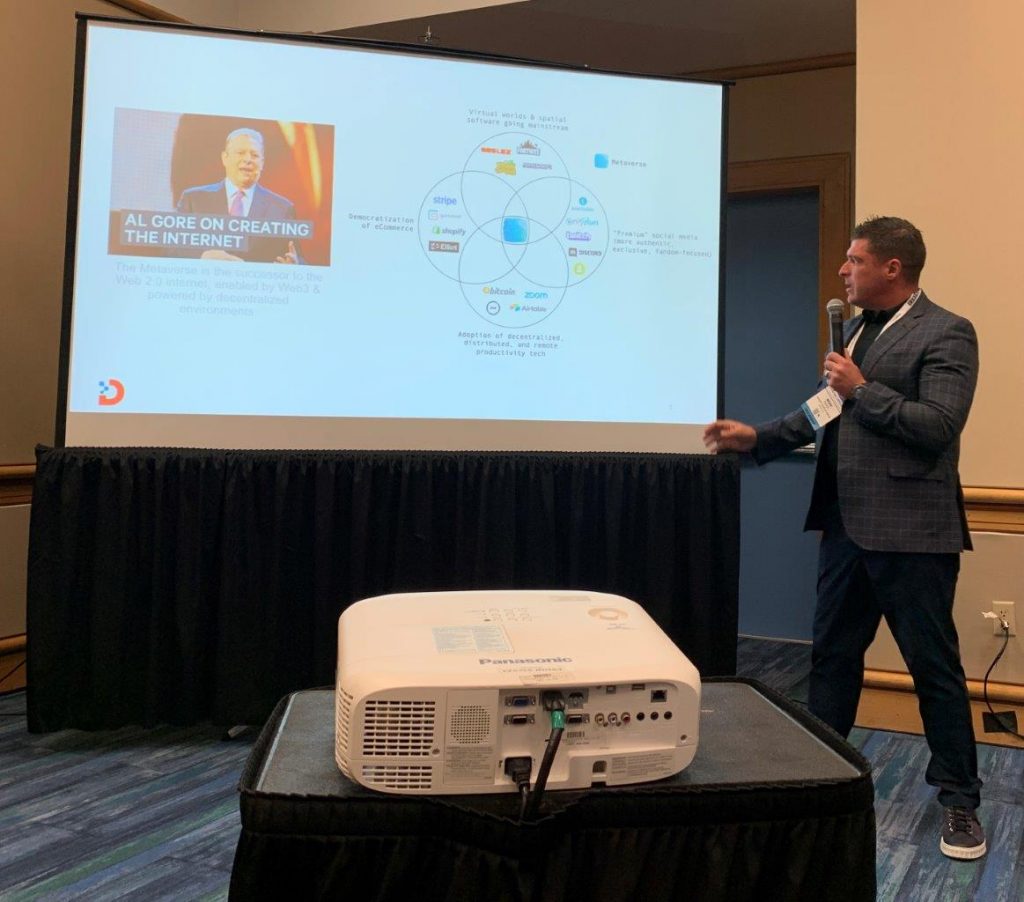 Go to sleep… go to sleep… WAKE UP!
Time for breakfast and the Metaverse with Brian Kramer and Jarod Kilway of Germain Toyota of Naples. I always love the edgy and forward looking content. Brian shared some of Germain's efforts to explore the Metaverse, and how we might have a presence in the future with automotive. This session gave me some ideas to pursue when I get home. Wow, the world has come a long way since my first video game "Pong".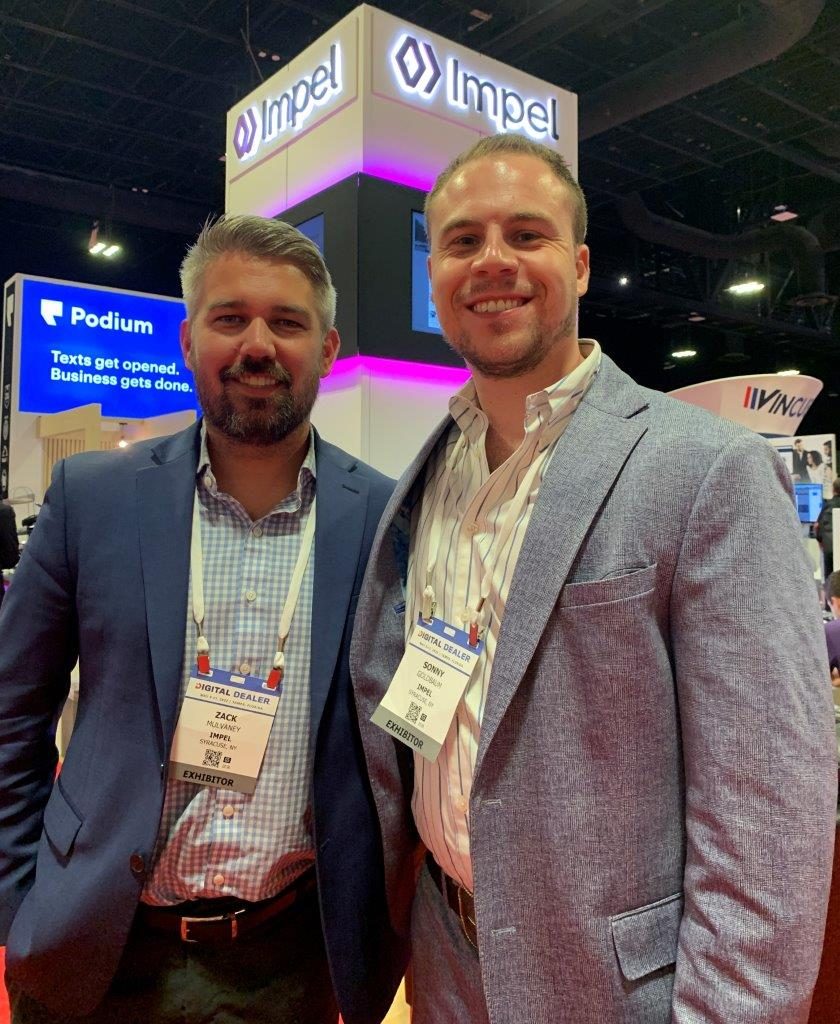 I was able to finally spend some time in Expo Hall, and my primary focus was on AI (artificial intelligence). Settle down skeptics! AI has improved leaps and bounds since its early inception, and if you have looked closely, I believe that AI is the next step in improving our user experience on our automotive websites. Step back and think about it. The automotive website has evolved little since its inception. The "let's generate a form" strategy (outdated) creates huge workloads on our teams to follow up, struggle to regain contact, answer any questions, and then set an appointment. What if AI can immediately engage the consumer? Answer most questions? And even set the appointment for you?
No, AI is not perfect, but it is MUCH better. And consumers today are interacting with AI on a daily basis with other consumer shopping experiences. I think automotive is behind, and if AI can provide a better shopping experience now, complemented by our sales teams backing that up, this is not only a win, it is a more efficient approach for us.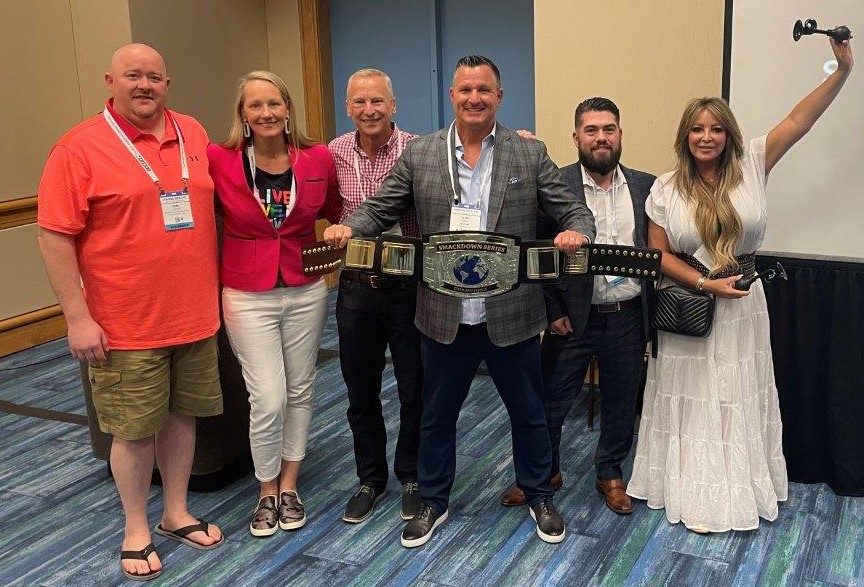 Introducing the Champion of the World!!! (echo, echo, echo)
– I should have learned years ago to not trust Brent Wees. Attending his session and sitting in the front row means he will call me out for some embarrassing trick he has in mind. In this case though, it was team AI vs. team Automation, where dealers competed against each other as we learned about the differences between both (though we learned it is often a mix of each) with the solutions that are out there. Let me share this – Brent has a unique style that ALWAYS engages his audience and everyone had a great time as we learned more about automation vs. artificial intelligence.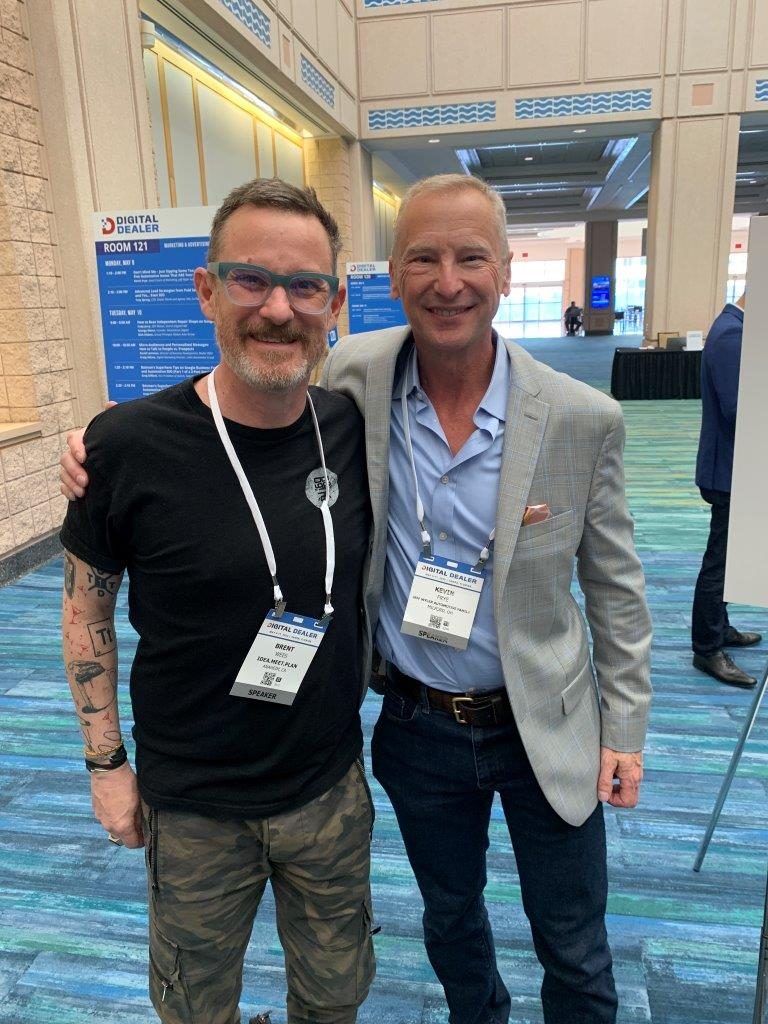 Long time friend and industry great Brent Wees​
Wrapping up the day was a dealer panel sharing innovative ways to bring attention to your dealership, followed by answering dealer questions. One of the questions was about dealers who are marking prices above MSRP. I loved Paul Sansone's answer, where he shared that "arrogance will kill us all" when we become overconfident and too greedy in our efforts to maximize profits today.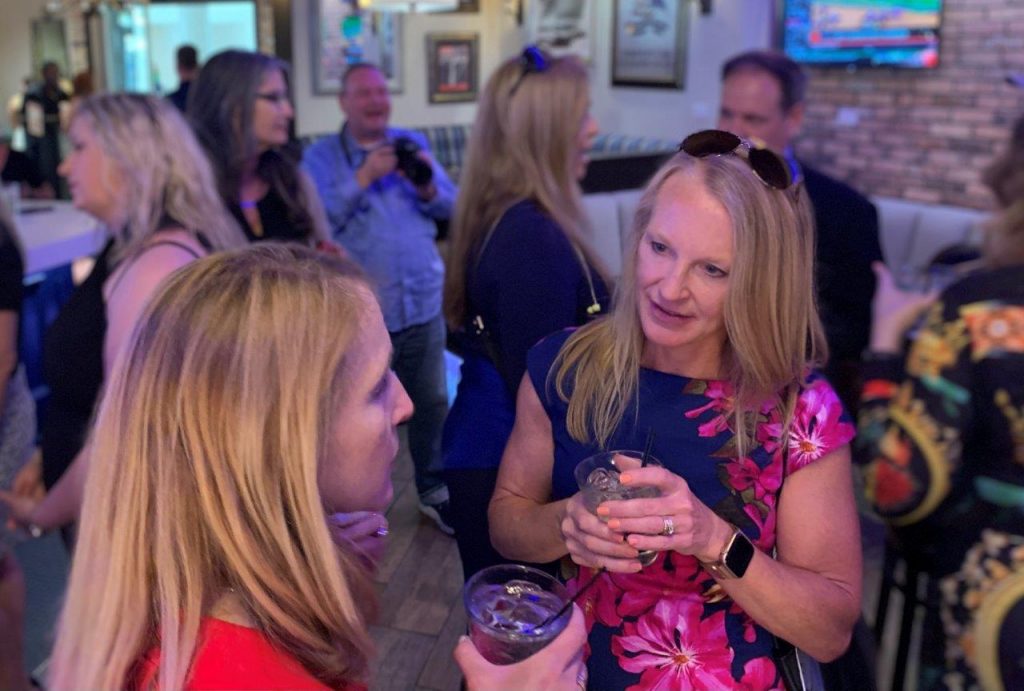 Don't misunderstand me. I believe one of the great things dealers re-learned during the pandemic was how to make money selling new cars. There were too many years of losing money on new cars as OEMs were pushing for market share, implementing stair-step incentives and more. However, short term gain can equal long term pain if customers who are not happy now will not be customers in our future. Of more concern, is there a model being implemented that would cap our ability to sell at what the market will bear? Should dealers be concerned about the agency model?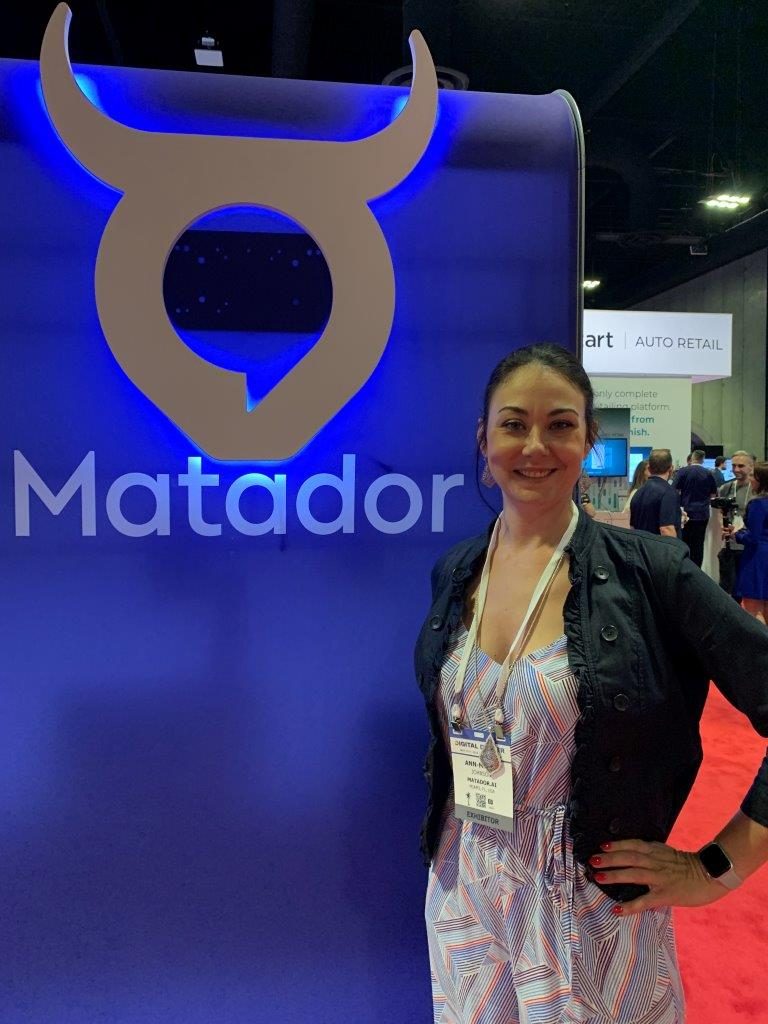 Ann-Marie Johnson with Matador AI​
What is the agency model? Simply put, the OEM is the focal point of the car-buying transaction rather than the franchised dealer. Consumers buy directly from the OEM online using a standardized digital retailing tool, and then select a "preferred dealer" to take delivery from. Sound familiar? Many of us are being told that we need to select the OEM approved digital retailing tool to help put this into place, even if we already have a proven digital retailing tool in place.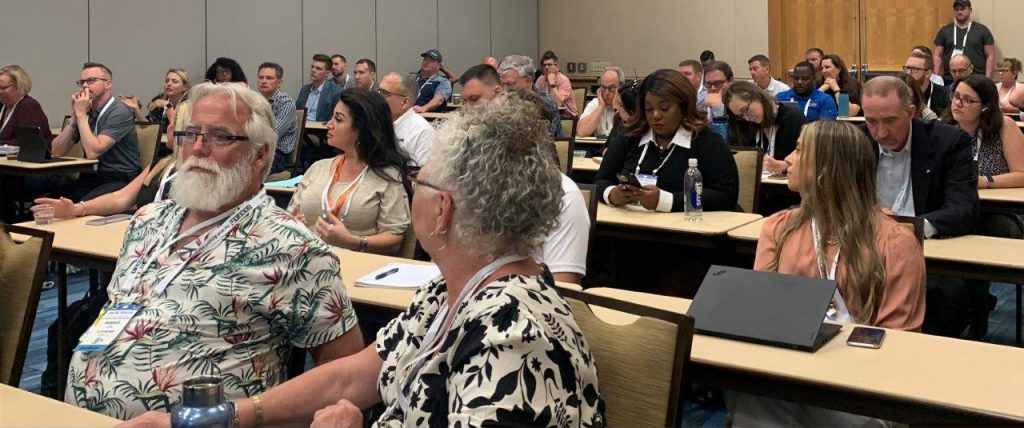 Is this mandatory? Hmmm, slippery slope here. It is not "mandatory", but if you don't sign up you don't get those new EVs being produced. It is not "mandatory" but if you don't sign up you don't get all of your factory money. It is not "mandatory", but if you don't sign up, how will your inventory allocation be?
I am the BIGGEST proponent of strong OEM partnerships, we are all in this together, but shouldn't we be concerned when we look at the traditional franchise model where we buy wholesale from the OEM and sell retail to the consumer? Especially when many of these agency model solutions fix the price or cap the margin earned? Isn't that contrary to the franchise model? There needs to be strong discussion between dealers and the OEMs to ensure we are working together towards the best interest of the consumer, the OEM and the dealer franchise.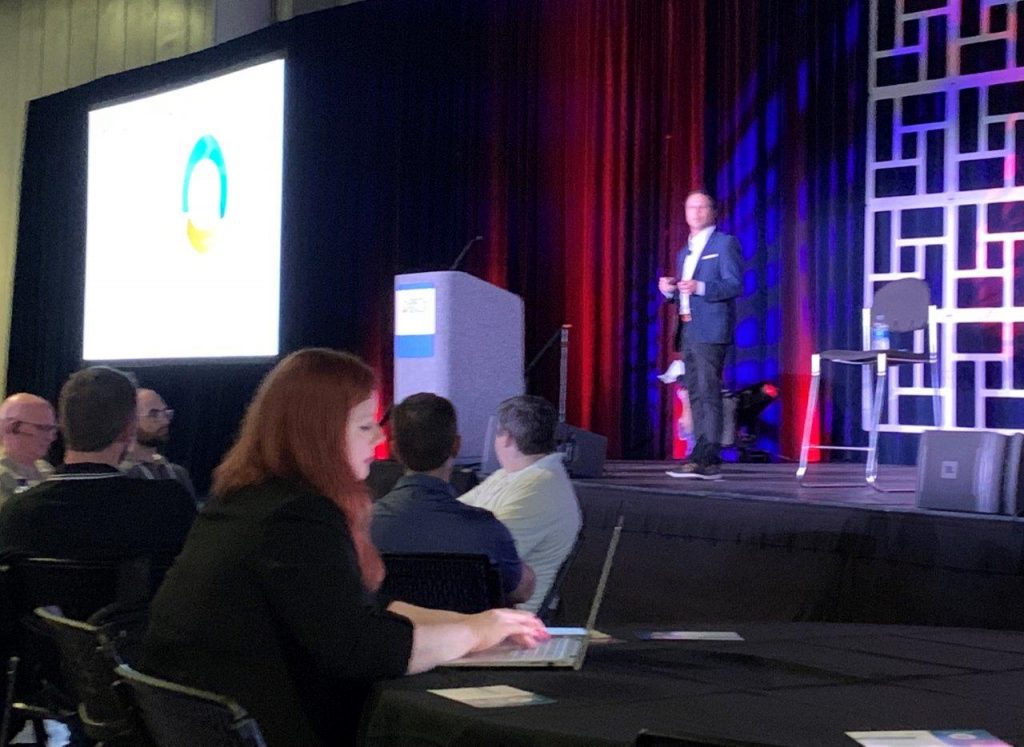 Has anyone heard of Amazon? What does Amazon have more of than online customers? That would be DATA which allows dealers to create audiences to put their message in front of. Think highly targeted OTT. Amazon shared how their immense amount of data gives us invaluable audiences to leverage in our marketing efforts. My advice – sell it to us simply and inexpensively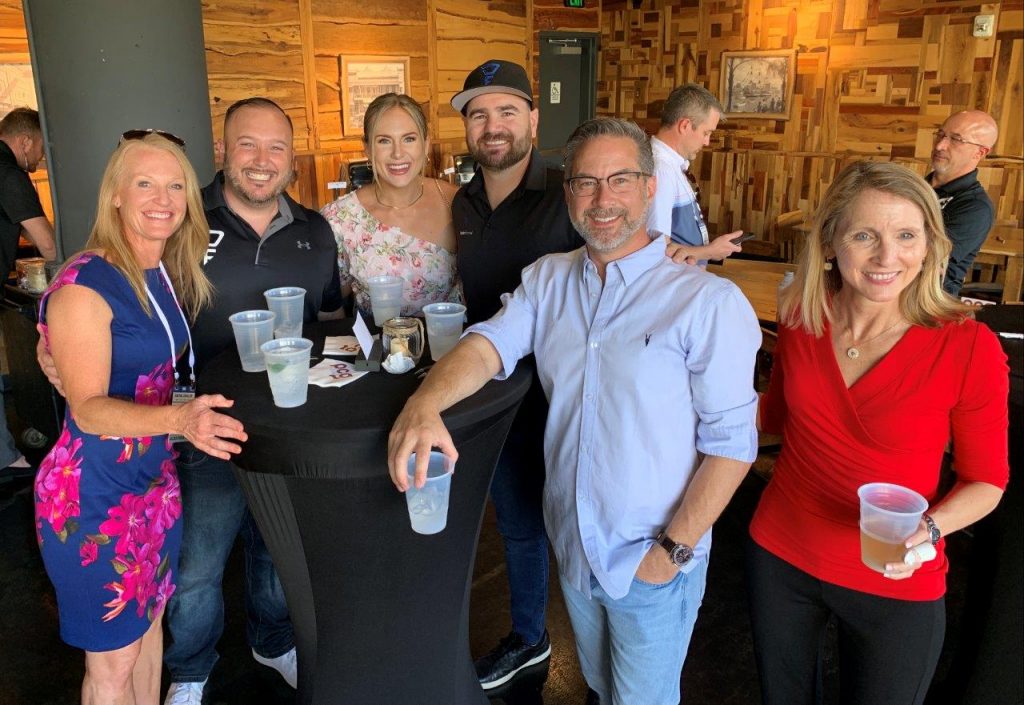 I apologize for not including every session and every awesome person in this review, it would go on forever if so. Suffice it to say, Digital Dealer was a fantastic time. I attended a board meeting while there and I can assure you that they are always working to get better. And btw – if you know some young talent that needs to be featured at the next conference in Las Vegas – LET ME KNOW. It's time to hear from more fellow dealers on the latest and greatest in automotive. Cheers friends!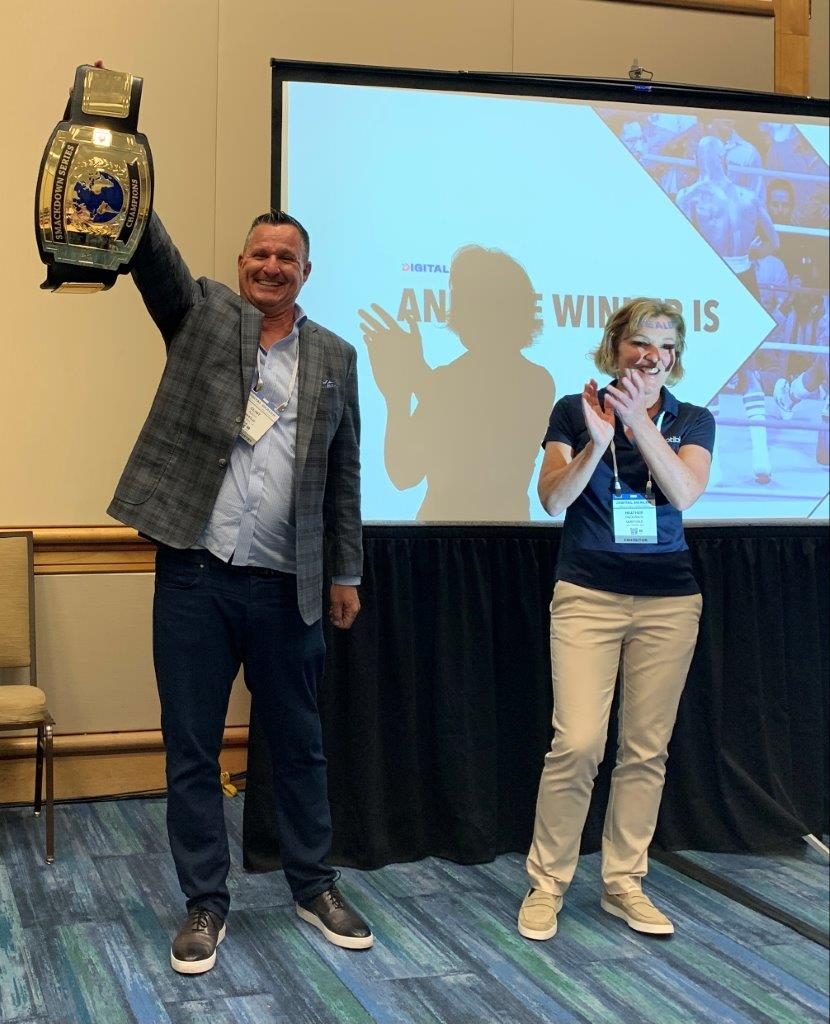 Loved the Digital Dealer party at American Social. Great venue, not too big, easy to walk around and see so many great folks. Every time I saw Larry Bruce he had me laughing. So great to see Shaun Raines, Sean Stapleton, and so many more friends.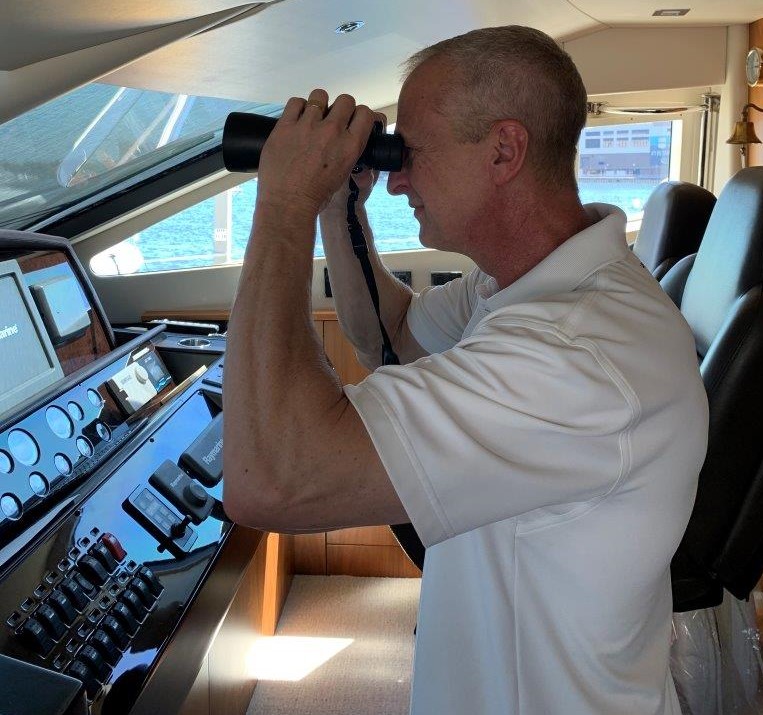 I will be looking for you at Digital Dealer Las Vegas​
—————————————

As a former Naval officer I am driven to produce results & to lead people to reach their full abilit Aviation, outdoors, tennis, running, weighli...