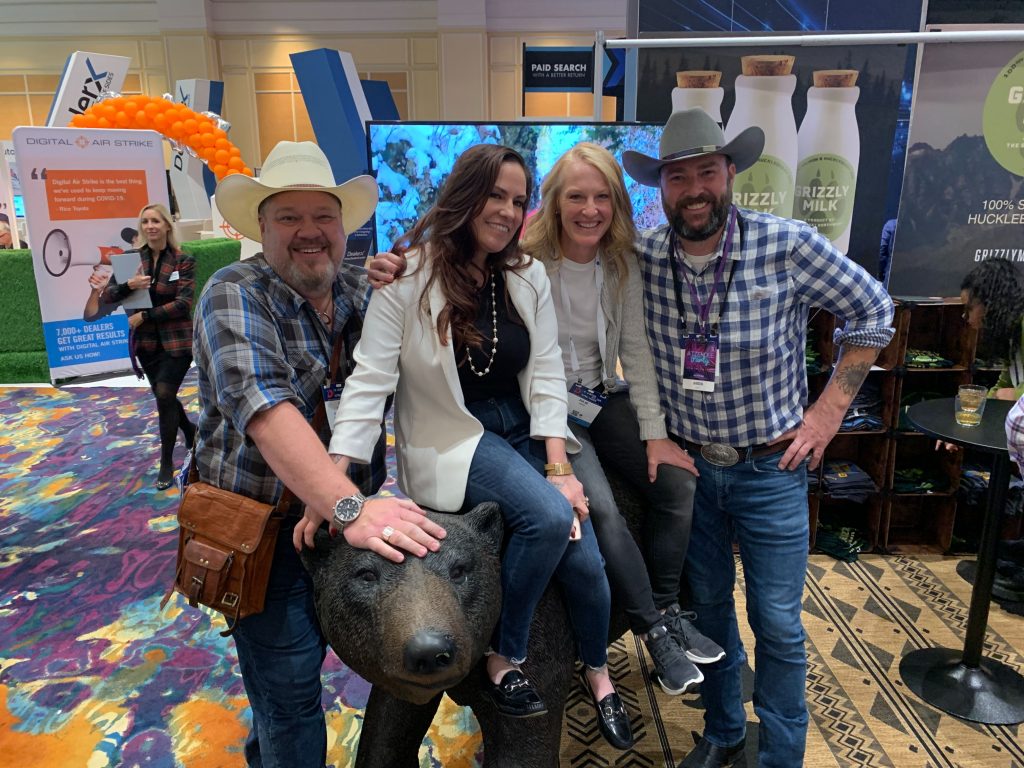 April Rain and Julie Frye having a Grizzly Experience
I can bearly believe it…
Me: "Uh, what exactly is this?"
Montana Mountain Man named Kal Bozeman: "Grizzly milk, would you like to try some?"
Me: "Does it work?"
Kal: "My Dad raised my brother Bo and I on it" (as I look UP to each of them)
Me: "Sure, I will try some" (knowing that my manhood was being tested)
Moments later, after drinking a thimble full of Grizzly Milk, a huge rush of heat and energy came over me. The sleeves on my shirt ripped as my biceps bulged with the massive energy of a Grizzly. Another dealer accidentally bumped me from behind, and I turned around and pawed his face, leaving 5 big scratches. Get out of my way, it's time for my Digital Dealer Vegas 2021 recap!!!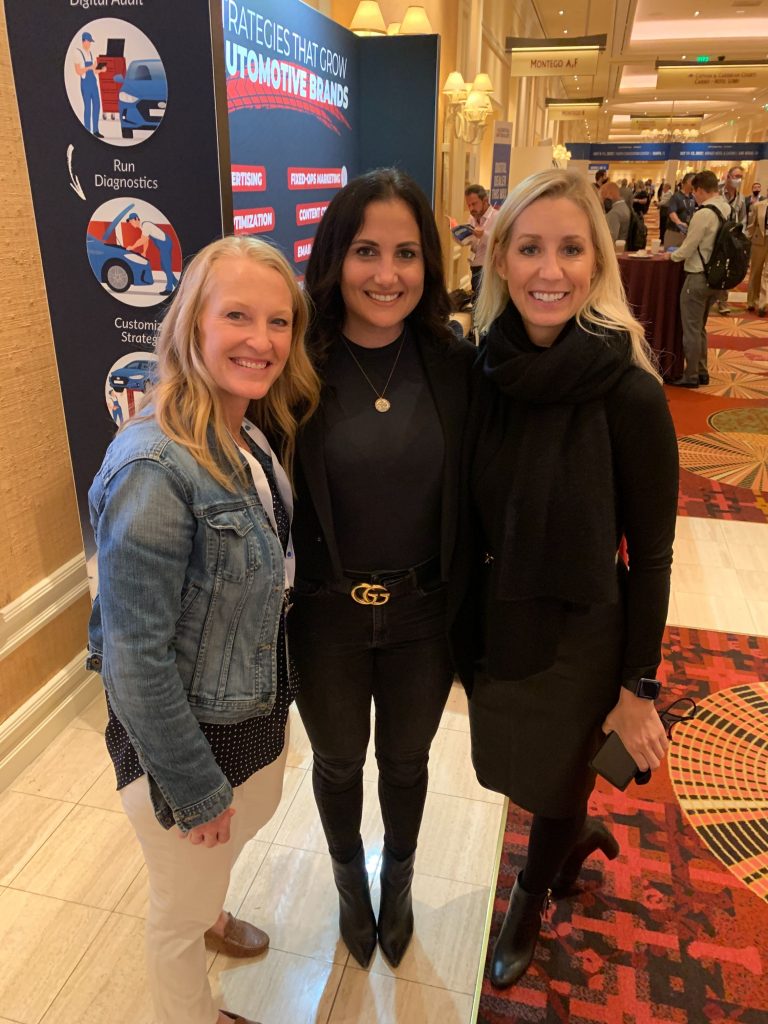 Julie Frye, Ceren Isildak, and a very busy Melissa Green
So, is Grizzly milk a real thing?
More on that later.
Is that digital check-in or just a mirage???
We arrived on Monday morning and checked into the Mirage using the MGM Resorts App. Pretty slick, never even had to wait in a line to check in or check out. Got a text alert that our room was ready, opened a digital key on my phone, and we were on our way. Wow, this digital thing is a pretty neat idea.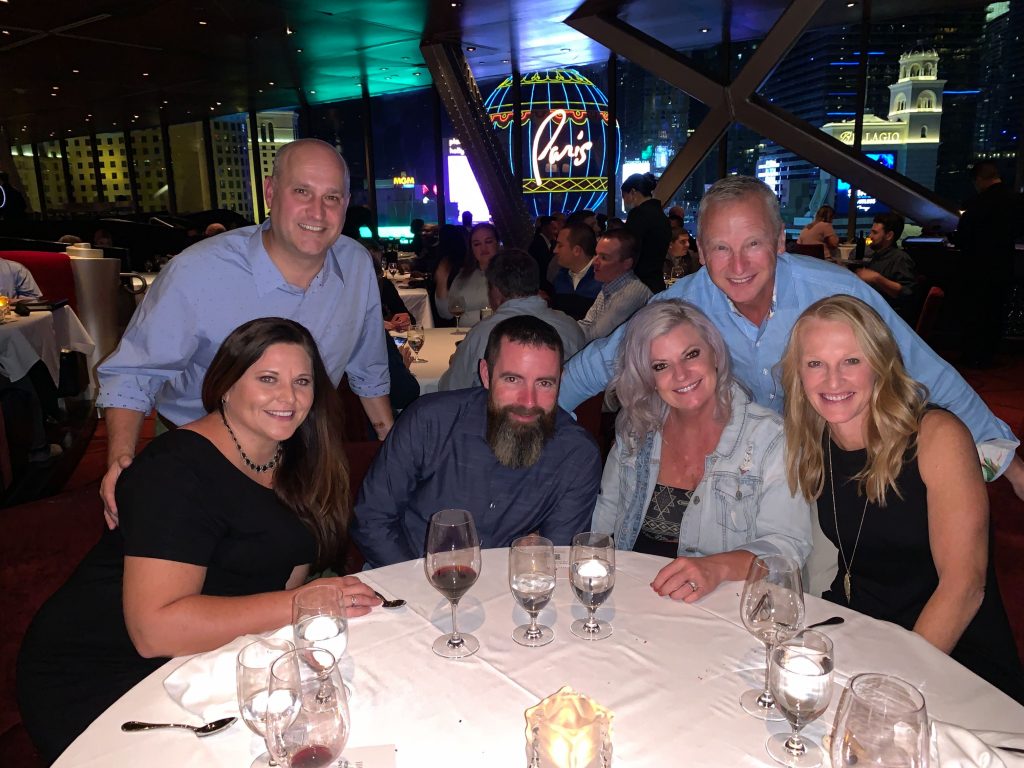 Jeff Wyler Marketing Team Dinner
Oui oui messier…
It's always fun to reward our hard-working folks at Wyler with a team dinner, and we went to the
Eiffel Tower restaurant
at the Paris hotel. Unique view and venue, great food, and lots of fun and smiles. Unfortunately the Bellagio fountains were turned off due to the 65 mph gusts of wind that day.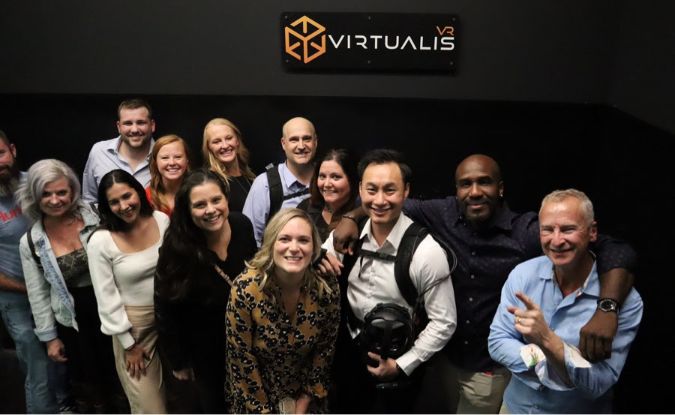 Who says you cannot be a child again???
Nick Cybela setup a great event on Monday evening at Area 15 with
Virtualis
, where we did a cutting edge virtual reality experience. Each of us was equipped with a backpack, VR headset, as well as VR attachments on our feet and hands. Once the VR experience begins, you can see each other clearly as different colored "robots" and interact in the virtual world. Our first VR experience was to solve a mystery and find the crystal skull. After that was another experience where we were fighting zombies. It is hysterical to hear everyone hollering and laughing as you have the time of your life. Thanks Nick, and I highly recommend when in Vegas (10 minutes off the strip).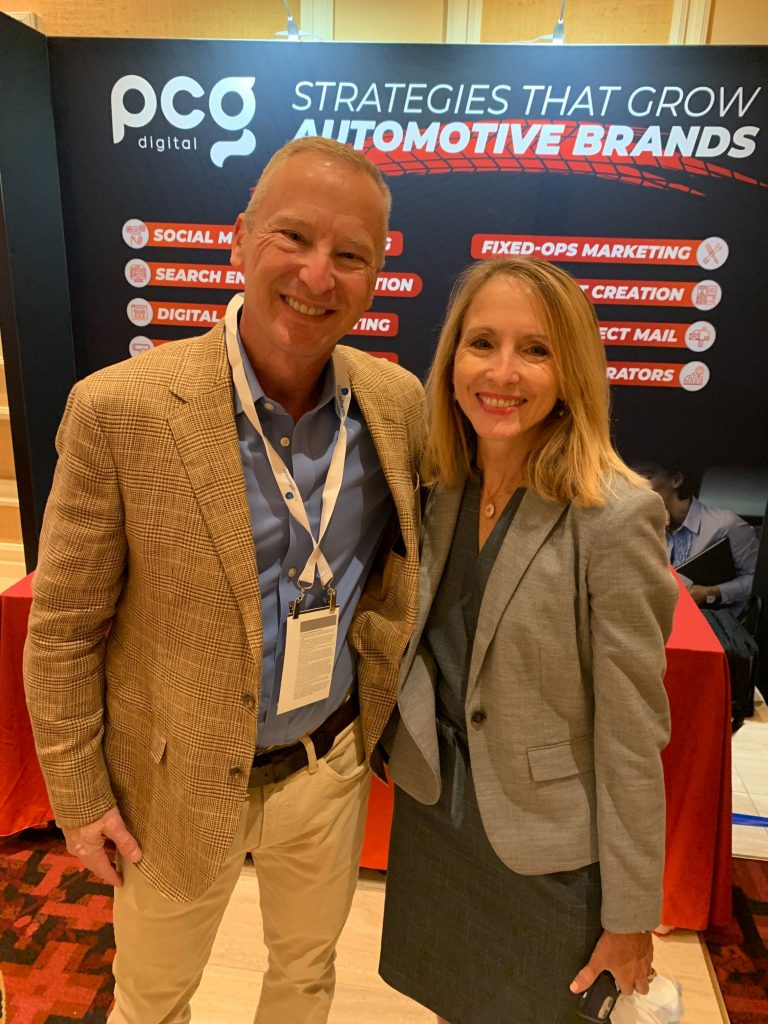 Great to see Jennifer Sanford
Starting your day with breakfast is key, as in keynote…
Tuesday morning started with a continental breakfast, and then three sessions in a row in keynote hall. And wow, I have never seen keynote hall more packed than this Vegas 2021 conference.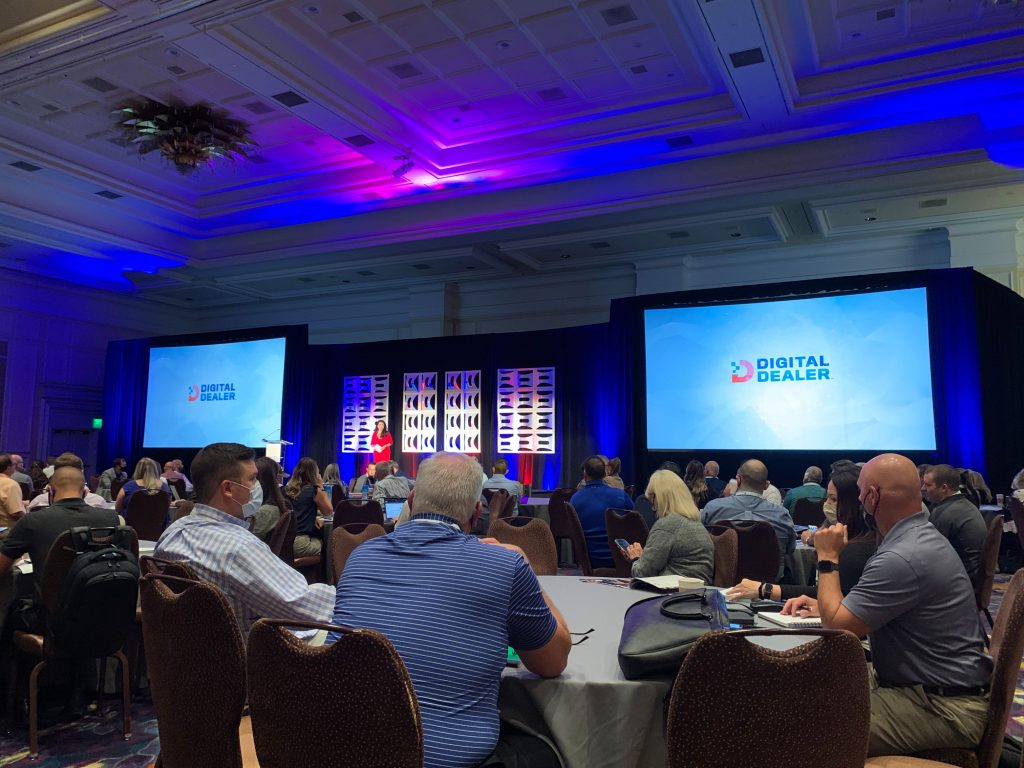 Eliana Raggio as the Master Emcee
First, emceeing one of these events is VERY difficult. The bigger the room, the more difficult to engage them. And a big room means you need to bring a BIG presence to the stage. Kudos to Eliana Raggio who made this look effortless, as she not only kept the audience engaged, interacted with each speaker, and managed the agenda, all with a huge smile. Well done friend!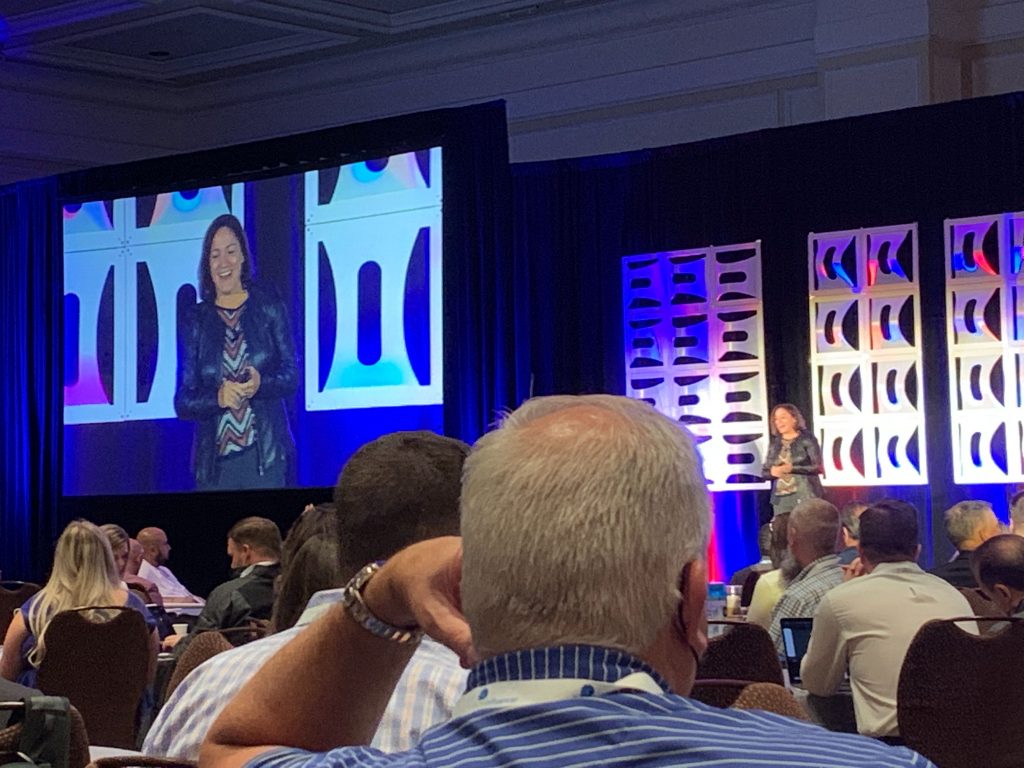 Julie DeTraglia as the opening keynote
Smarter, Faster, Stronger…
No, that is not the description of the Six Million Dollar Man, but rather it was the theme of this year's conference. Julie DeTraglia, with
Disney Media and Entertainment
, opened up with what the streaming TV revolution means for dealership marketing. Streaming TV has expanded significantly, especially with the pandemic last year and more people at home, and the opportunities to put our message in front of targeted audiences on streaming TV has also expanded. For me, the struggle is how to have a strong impact on these audiences due to the large amount of Streaming TV options to choose from.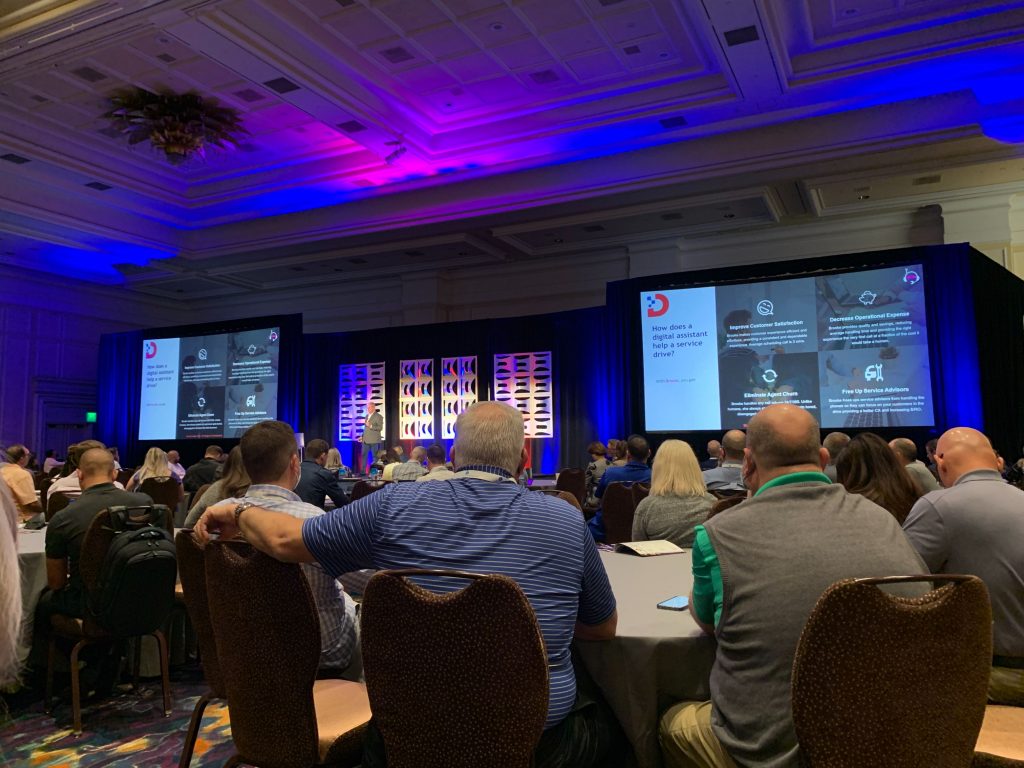 Tech Talks in action
Did shark tank jump the shark???
Next up was Tech Talks, replacing the "shark tank" format we have seen at previous shows. Jackie Studor with
Reach Automotive
, Rashad Collins with
Autodex.io
, and Lawson Owen with
Proactive Dealer Solutions
each had five minutes to share their product with the crowd, followed by 5 minutes of questions that the audience could submit via phone. Simple format, though I wondered if it might end with a "vote" on which solution was best (it didn't).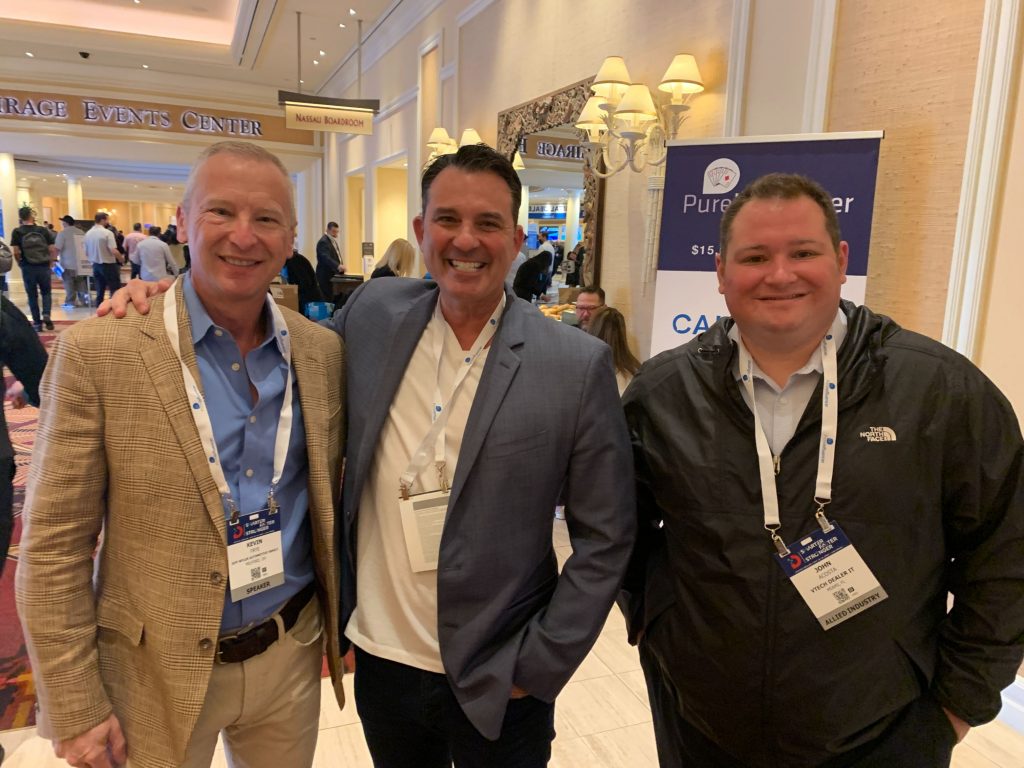 Tim Cox with
CarNow
and John Acosta
The one idea from Tech Talks that stood out for me was using blockchain technology with automotive. For me, if that was applied to vehicle history records, wouldn't you have the most accurate vehicle history information available? From all owners? Is
CarFax
or
AutoCheck
looking into this for their future?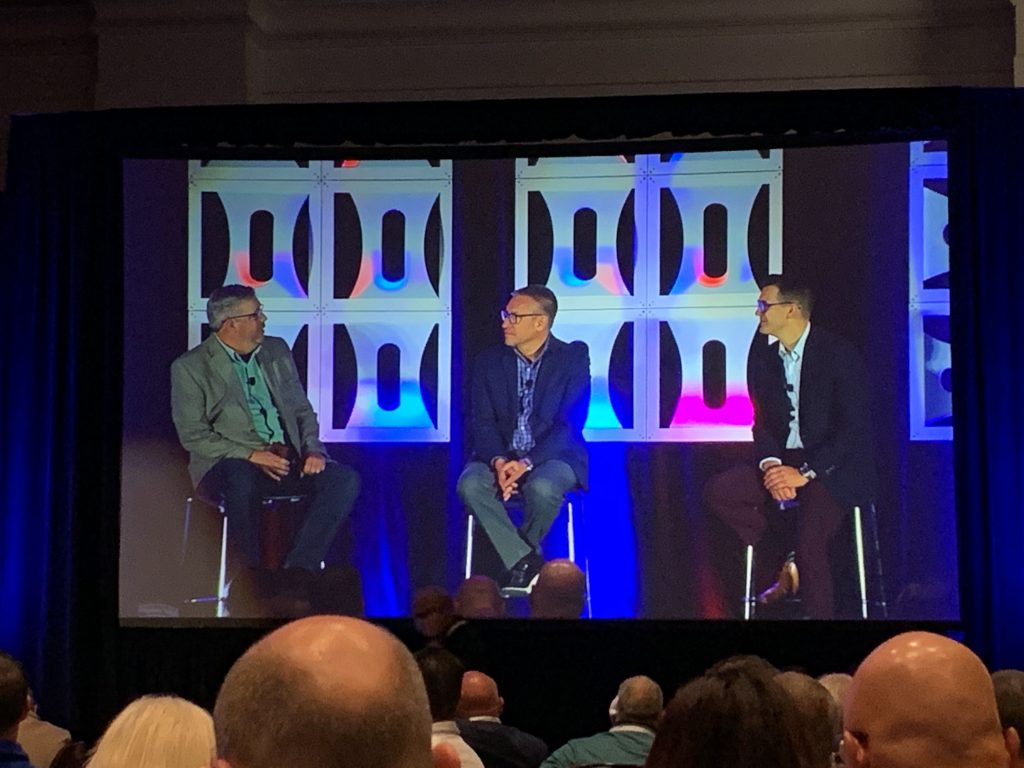 The final keynote was with Cliff Banks moderating a panel with Dean Evans from
Cars.com
, and Colton Ray with
Walser Automotive group
.
While several areas were touched upon, there was really only one issue that caught my attention. Looking into the future, who will own the data for our customers? The OEM? Franchisor? Dealer? Vendor? This is very important to consider, especially when you look at the "connected car" which is a bigger part of our future.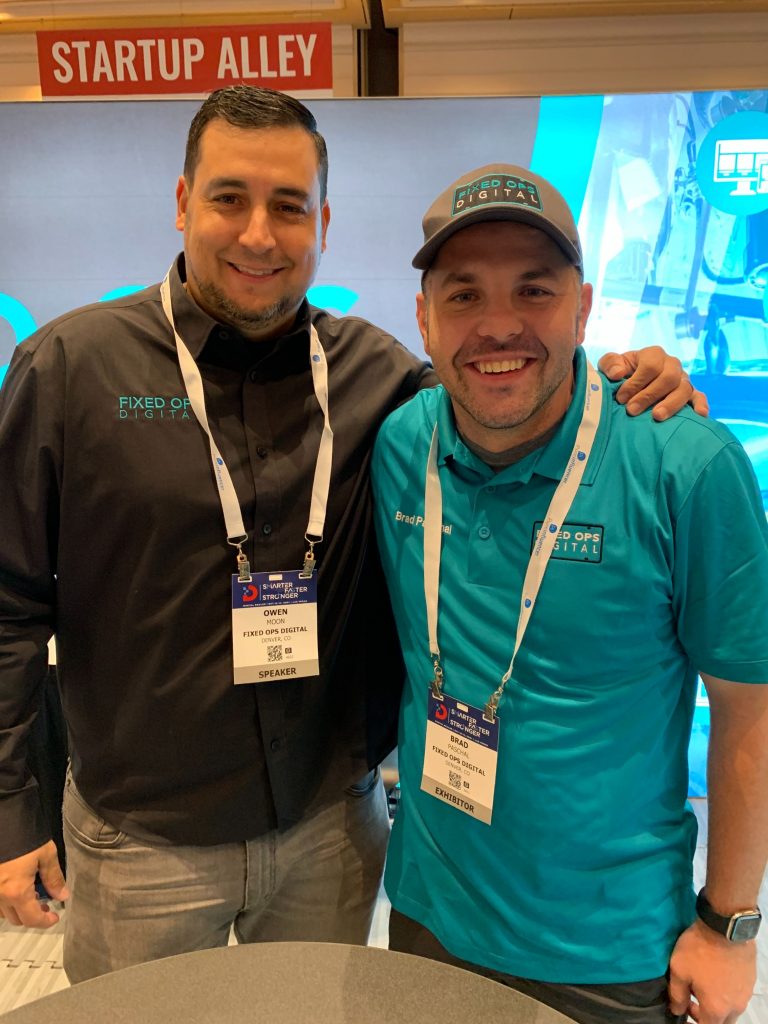 Double Trouble with Owen Moon and Brad Paschal with
Fixed Ops Digital
As a dealer, are you taking the time to ask who owns the data when you look at these new OEM approved solutions? Does it make sense for you to spend millions of dollars with marketing, just to give that valuable data to someone else? Of course I am biased, I am a dealer, however this is a very important area to consider – and perhaps something for Digital Dealer to focus on in the future. Or perhaps if you are aspiring to be a speaker, here is my idea for your session – "Who Owns the Data?"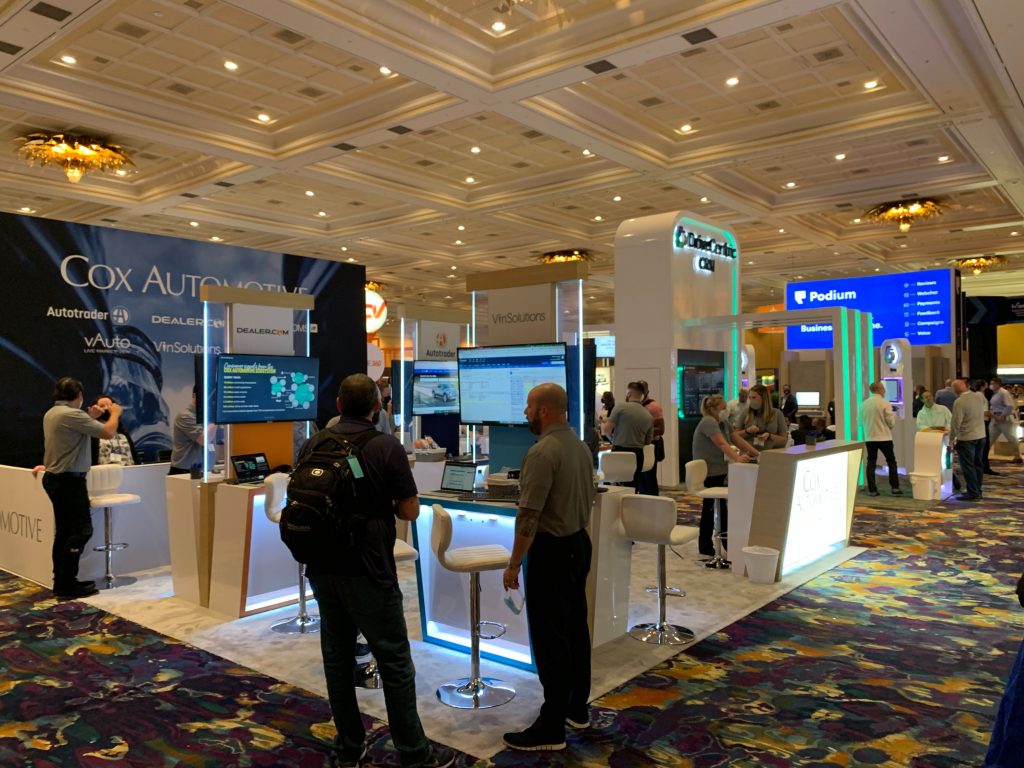 Houston, they're back…
The Expo Hall opened and was much bigger than the spring show in Tampa. Most of the big players were present, and lots of dealers started walking the floor, checking out new solutions, while also catching up with fellow friends.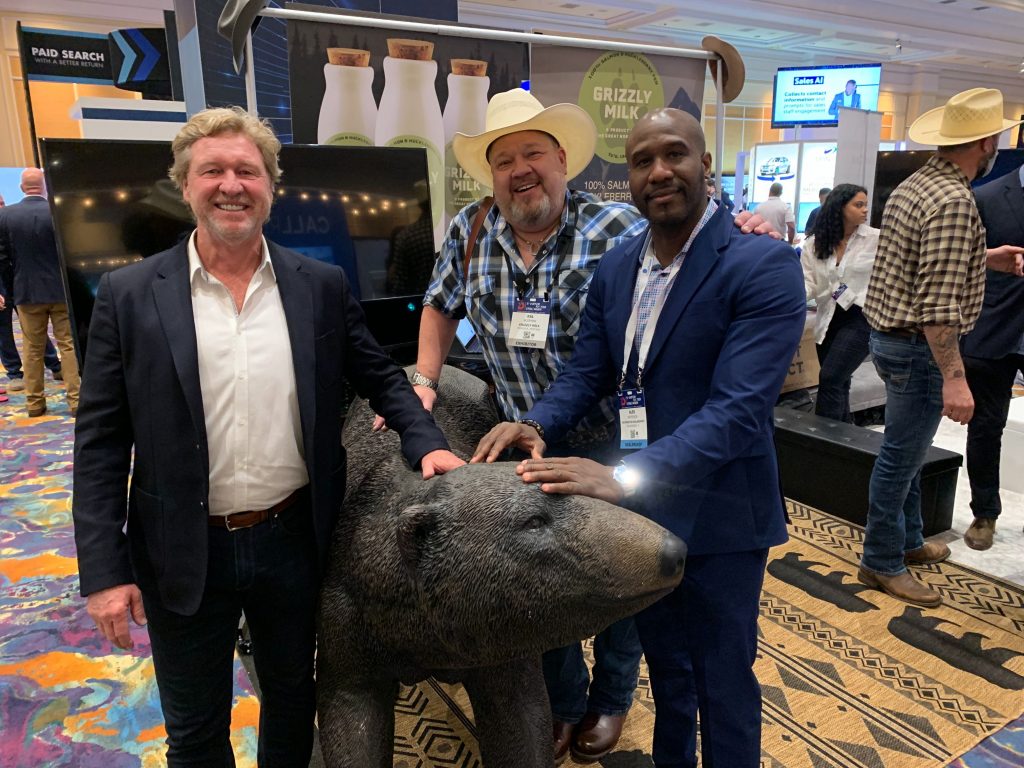 Mountain Men Alan Cooper, Kal Bozeman and Alex Jefferson
I think I will take a walk-about…
I always start by walking the entire exhibit hall to get a rough layout of what is going on. While doing that, I saw a big bear, with two tall cowboys standing next to it. OK, this caught my attention, especially when I saw a sign that this was
Grizzly Milk
(hence my opening story). First big question – is it real? And just as important, if it is real, how do you milk a Grizzly bear?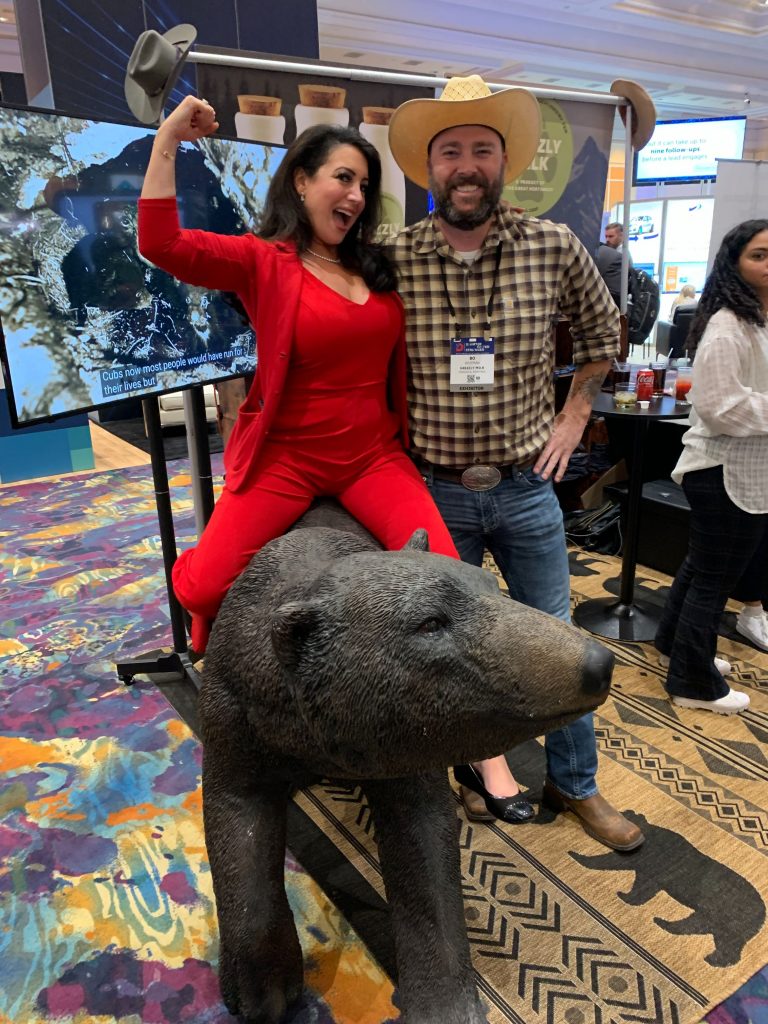 The Grizzly Milk gave Elianna Super Powers!
Well, there was a video showing how they "milk" the Grizzly bear while it is hibernating, but this just raised another question – just WHO did this the first time? I am pretty sure that there were two trappers in the 1800's, drinking some whiskey late one cold winter night in Montana, and one challenged the other "I dare you to go into that cave and drink some grizzly milk straight from the source". How do I know? I am a man, and we excel at drinking challenges like this. And further, most car dealers are not far from the scenario of these early trappers, as I soon saw dealers on the floor daring the others to drink it.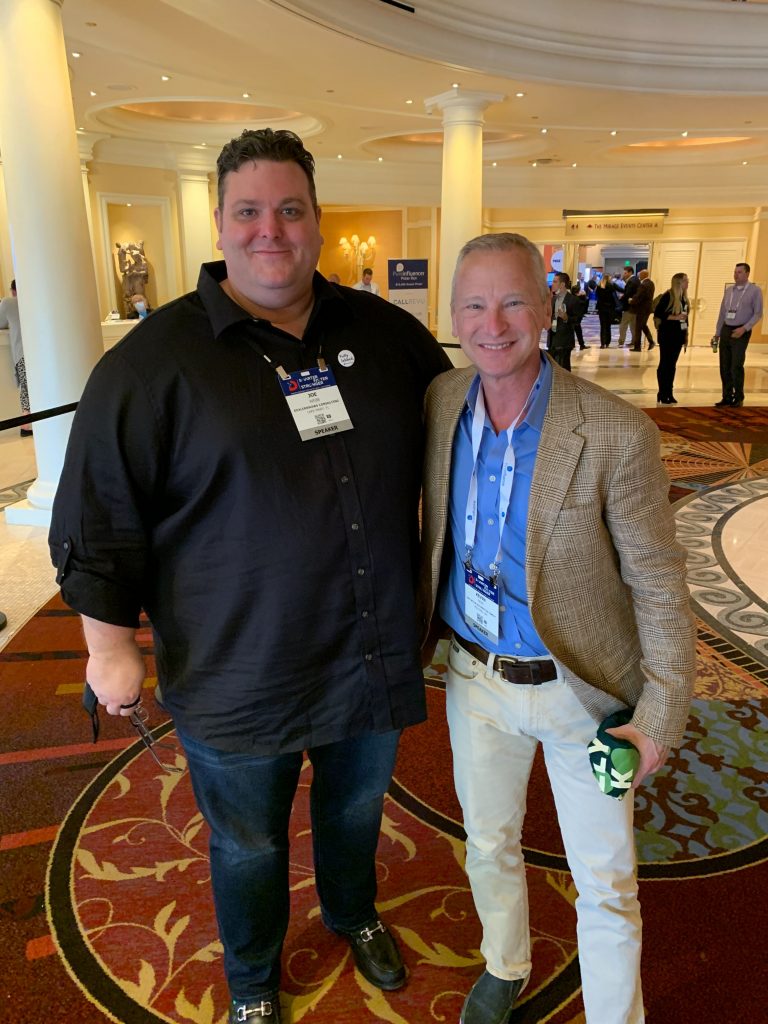 I think I have seen Joe at Digital Dealer since DD3 when I started
Back to the "is it real?" question. I would encourage you to visit grizzlymilk.com and see for yourself. And btw, I was warned to go directly to the website, googling "grizzly milk" might bring up some unexpected results.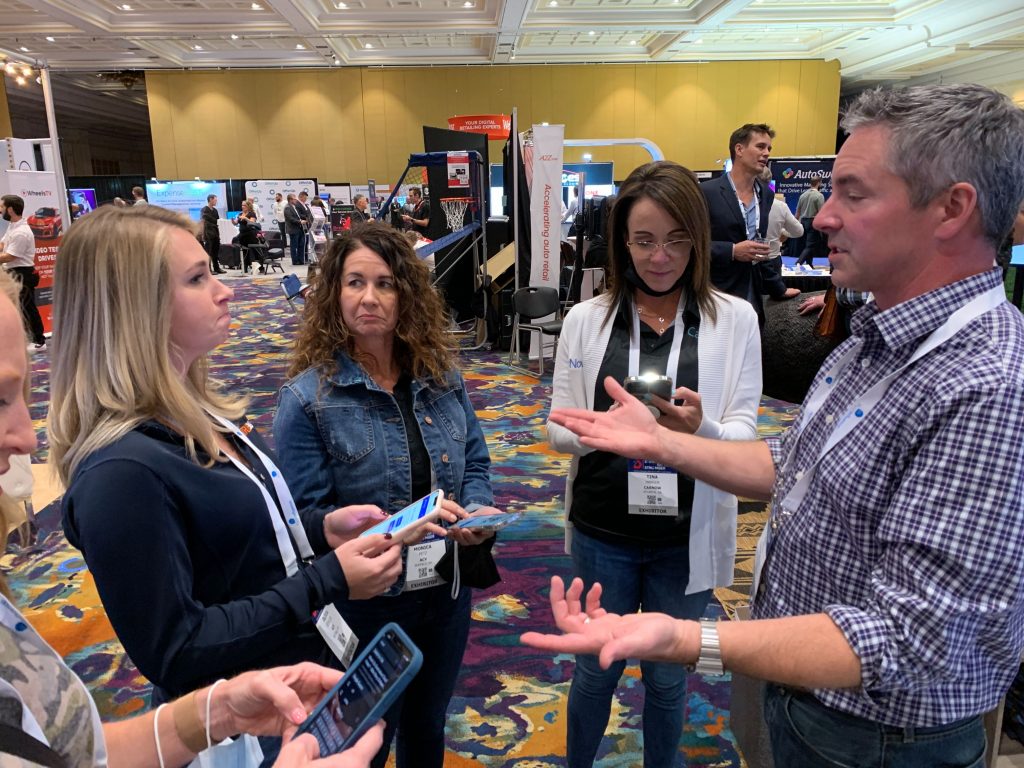 Paul Wagner with CloudEngage talking about Chord
Who is the best Captain Hook???
Bottom line – this was the BEST hook I have seen for an exhibit at Digital Dealer. Everyone was talking about it and stopping by to see what the ruckus was about. Well done to Paul Wagner with
CloudEngage
, as he demonstrated their new Chord video solution. And another shout out to Kal and Bo Bozeman who had me laughing from beginning to end. I love bigger than life personalities, and these two delivered – hope to see you again in the future.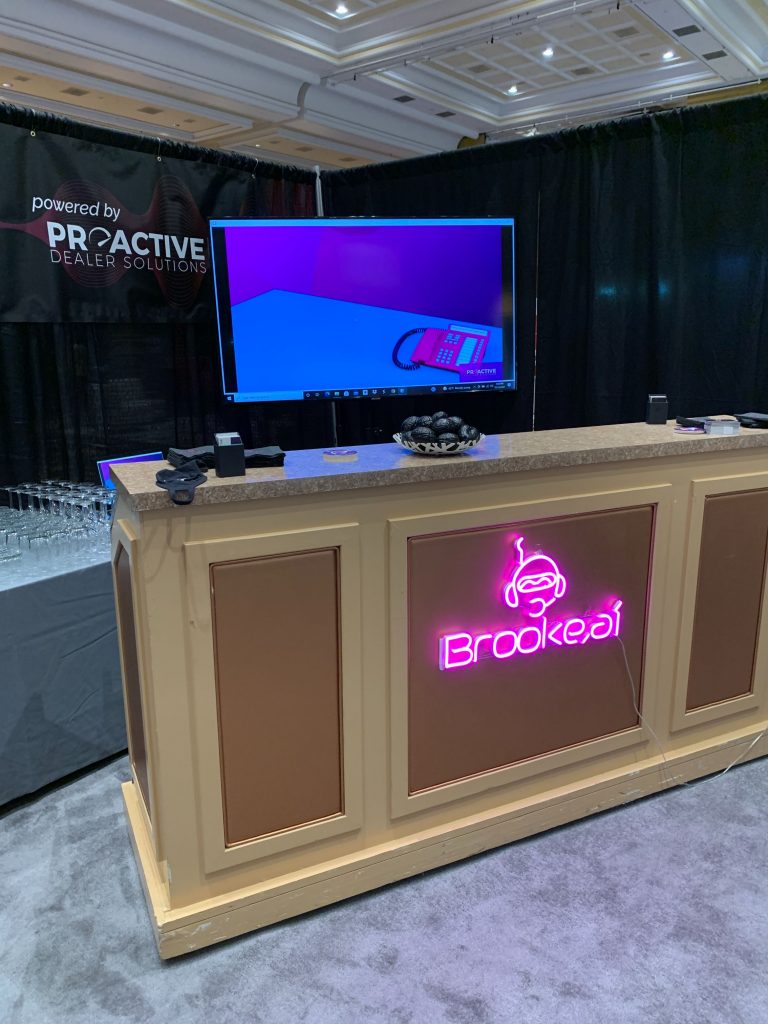 Struggling to keep up with service calls?
Aren't we all?
I did check out the
Brooke.AI
solution, which uses artificial intelligence to not only answer your inbound service calls, but also to directly schedule appointments into tools like xTime. They were sharing an example where a dealer was using Brooke.AI to handle inbound service calls while they were closed, but you can use whenever you want.
AI is getting better every day, and as we work to be more effective and efficient, this is another solution to help dealers address challenging areas in their dealerships.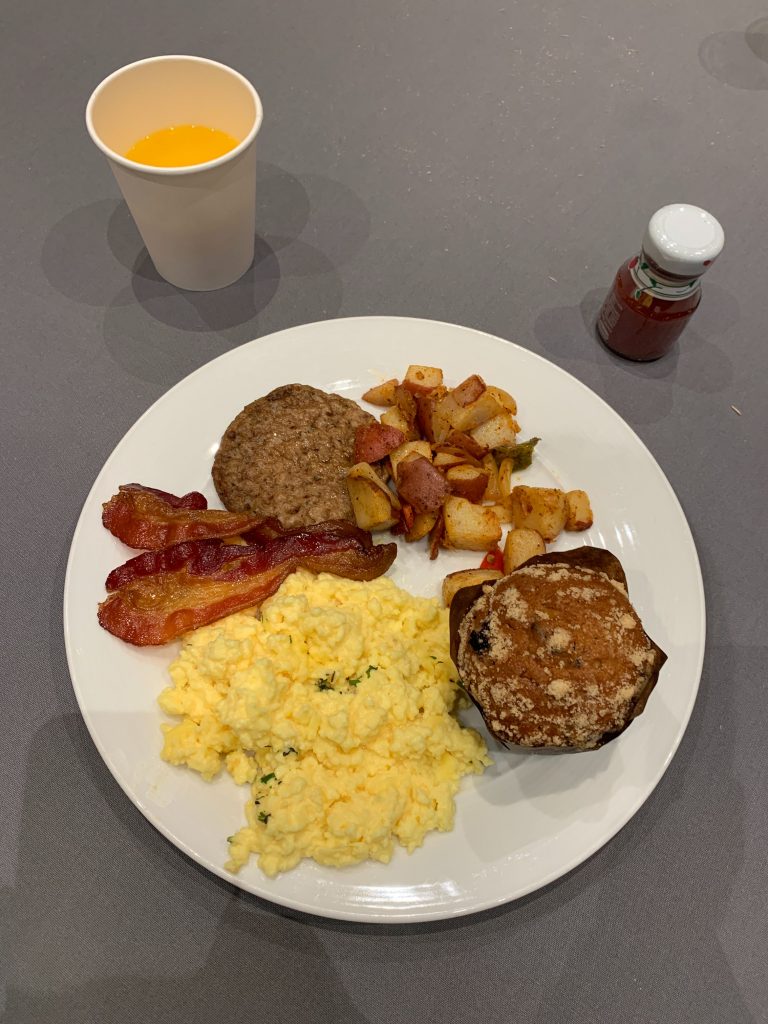 Food was good, and the desserts even better. Why is this an important part of Digital Dealer? It is convenient to grab a hot meal during a packed day, and it also keeps the foot traffic up in exhibit hall J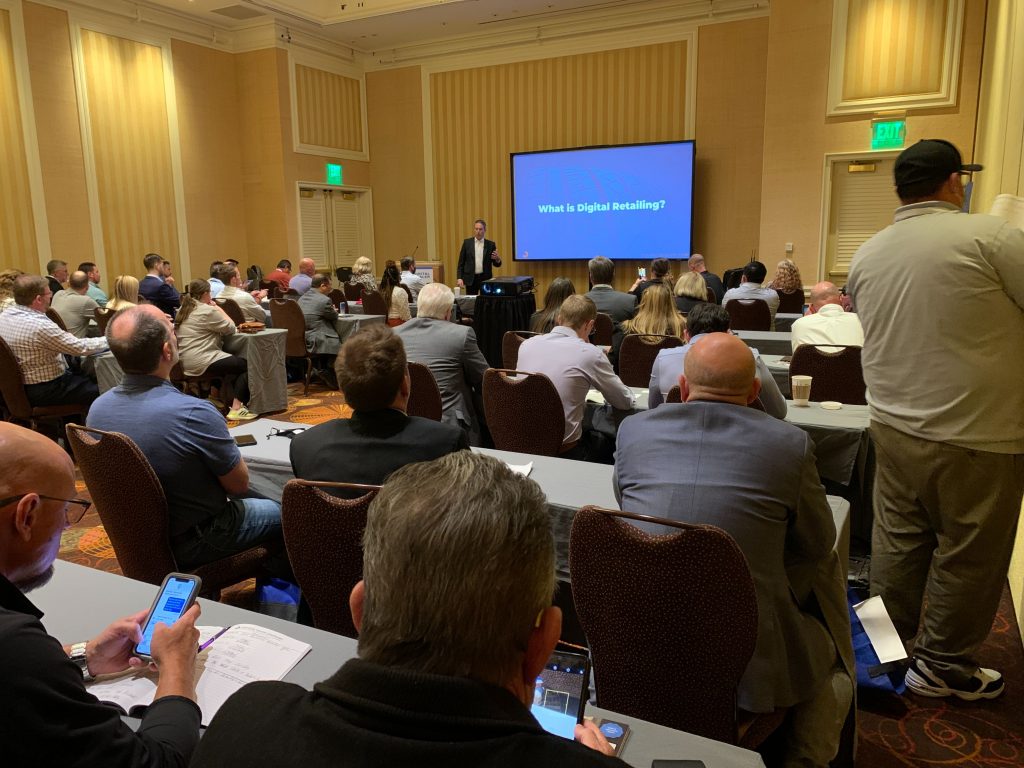 Glenn Pasch with
PCG Digital
packing the room
Glenn Pasch packed out his session on "The Truth About Digital Retailing". Glenn's focus with your digital retailing experience is to keep it focused on saving time and making the buying experience friction-free. Glenn provided LOTS of "things to do" for dealers in the session and they were taking lots of notes. What a turnaround in the last few years with digital retailing, as most dealers now have it installed, especially after the pandemic last year.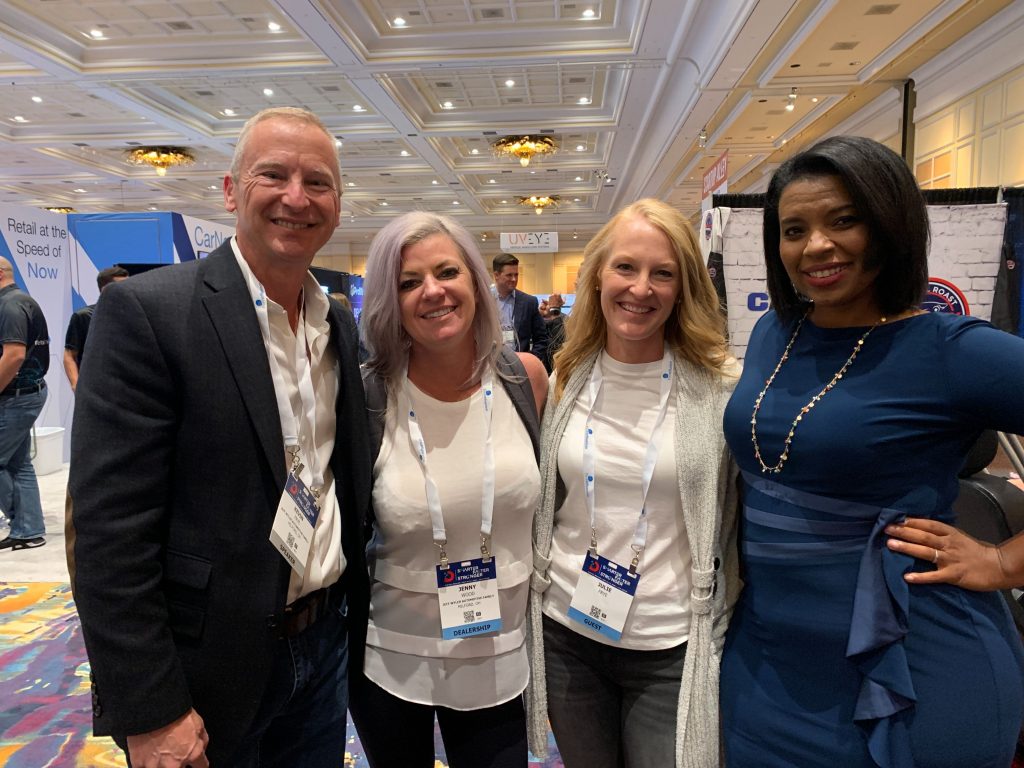 With Jenny Harris from
Jeff Wyler
, Julie Frye and Kerri Wise with
AutoFi
I was joined by my lovely wife Julie for the cocktail hour and enjoyed seeing folks IN-PERSON! We are an automotive FAMILY and the best part of Digital Dealer is always about seeing your friends and making new ones. There were lots of "reunions" after almost 2 years for many of us to finally connect again.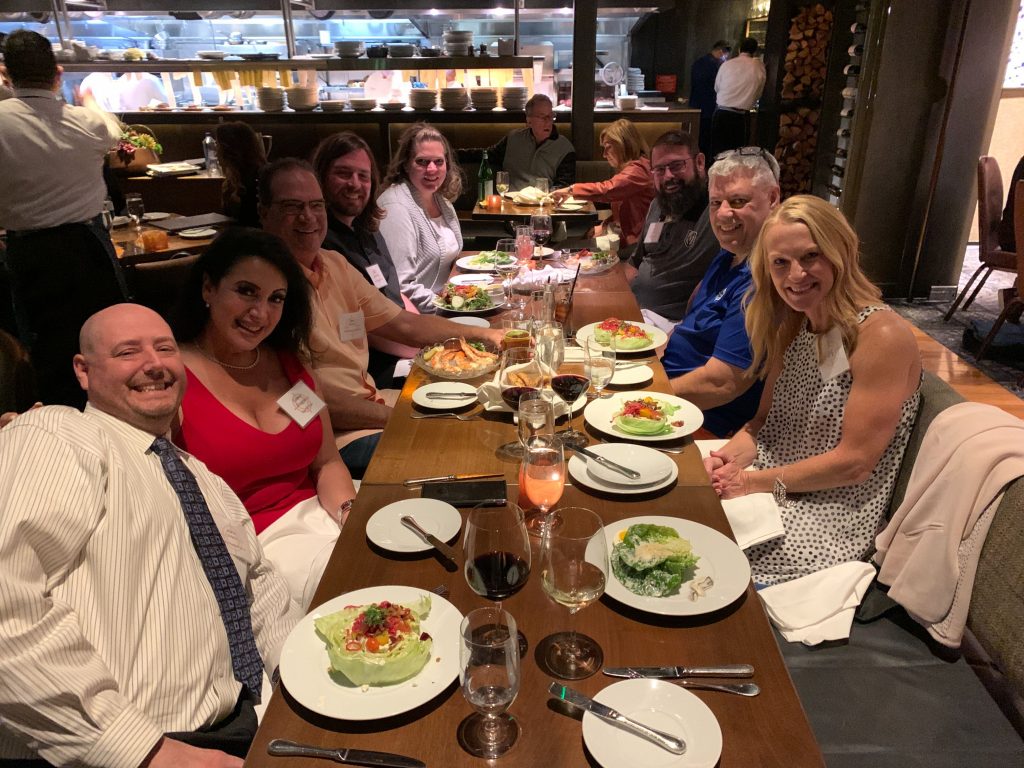 The "kids table" at the Digital Airstrike dinner
Time for a quick shower, a shot of grizzly power, and a great dinner. We joined the
Digital AirStrike
team for a great meal at Tom Colicchio's steakhouse, where we were easily the loudest and most fun table in the place. I cannot share some of the stories shared at the table last night, but I would encourage you to ask Eliana Raggio about the Dave Matthews Band…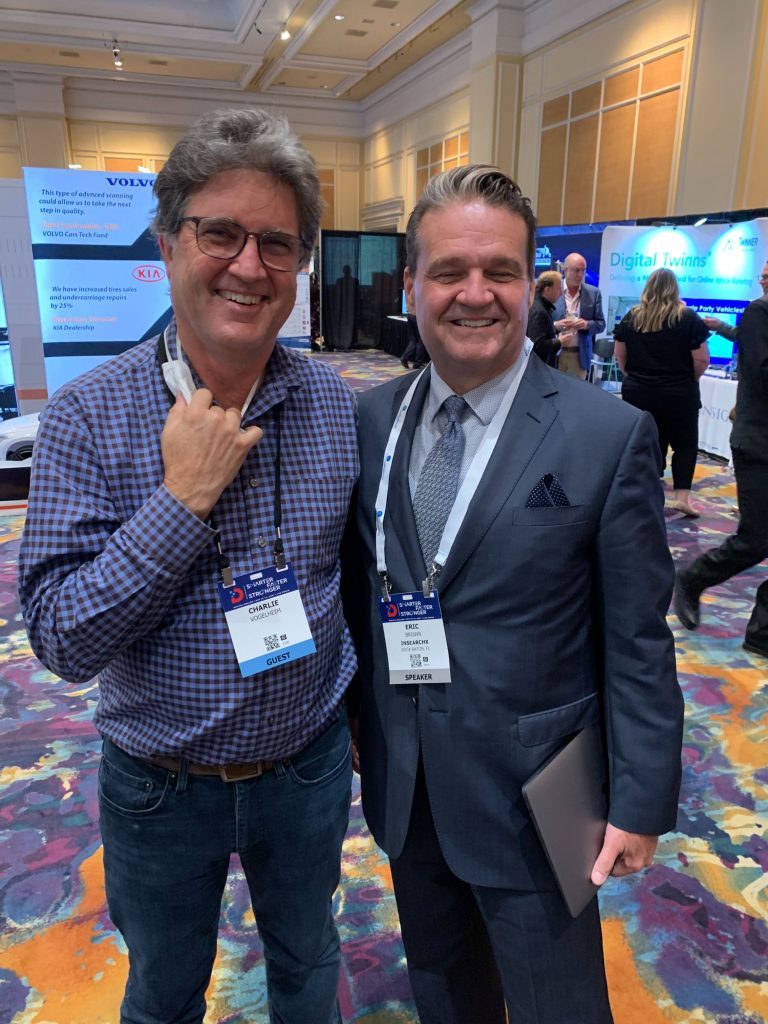 Charile Vogelheim and Eric Brown working the floor
Wednesday morning started with an early breakfast and my 2 sessions "Engaged or Enraged, Are You Winning the Battle for Yes with your Website?" I had a huge room, and being that this was early in the morning after a full night of Vegas fun for most dealers, I worried about how many folks would attend. I failed to have faith in my fellow dealers – they were there early and ready to go!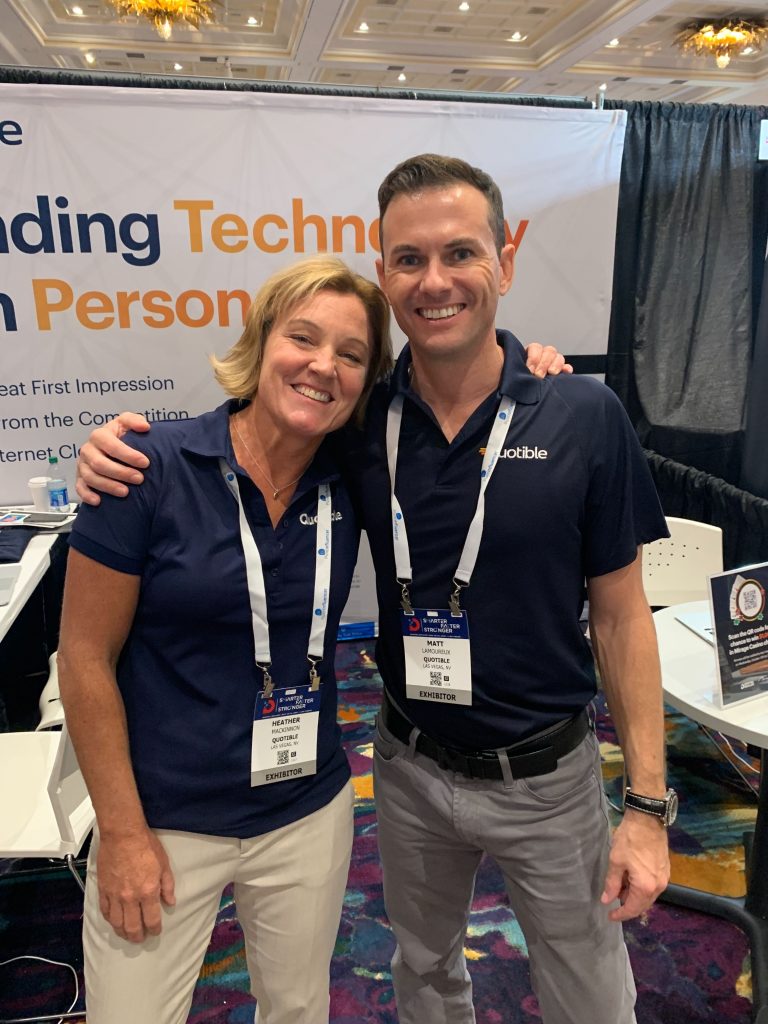 Two of my fave people, Heather Mackinnon and Matt Lamoureux with
Quotible
The room was full by the time I started, and I was honored to spend some time with some very smart dealers in the room, all looking to get better. Candidly, I shared some very advanced content that is dry and not very exciting, but my goal was to teach dealers how to optimally measure engagement on their website after ensuring they had the best conversion tools in place, and then how to drop that data into a Google Data Studio report where they could identify the best engaged and best converting traffic they were generating with their marketing efforts. My final surprises were how to get the best traffic at the least cost by leveraging third party data, and how to double their appointment setting rate by removing forms from their website and replacing them with live chat. Do you want to know how to do it? Make sure to catch my recorded session from Digital Dealer Vegas 2021.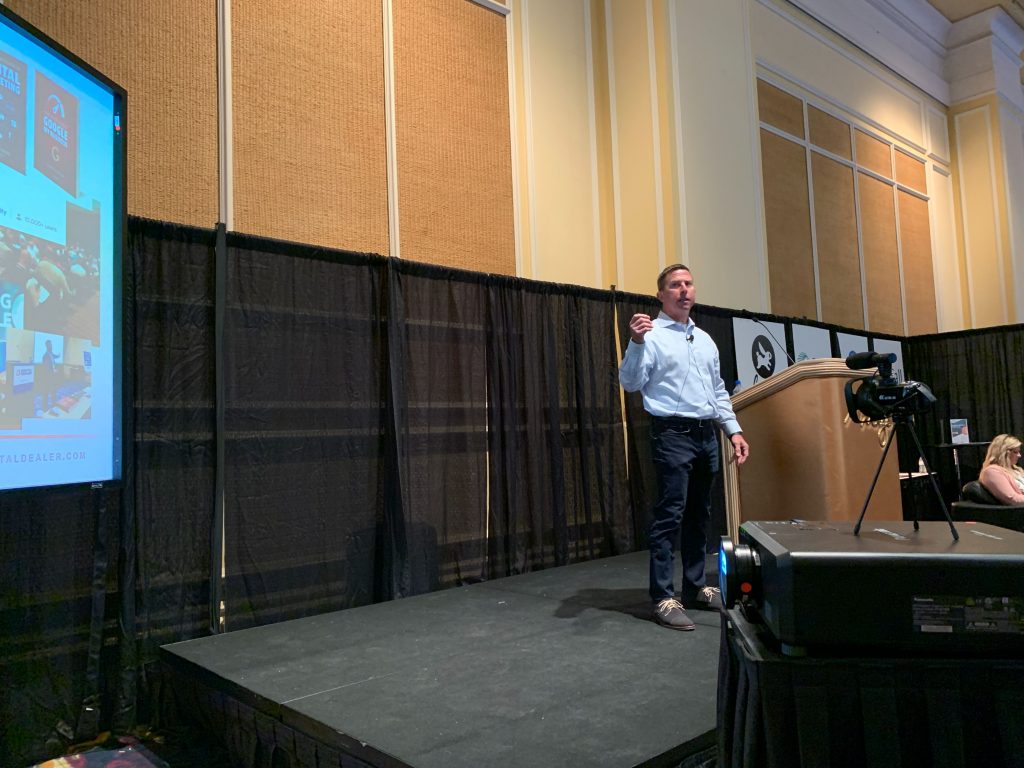 George Nenni working the crowd
George Nenni with
Generations Digital
shared lots of info on how to dial in the recipe for your website traffic with a rapid fire approach of multiple things a dealer can do. Why rapid? A new format was being tested with shorter sessions (thirty minutes) for this conference. I have mixed feelings as many speakers seemed to be rushed, but this also allows more sessions to be available for dealers to choose from. I know that I like the traditional 40 minute format for myself (followed by questions) as I usually present advanced content that requires some time to build up. What do YOU think?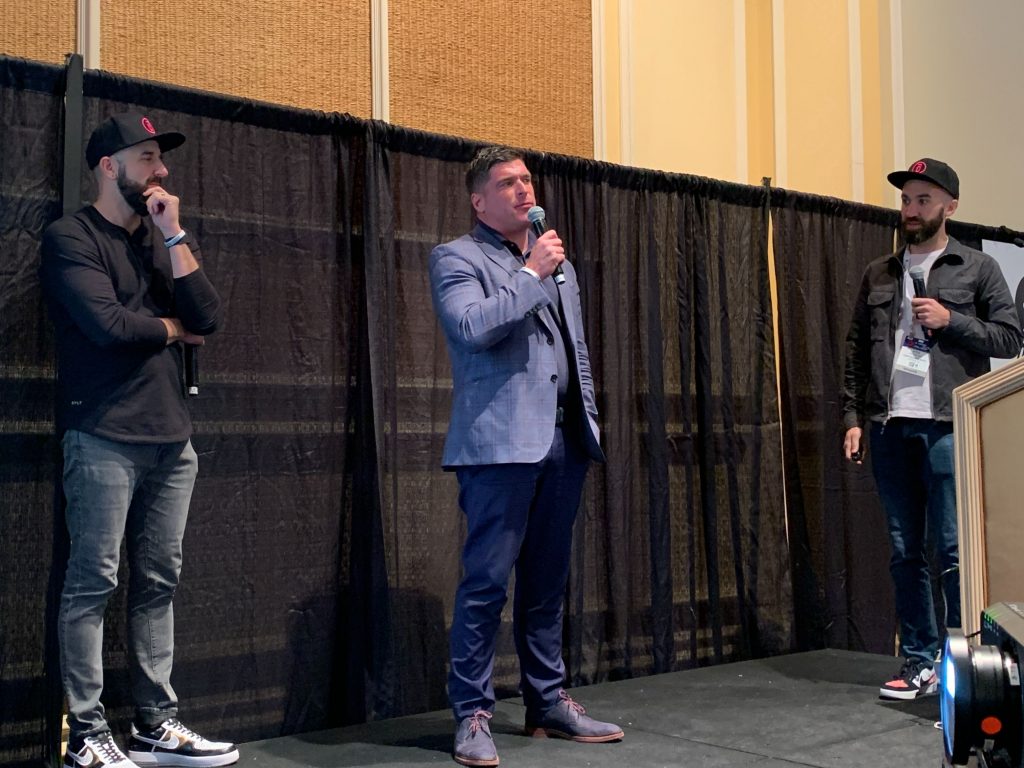 High energy with Paul Daly, Brian Kramer and Kyle Mountsier
Immediately after George Nenni was "Saying Goodbye to Best Price Inquiries" with Brian Kramer with Germain Toyota of Naples, Kyle Mountsier and Paul Daly with
Contagious Auto
. Opening up with some upbeat music, Paul, Kyle and Brian shared several compelling reasons to leave the tradition dealer messaging of "best price, best payment, most inventory, etc" which often leads our consumers to come in and ask the questions we don't want to hear – "what is the best price" for example.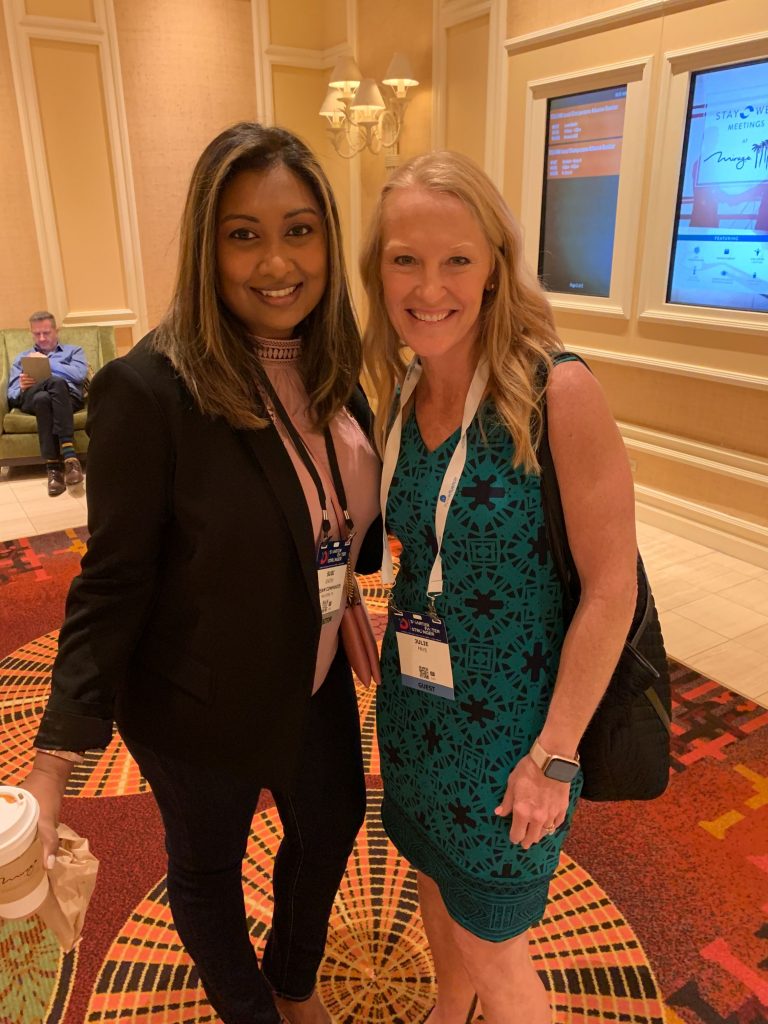 Great to see Subi Ghosh after more than a year.
Why not market to them to get them to ask the questions you want to hear. How can I buy a car quicker? What is the value of my trade-in? What most impressed me about this session was the energy and passion each of them brought to make automotive better.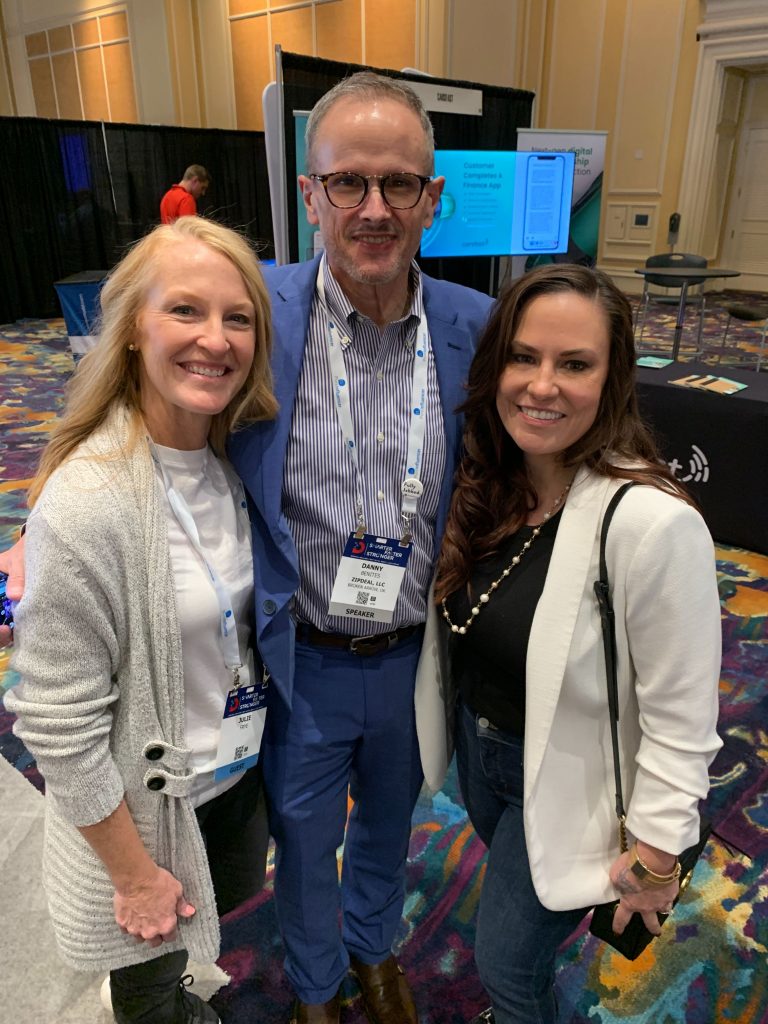 What can I say – Danny Benites is very popular
Quick lunch, and time for a meeting with the great staff that puts on the Digital Dealer conference. Digital Dealer (Emerald Expositions) is always working to make the conference better, and more dealer-centric. Many auto conferences have come and gone, but Digital Dealer has only become bigger and better. My biggest recommendation was simple – how do we encourage uprising talent to speak at these shows?
At this stage in my life, I am focused on helping others in growing their careers, and to encourage them to give back to our industry with renewed passion and innovative ideas. If you know some young talent that would be great for speaking at Digital Dealer, please encourage them to apply to speak. And remember, Digital Dealer lead the way with encouraging dealers (like me) to speak at these events, we need more dealer talent on the front line to speak at these shows (and note, I will be in the front row of your session J )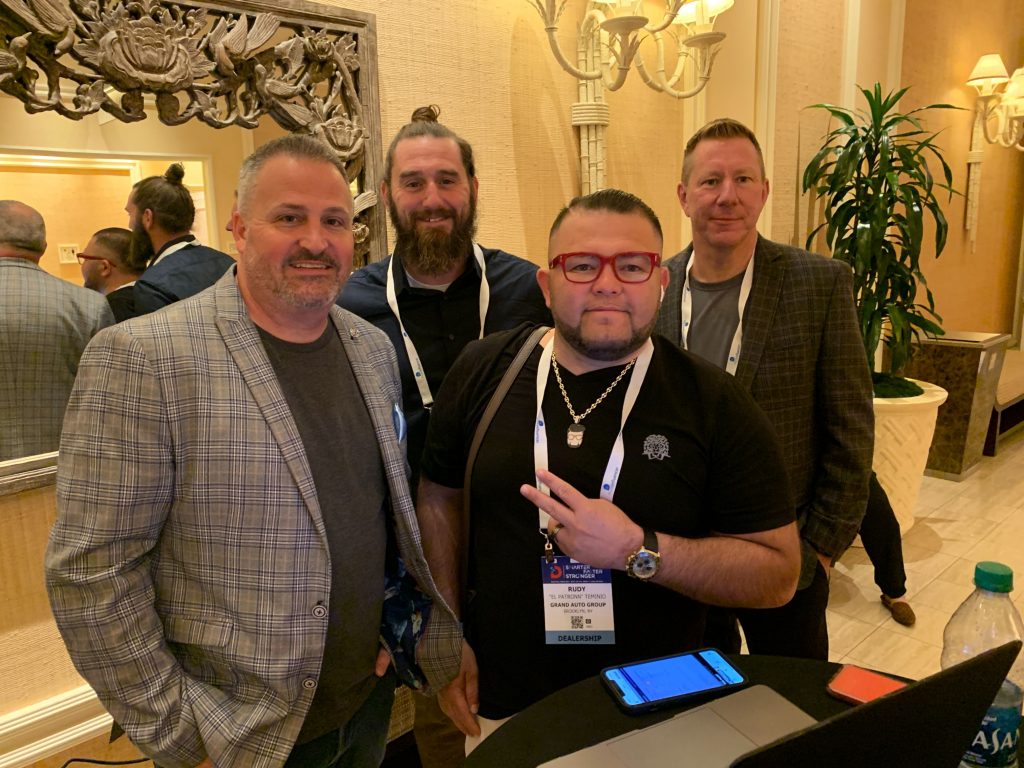 Listen up whippersnappers!!!
One area I am not completely enthused with in Exhibit Hall was the "live shows" taking part in a larger booth next to fellow exhibits. While it is fun to hear the loud music and folks shouting, it is VERY difficult to talk to the vendors in the exhibits across from and next to these events. I told one vendor I would have to come back later. Am I just getting old and cranky? Word of advice, just don't bump me after I drink some grizzly milk.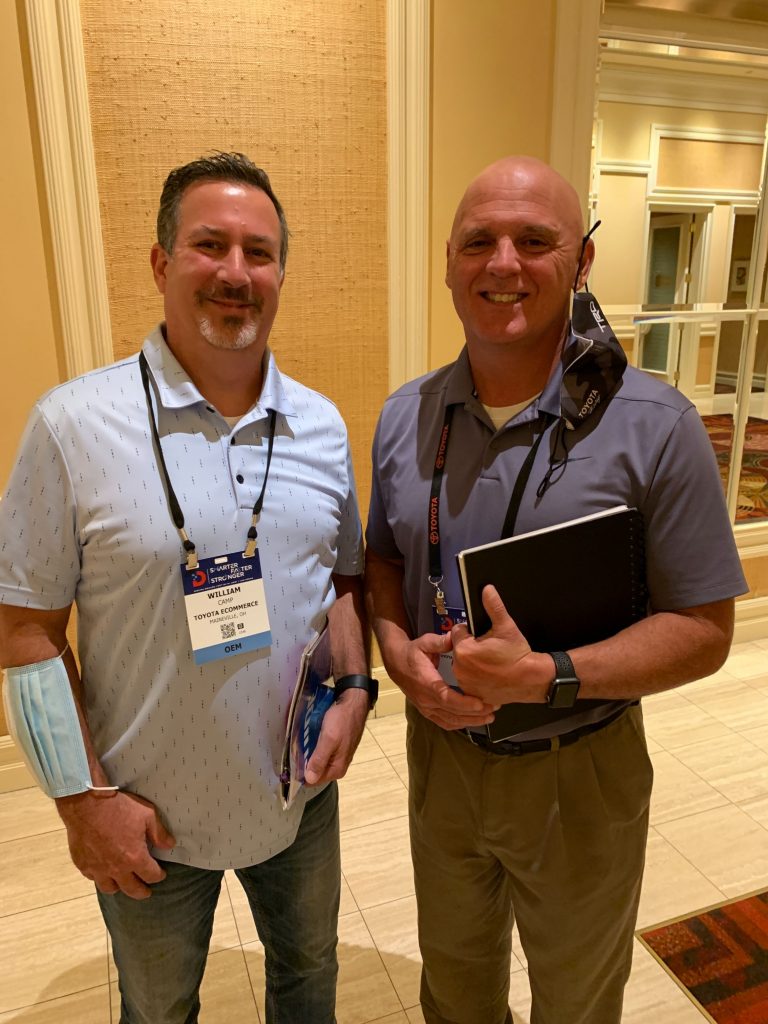 William Camp and Jamie McBee with
Toyota USA
Where are all the OEMs???
For the last ten years, I have always seen our Toyota district reps (and higher) at Digital Dealer, to include sitting in my sessions. Where are all of the other OEMs? Am I just missing them? It is encouraging to see the Toyota team eager to stay on top of the latest trends and innovation at Digital Dealer.
Longtime friend Val Kuncheff – looking for new opportunities – reach out to him!
The corner area where some other sessions were being held was a bit better, though it could be hard to hear the speakers. This is a difficult area, as I know DD wants to keep dealers in exhibit hall, but the logistics here are difficult to balance.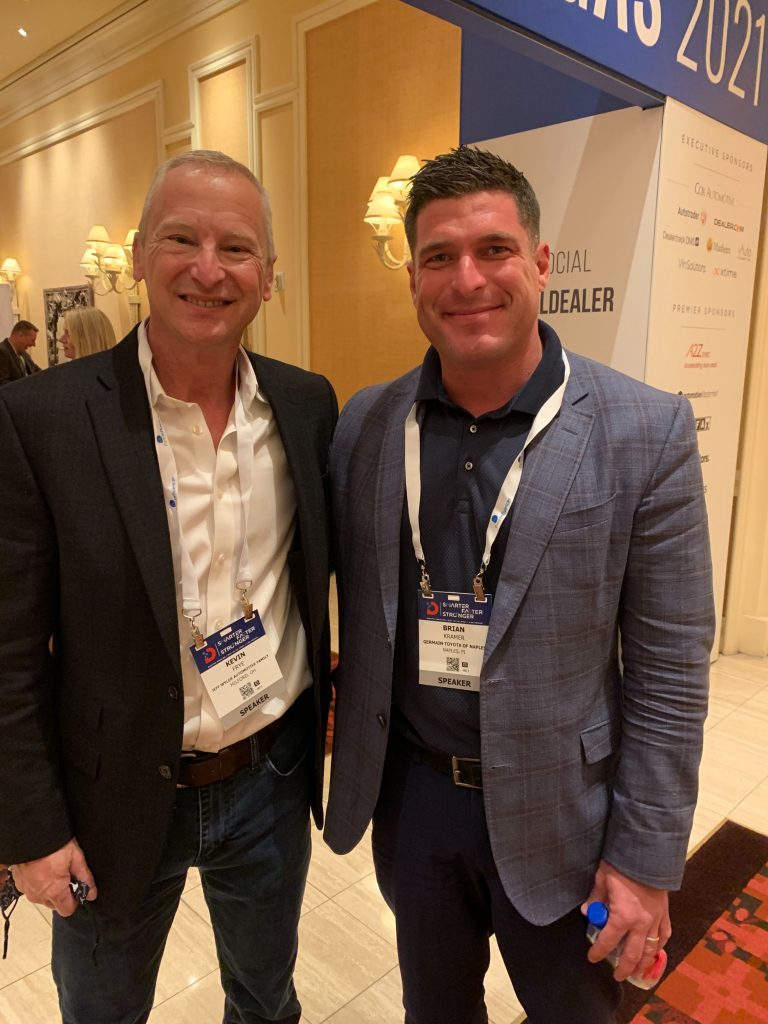 Beyond Impressed with Brian Kramer, GM of
Germain Toyota of Naples
Brian Kramer then presented "If You're Not Willing to Honor the Value on Your Website Trade Tool How Will You Ever Disrupt Carvana?" Another full session with LOTS of interaction with the audience. Dealers are waking up to the fact that we must compete with Carvana, Vroom, CarMax, and more. Brian is taking the time to share not only how Carvana is beating us at our own game, but more important, how we can and should be fighting back. Did you ever consider that Carvana is buying the used cars we want most to acquire, and we are often left with the cars that are not as desirable to choose from? Are we so focused on getting the best price for the trade, that we are missing most of the inventory? Perhaps we should be most focused on the acquisition of the trade first.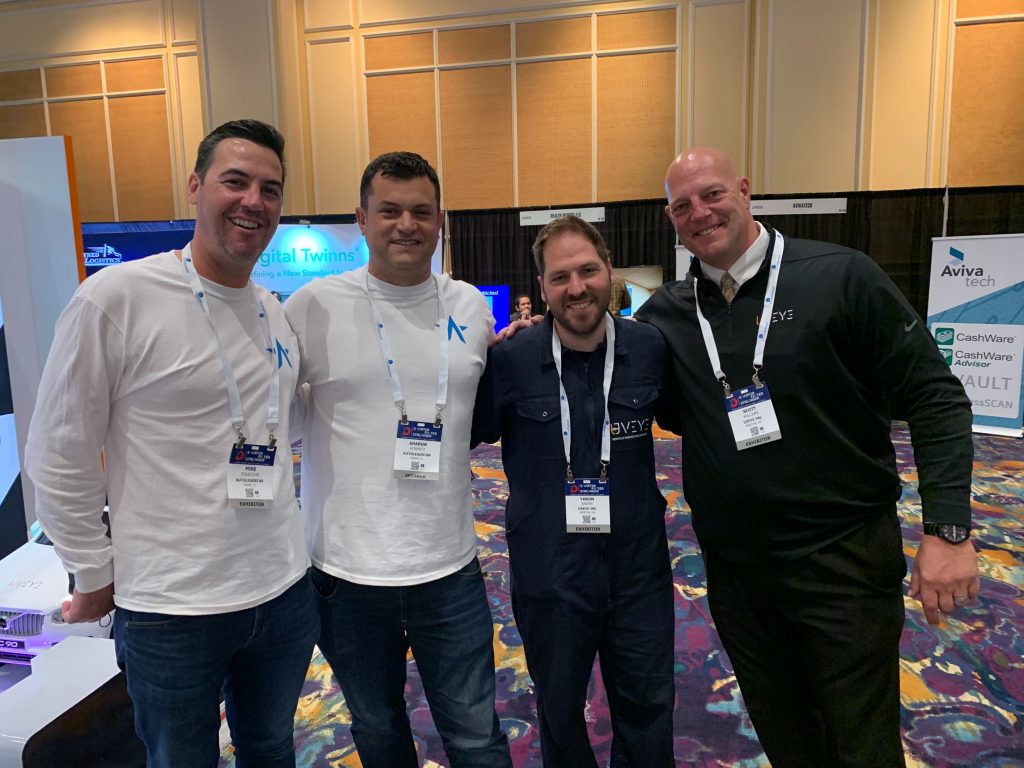 Mike Colacchio, Aharon Horwitz, Yaron Saghiv and Scott Williams
For me it was a LOT of time spent at exhibit hall again, meeting with current and new vendors.
AutoLeadStar
has expanded their marketing solution significantly, while UVEye has a photographic scanning system that can increase your tire sales in a BIG way.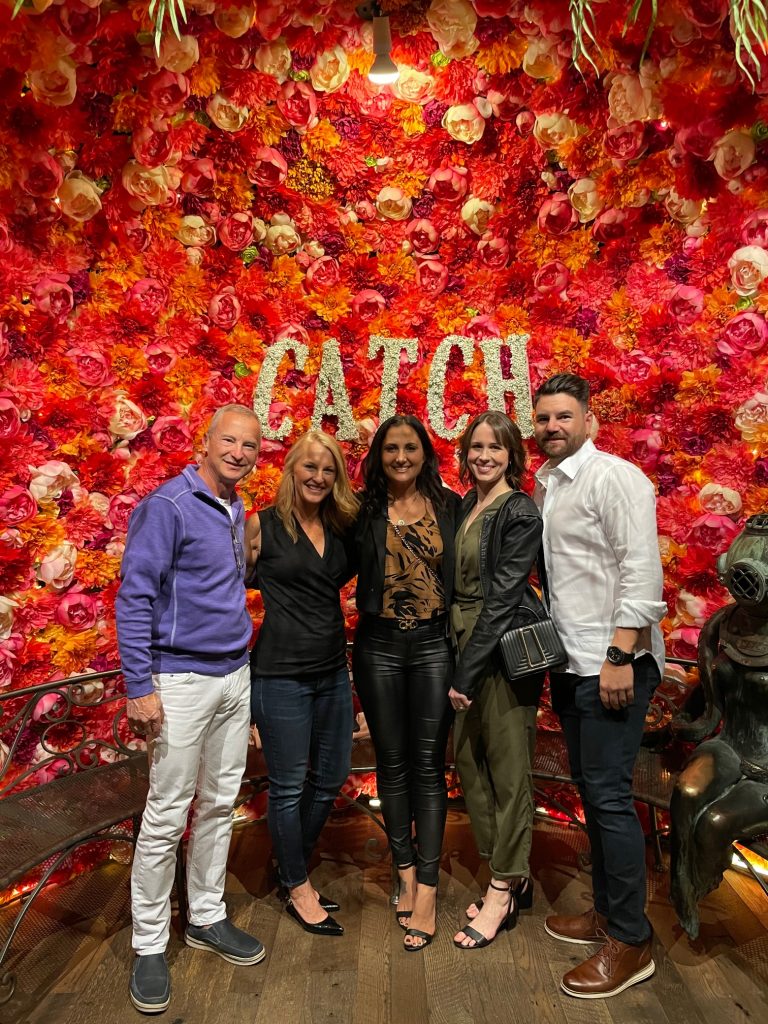 Great dinner at Catch with Ceren Isildak with
CloudOne
and Kenny Calhoun with
Dealer Funnel
We joined Ceren Isildak with Cloud One for another great dinner at The Catch at the Aria. There are so MANY great restaurants in Vegas to enjoy. And of course after that was the wrap-up Digital Dealer party at Midnight at the Dolphin Bar at the Mirage. More drinks, more fun and laughs, and another long day wrapped up.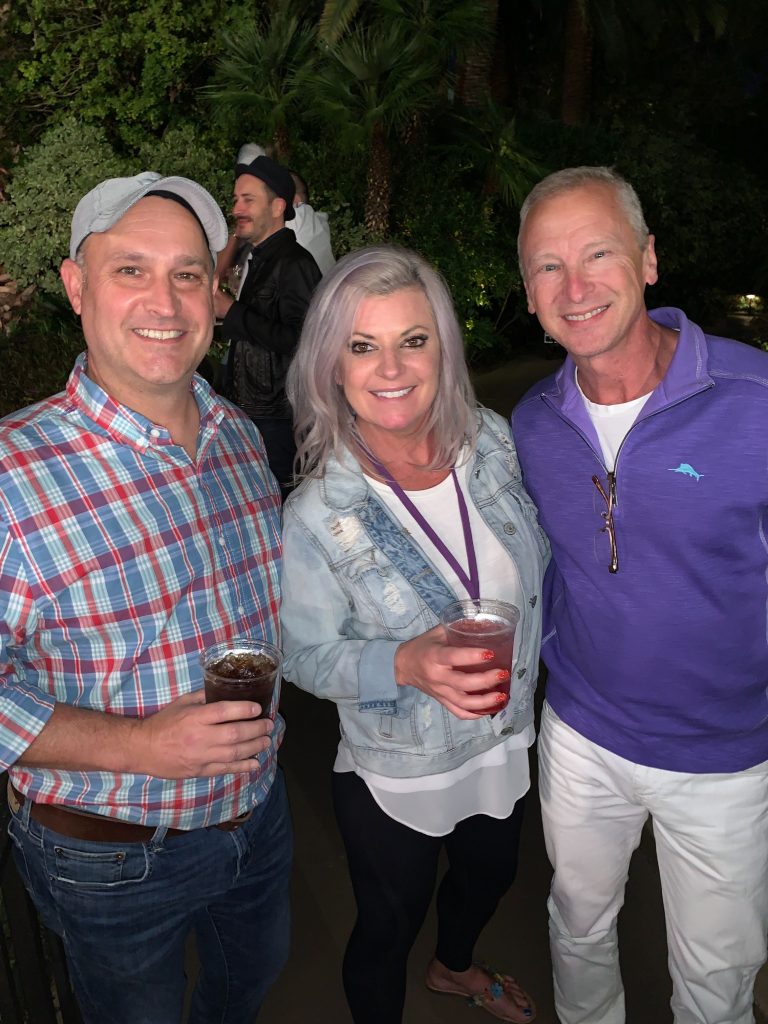 Dan Dorsey, Jenny Wood and Myself with Wyler – wrapping up
Overall, another great show. My only regret is not having the time to spend with everyone. As we wrap up 2021, I encourage dealers to understand that we will be dealing with constrained inventory for some time, while also grasping that each of us as great dealers needs to be working to compete aggressively with Carvana, Vroom, etc. Adapt and overcome! I don't know if any other industry is as good at that as automotive, which is why I enjoy working here so much. Cheers friends!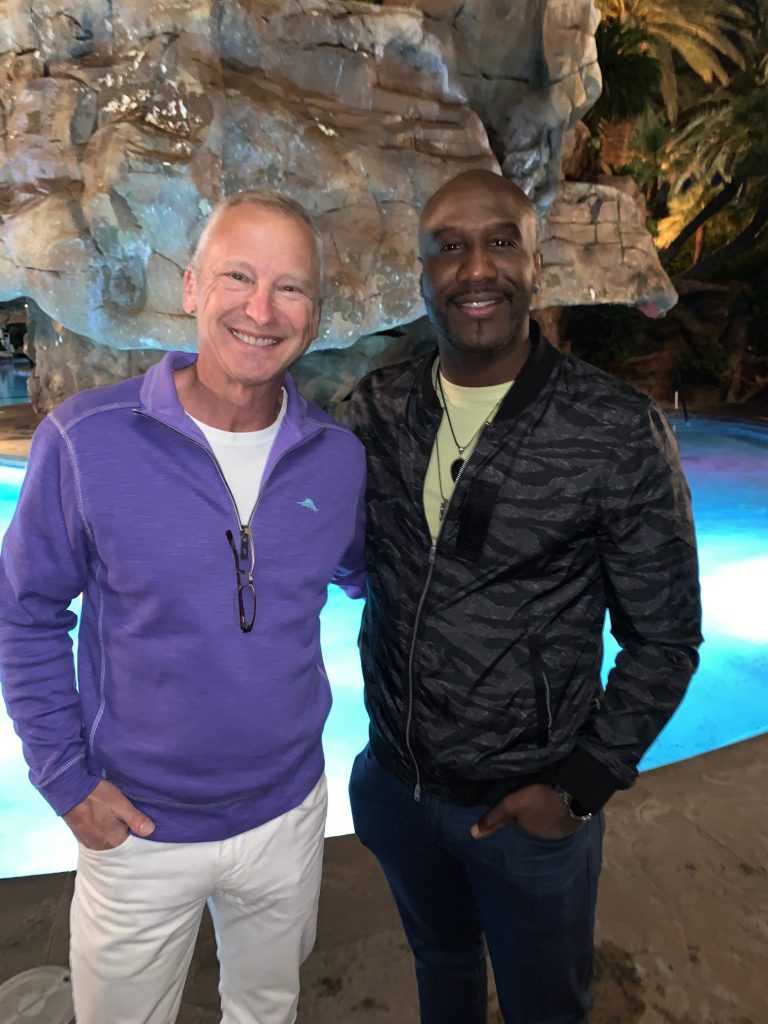 Always great to see my main man Alex Jefferson – Cheers to all!
——————————————————

As a former Naval officer I am driven to produce results & to lead people to reach their full abilit Aviation, outdoors, tennis, running, weighli...