Retargeting website visitors can be an effective way to bring people back to your website, but when you invest into this form of digital advertising, you can be paying multiple times for each person who clicks on your ad and re-visits your site. When you do the math, your cost-per-lead becomes significantly higher.
When you consider that on average 97% of your website visitors leave without converting, any difference you can make to improve upon that conversion rate will have a positive impact with your ROI. This process is referred to as conversion optimization.
Continual optimization of your website for conversion leads to early lead capture which ultimately brings you those same sales without the remarketing cost. In fact, retargeting can end up costing you, by conservative estimates, about three times more per lead than if you had captured early.
Let's have a look…
Factoring in retargeting costs, this first graph reflects the lifetime cost of each retargeted visitor that converts, approximately $4.70 per.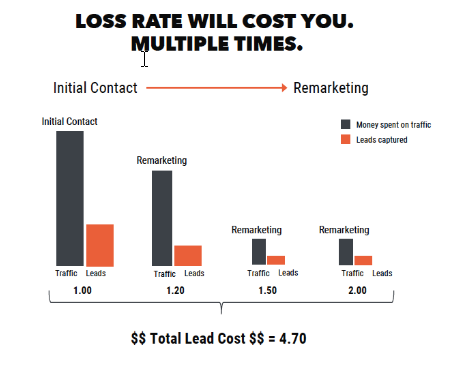 This might not seem like a huge expense, but when you consider that this per-lead cost could be reduced by as much as 300%, the savings begin to add up.
This next graph reflects the average cost-per-lead on visitors you capture early on.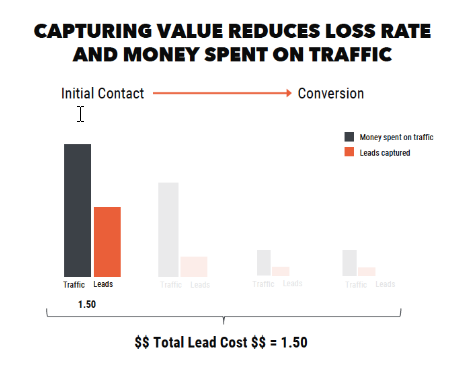 Case in point, conversion optimization can pay off when it helps capture leads early on and higher up the marketing funnel.
Another Benefit of Early Lead Capture: The Relationship
Aside from the ROI benefits of early lead capture, dealers also have a chance to start an actual conversation and build on the customer relationship sooner, and for longer as well. Developing relationships with shoppers who are still in the research stage establishes you as a more valuable resource. It makes your dealership a natural destination for buying and gets customers into vehicles faster, boosting sales and customer satisfaction.
How to Optimize for Early Lead Capture
So how can you optimize conversions for early lead capture? Here are three ways:
Content Optimization

. Create engaging, informative content that your visitors want. This includes information about popular sellers, how-to guides, market values, etc. Use visual content such as photos and videos and make sure everything is easy to navigate. Rich multimedia resources that are easily accessible will encourage shoppers to stay on your site for longer, engage with  you more, and convert sooner. And smart targeting will help you get your content to the customers who want it the most.
Relevancy Optimization.

Present valuable, relevant offers to website visitors, including cash incentives, discounts, and free gifts. Use behavioral analytics and targeting intelligence to bring service offers to service customers and sales offers to sales customers.

Lead Response Optimization.

When leads arrive, your response time should be swift. Auto responses are a good formality but immediate personalized follow up is necessary too. Following up via email, phone, or text, depending on the customer's preference is also important. Your odds of contacting a lead decrease by over

10 times

in the first hour, so quick responses are key.
Conclusion: Optimize – Convert – Profit
In short, investing your time into maximizing the initial website experience with smart targeting, solid content and offers, and quick follow-up will help convert visitors early on and allow your dealership to spend less money retargeting. Ultimately, capturing leads earlier means you'll close more monthly sales with less advertising spend. That is the purpose for conversion optimization.
Is optimizing your website for early stage leads worth it?
What would you recommend?