We watch a lot of videos around here, that goes without saying. Almost 1,000 videos come through on any given Monday, so it's pretty easy for us to have a grasp on what's important to car salesmen.
Customer reviews are at the top of the list, it's not surprising considering 84% of people trust online reviews as much as a personal recommendation. They can make or break not only dealerships, but individual salesmen as well.
Over the years there has been an increase in videos centered around review requests; but in addition to that, the requests are getting more innovative and direct with a variety of strategies.
4 REASONS YOU DIDN'T GET A GREAT REVIEW, OR ANY AT ALL…

 1. You didn't squash issues beforehand
This is a strategy we see a lot now, "Please contact me before submitting your review if for some reason you don't feel completely satisfied, I can try to fix whatever it is."  Address any negative feelings before the customer submits a review and tell them you need all 10's and perfect scores for it to count.
2. You didn't make it easy.
Most people will think it's a hassle to leave a review… they'll have to provide too much information, create accounts, it'll take too much time, etc. Be sure to address these objections ahead of time. — Provide links in your emails, online profiles, and social accounts. Let them know which ones will or won't need an account along with detailed instructions. Give people ideas on what to say and prompt them when they're most likely to be available, which is weekdays during work hours.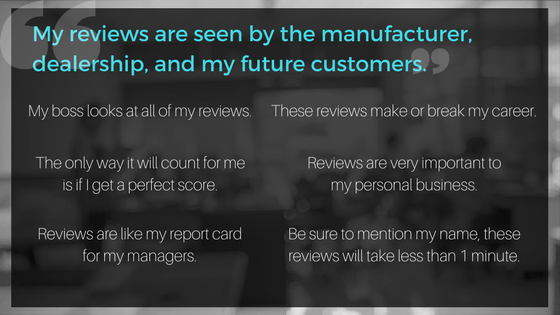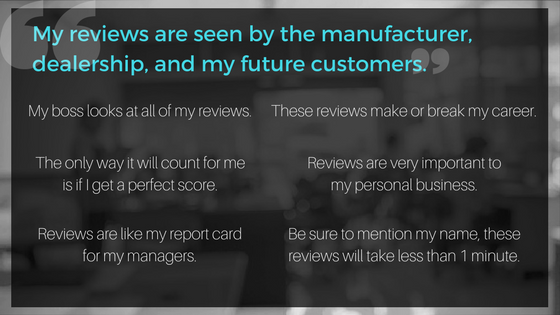 3. You didn't ask
7 out of 10 customers will leave a review if they're asked. The truth is most salesmen don't directly ask for the review, and they don't convey the importance of them either. Asking for reviews in person or on video is the best way to show customers how essential they are to your business. Try not to automate requests to multiple people at the same time, make it personal and genuinely ask each customer.
4. You didn't give a good experience
Why wait until after the encounter to think about reviews? Go into every single sale with a "pursue the review" mindset. There is a great review in every customer, you just have to be good enough to get it out of them. Consider that a challenge!
Video can play a major role in helping you remind the customers to leave you a review, walk them through the process, etc… Check out this great video from Jennifer Baker at Causeway Honda. She sent this directly to the customer's inbox and phone:
A few tips about reviews…
The more engagement, the better the reviews. If you do get a negative review, always respond. There's nothing worse than a negative review with no response. Studies show that dealer review response rates positively correlates to a higher average star rating.
Train your sales team on how to ask for reviews, or bring up a reputation marketing strategy at your next meeting. The greater success of the dealership, the greater your success. Use video to personalize the experience even further.
Reviews are essential to the millennial buyer. It's no secret millennials are research experts. They rely on word-of-mouth and online reviews in making purchases more than any other generation.
What are you and your team doing to make sure you're getting perfect 10's? 
I
John is the Operations Manager at Authntk Walkaround Videos and has been with the company since its inception. He loves working with auto dealerships ...