George Nenni continues to find more and more enlightening ways to look at Google My Business for dealers. It also doesn't hurt that he just released the second version of his book: A Car Dealer's Guide to Google My Business.
We will go into the real world looking at how dealerships can best to set up their GMB while using GMBSpy to pin point the best categories to utilize.
Download the latest version of GMBSpy for Chrome plugin –
https://www.generationsdigital.com/gmbspy
Purchase the latest edition of A Car Dealers Guide to Google My Business –
http://bit.ly/GMB-Book
We go LIVE on Facebook tomorrow (Friday Oct 9th) at 1pm est. –
https://www.facebook.com/dealerrefresh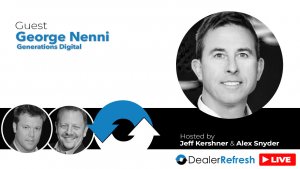 Founder of DealerRefresh - 20+ Years of dealership Sales, Management, Training, Marketing and Leadership.