Did you know that e-commerce sites spend on average only $1 of their advertising budget on converting website traffic for every $92 spent driving website traffic [Source]? This could very well be one reason that more than 38% of website visitors leave a website due to poor design and layout? If you're looking to maximize your ad spend, these might be two specific areas to consider.
Converting website traffic is arguably one of the more over-looked and under-utilized practices on dealership websites. Most dealer sites "attack" users with numerous calls to action the moment they arrive, and the barrage is ceaseless.
For example…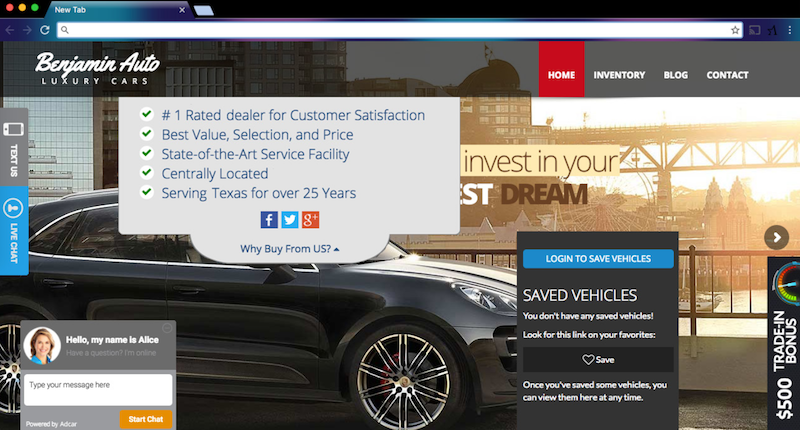 Considering that this is not an uncommon look for your typical dealership website, what can dealers do today to enhance the shopper experience on their sites and maximize their ROI?
[highlight color="#d65a3e" font="#ffffff"]
[/highlight]
In a recent live web chat with AutoLeadStar's Head of Business Development, Ilana Zur, Jeff and I took the opportunity to explore what dealers are doing wrong on their sites regarding calls to action, and what they can do to improve, and how.
During the webinar on how to "Declutter Your Website and Tighten Up Your VDP's," Ilana touched on three key points that dealers can and should be considering when it comes to their websites. She also gave examples of common mistakes dealers make on their sites, such as forcing too much information in one place for visitors to notice, not taking into account user friendliness.
Three Takeaways
Clarify your goals
Think UX
Tighten up your VDPs
Check out the edited 'mini version' of the webinar below where we introduce these three talking points and offer up a few suggestions. You can view the full recording on YouTube.

In the world of automotive marketing, I blog for car dealers.