Digital Marketing: It's Time for OEMs to Rethink Their Co-Op Programs
This article was not written to be cute or semi-controversial. It was also not written for dealers to read, nod their heads and then do nothing. It was written for dealers and OEM executives to get beyond the bullshit being fed to them by their digital marketing partners (and sometimes even by their own marketing teams) and stop the digital marketing waste and fraud that's costing the average OEM and their dealers hundreds of millions a year.
Digital marketing is likely the biggest waste and fraud ever perpetrated on OEMs and dealers; and it needs to stop. OEMs are (unwittingly) facilitating so much of this that the initiative to stop it has to come from their ranks. In fact, for many OEMs, it may have to come from the CEO herself/himself.
If you take a deep dive into the average dealer's digital marketing spend from last month, you'll likely see their OEM helped them pay for (via digital marketing co-op) some or all of the following:
Bidding on high-funnel keywords that compete with the OEM's own digital marketing efforts.
Bidding on the dealer's own name – even when that name is unique to the dealer.
Bidding on competing dealers' names.
Bidding on terms outside their PMA.
Overpaying for non-converting keywords.
Buying display advertising with a 1,500% (or higher) mark-up.
Buying (easy-to-uncover) fake traffic.
The OEMs are incentivizing the wrong things with their digital marketing co-op! They're not only helping pay for fraud (fake traffic and an undisclosed 1,500% mark-up of display advertising are fraud in my book), they're also allowing dealers (more specifically, the dealers' agencies) to use OEM dollars to compete with the OEM and neighboring dealers of the same brand.
It's madness, pure and simple.
If you asked the CEO from your OEM what the goal of the digital marketing co-op program should be, he or she would likely reply with something like, "to gain market share," or "to grow the brand," or "to move metal."
I doubt any CEO would answer, "to help our OEM-approved digital marketing vendors get rich on the backs of the OEM and the dealers." (Guess what? For the most part, that's all that's really happening with many OEM-approved vendor co-op programs.)
Competing with the OEM
Why would an OEM help a dealer pay for the same keywords the OEM is targeting? This makes no sense, right? This practice can only raise the per-click price the OEM must pay to get these visitors to their site, while lowering the OEM's quality score each time a dealer wins the click. A click, by the way, that the OEM helped pay for!
Let's look at a real-world example of this: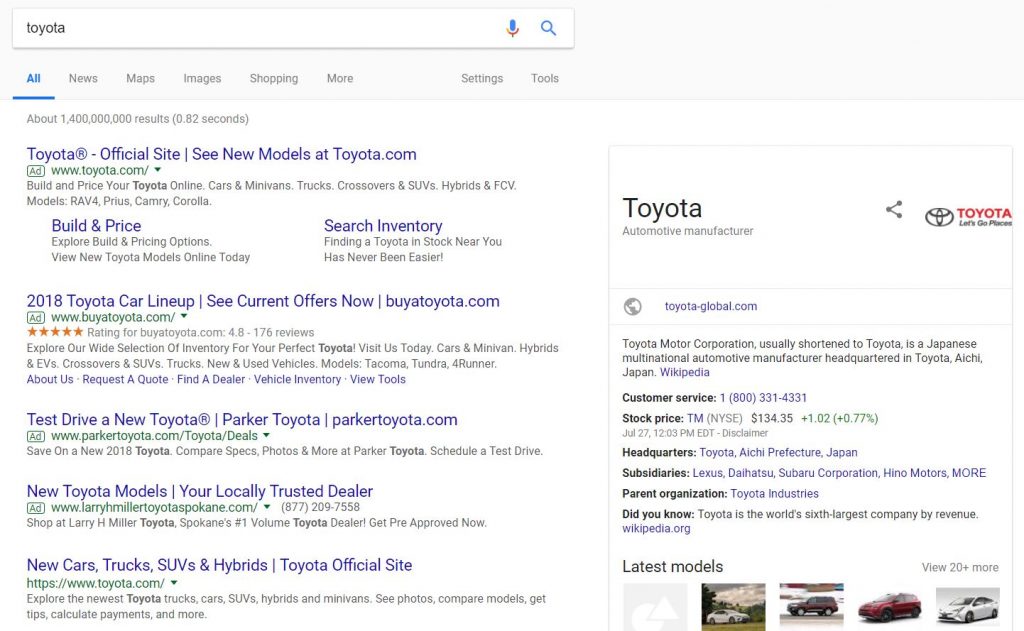 The quick screen capture above shows the all-too-common practice of Tiers 1, 2 and 3 all competing against each other on a high-funnel keyword. Depending on which ad wins the click, how much does this cost Toyota (in terms of actual spend, co-op, or reduced quality score)? Moreover, why in the hell is Toyota even bidding on this keyword? 
Toyota owns the Page One organic results on Google for the search term "Toyota." I'll argue that not only should they stop helping Tiers 2 and 3 buy this click, they should also quit bidding on their own name. As Restoration Hardware learned in 2017, nearly all of the business driven by PPC comes from bids on the business's own name.
If you "own" the Page One organic results for your name, I struggle to find any legitimate reason for wasting a dime on these search terms. If you're an OEM marketing executive, you might argue you want to protect the brand. Okay, if I believe that, then why would you compensate (via co-op) your own dealers and the Tier 2 agencies to compete against you?
There's no reason for it. So, stop it.
Dealers Buying Their Own Name
Unless your dealership shares a name with an area someone might search (like "Atlanta Toyota"), there are only two entities telling you that you MUST buy your own name in PPC. These two are Google and your PPC vendor. Interestingly, both of these entities profit when you do this, so let's just say "the jury's out on this one."
If you're the OEM, what is the rationale for allowing this keyword purchase to be part of your co-op plan? You're paying 50% of the cost for a dealer to purchase their own name… why? Shouldn't your goal be to grow market share… for the entire brand? How does paying half the cost of a dealer-branded keyword do this?
It doesn't. Stop it.
Dealers Buying Competitive Dealer Names
If there's no rationale for an OEM to compensate a dealer buying their own name on Google, what could possibly be the reason you'd help one dealer compete against another? Some OEMs might argue that their co-op doesn't allow these kinds of purchases, but they'd likely be wrong. Let me show you a possible example: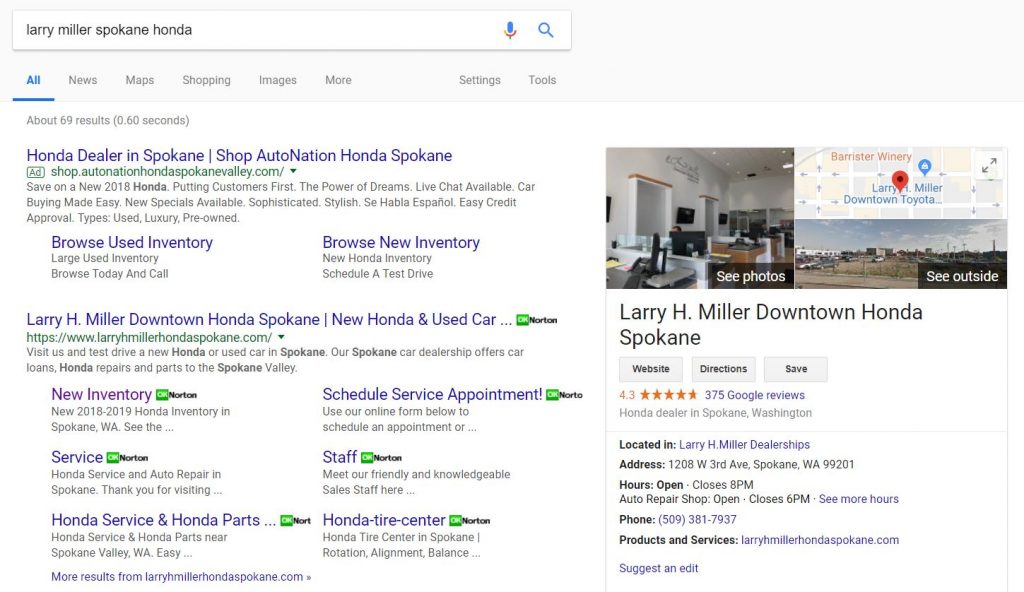 In the quick screen capture above, AutoNation Honda is apparently bidding on a competitor's name. If this purchase is covered by co-op, then Honda is helping in this effort and footing some of the bill – even if the OEM doesn't allow it. Because, of course, a dealer will often inadvertently bid on another dealer's name.
AutoNation is likely not bidding on the words "Larry Miller," they just didn't designate these as "negative keywords" in their PPC campaigns. Whoever is managing the AutoNation campaigns could easily set their keyword purchases to not include competitive names.
Of course, if AutoNation wanted to bid on these terms, that's their decision. The OEM, however, should exclude these from co-op eligibility. In other words, they should stop it.
Dealers Bidding Outside Their PMA
Paid search can be very costly for dealers trying to use it to conquest outside of their market. Of course, like bidding on a competitor's name, this is their choice. The OEM certainly doesn't have to (and shouldn't) support these efforts with their co-op dollars.
Beyond easily setting geographic boundaries where an OEM will participate in search, they can also limit the use of town/area names in competing dealer ads when that dealer does not have at least a part of that town/area in their PMA.
For example, here's Loveland Ford buying the term "Longmont Ford" nationwide: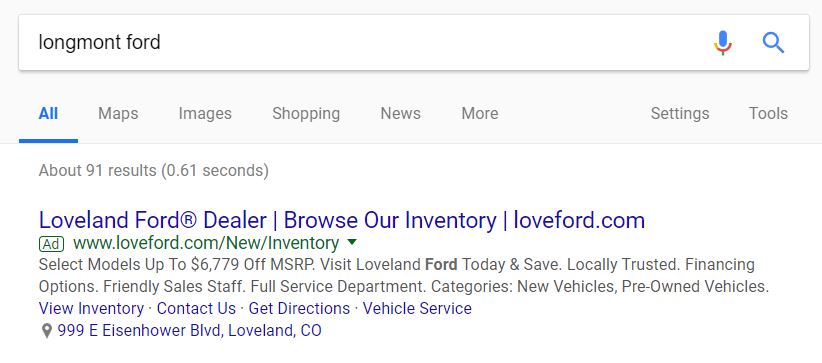 I know they're doing this, because I'm sitting in Coeur d'Alene, Idaho as I write this article. My quick search for Longmont Ford should never have returned Loveland Ford as a paid result unless they were specifically bidding on the name; and doing so without regard to geography. Of course, Longmont (like Loveland) is a town in Colorado, so they should bid on these keywords, right?
Well… no; and certainly not when someone is searching over 1,000 miles away from their dealership.
The real questions, however, are these: Since I'm pretty sure Longmont, Colorado is not in Loveland Ford's PMA, why is FordDirect picking up half or more of this keyword spend? Do you suppose CEO Jim Hackett wants Ford to compensate Ford dealers for poaching prospects from other Ford dealers' markets?
I'll bet he doesn't. So… stop it!
Overpaying for Keywords
Unfortunately, the co-op rules from the OEMs I'm familiar with do not include any caps on the amount per click they will compensate. This is unfortunate, since many approved vendors like to use a set-it-and-forget-it approach when creating dealers' PPC campaigns.
With no cap on click costs and no incentive for the provider to reduce these, I've witnessed dealers draining their budgets before 10:00 a.m. chasing expensive, high-funnel prospects while competing with Tiers 1 and 2 (and each other); instead of taking share from competing OEMs – and being able to do so well beyond 10:00 a.m.
This is a silly practice that, you guessed it, needs to stop.
Marked-Up Display Advertising
Though a relatively small percentage of the wasted co-op an OEM can force upon their dealers, the display advertising offered by nearly every OEM-approved provider I've investigated contains enormous and undisclosed mark-ups. Some, as high as 1,800%!
Display advertising, in case you don't pay attention to what your provider is telling you, is most often offered without a management fee. Dealers are told that they can buy this with co-op dollars and that the cost of managing these campaigns is included in what they pay. What they're not being told is that these impressions can be bought directly from Google for about $1 per thousand. (That means they'll get 1,000,000 display ad impressions for every $1,000 they spend.)
Unfortunately for those buying through their OEM's approved co-op provider, they'll often see that for their $2,000 budget ($1,000 each from the dealer and OEM) they're only enjoying about 130,000 impressions! (The dealer could, of course, purchase those 130,000 impressions directly from Google for about $130. Why do they need co-op?)
This has to stop, right?
The Fake Traffic
To their credit, most OEM-approved digital marketing vendors I know would never bother to intentionally send fake traffic to a dealer's site. They don't need to, of course, because their reporting is so meaningless that no one can look closely enough at anything they don't want them to see.
Though a bit rare today, when I do find an OEM-approved vendor with fake traffic it's pretty shocking in its hubris. In one example I saw recently, an OEM-approved vendor showed a dealer that the PPC traffic they delivered for the dealer in 2017 enjoyed:
A bounce rate under 1%;
Over 11 pages per visit; and
An average time on site above 6 minutes.
Numbers, frankly, that are not possible if these were human visits. Moreover, the website leads and sales this dealer saw from their PPC efforts grew year-over-year when the OEM-approved vendor was replaced by a non-approved partner (who also cut the overall SEM budget by nearly 50%). The dealer is also enjoying a huge increase in new visitor sessions and nearly 50% more unique visitors than in 2017.
On a lower budget with a non-approved partner… The OEM co-op waste and fraud needs to stop.
Moving Metal or Just Moving Money?
The goal of these programs has got to be about moving metal (for the OEM); unfortunately, the results reveal that they're just moving money. For one OEM, we were able to conservatively estimate that $180,000,000.00 is wasted every year when dealers use one of their OEM-approved co-op vendors – and follow the advice/rules of the OEM-approved vendor.
When you combine all three Tiers, the total controllable digital marketing overspend for this OEM likely runs north of $500,000,000.00.
What could your OEM do to grow your market share if they repurposed that half-billion-or-so dollars and focused it on conquesting the competition?
The "Approved" Players
For most OEM programs we've examined, there appear to be some very odd decisions being made by those in charge of these programs. Whether they just don't understand digital marketing or the car business, or whether there is something nefarious going on remains to be seen. However, once approved by those in charge at the OEM, many of these digital marketing "partners" seem to follow a very common playbook:
Encourage the OEM to limit competition (only 2 or 3 vendors are approved)
Flood the field with salespeople disguised as Account Managers
Distort the dealer's current results to encourage a switch
Replace the dealer's AdWords & Analytics accounts
Mark-up Click and Display costs (sometimes by 1,500% or more)
Deliver meaningless graphs and reporting
Target dealer and OEM names in PPC spend
Create in-market competition for keywords (on all 3 tiers)
Drive budgets higher
Deliver no OEM market share growth
To point 5 above; yes, sometimes OEM-approved vendors have even been caught marking-up the click costs – something both the dealer and the OEM pay for because this budget is part of the approved co-op.

In the anonymized example above, the OEM-approved vendor misrepresented the amount of the actual spend with the search engines (because the dealer was initially denied access to AdWords and Bing Ads). Once the dealer was able to gain access, they discovered the effective management fee was 41% because the vendor was marking-up the click costs.
This, like all of the shenanigans that collectively are wasting hundreds of millions of dollars every year for any of the larger OEMs, needs to stop.
The New Rules for Co-Op
The only way to stop this massive fraud and waste is for the OEM to create new rules for their digital marketing co-op. Rules that are not "tweaks" of the current programs, but a total "rethink" of the way these programs have been conceived, managed and executed. Here are a few of my thoughts on the basic rules for co-op to help your OEM get started:
Dealers can choose any partner they wish, provided they comply with the other program rules.
Dealers should pay Google directly for PPC and Display.
Google Analytics (GA) and AdWords (now called Google Ads) accounts should remain within the individual dealer's control. (These are often hijacked to hide waste and fraud.)
Conversion metrics defined in GA should be standardized across all authorized providers.
Success metrics and reporting should provide 100% transparency; including only those actions a human could make; and should be standardized across all authorized providers.
OEMs should NEVER co-op Tier 3 keyword spends that:

Compete with Tiers 1 or 2;
Are a variation of the dealer's name (if not a city or metro); or
Use a competing dealer's name or city (outside of the dealer's PMA).
These few simple rules will likely have limited impact unless or until your OEM's CEO gets involved. So much of what is fraudulent/wasteful originates from profit centers within the OEM that are often led by those trying to maximize their bonuses (or other cash and non-cash compensation) that mere oversight will just result in a rearranging of the deck chairs.
What can dealers do? You can start by calling those on your dealer council and making them aware of these issues. Additionally, you can copy and paste the rules above and send them to your OEM with a note saying you want "the Stauning Rules" included in their co-op guidelines.
Finally, you can stop much of the digital fraud being perpetrated against you by following the best practices outlined above and in this video webcast:
Good selling!
Steve is the author of Assumptive Selling: The Complete Guide to Selling More Vehicles for More Money to Today's Connected Customers;" as well ...