We Don't Need No Stinking Banners
Why you should immediately dump the rotating image carousel on your dealership's homepage
Though not quite as ubiquitous today as they were just a few years ago, homepage slideshows (aka image carousels and/or rotating banners) still appear on far too many dealer websites for me to believe anyone has taken the time to measure their impact.
That is, I don't believe OEMs, dealer groups or dealers know one way or the other if these homepage slideshows help them sell cars or increase service ROs. (The data, by the way, suggests they do not.)
First: The Goals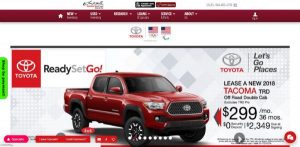 Understanding that your website has just two primary goals (to attract visitors and to convert those visitors into customers) we should be able to easily decide whether to keep or eliminate rotating banners, right?
I think we can all agree that homepage slideshows have zero impact on your website's search visibility (that is, they have no affect on your website's ability to attract visitors). This means, we just need to determine if slideshows help achieve the second goal: converting visitors into customers.
To be clear, these image carousels take your best and most important website real estate to display what many consumers see as large banner ads. The argument for or against these, therefore, must include alternate uses for that real estate. Begging the question: if not a homepage slideshow, then what?
Conversion Killers
Consumers often don't "see" banner ads because they've developed what is called "banner blindness." Their brains have basically been trained to ignore most traditional online advertising and anything that resembles an ad. Your homepage slideshow is full of ads; and was given this prime real estate because of that fact.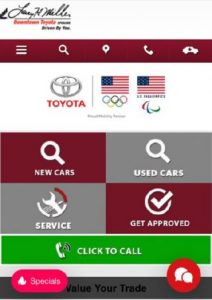 Image carousels on dealer websites are often nothing more than fluff and ego and OEM compliance. They are conversion killers and I can prove it.
First, if homepage slideshows were good for conversion, you'd include them on your mobile site too, wouldn't you? Of course, the argument against this is that the available real estate on mobile is far less than on desktop, so you must economize. You do so by eliminating the fluff – the homepage slideshow – and replacing it with content consumers will click on and interact with.
That said, many dealer websites (especially those provided by the OEM's chosen vendor) still try to force the rotating banners onto the mobile site and end up creating text and images so small that the offer – even if it was a good one – is sure to be ignored.
Do They Move the Needle?
If image carousels genuinely helped you sell cars or drive more service appointments, wouldn't you include them everywhere? I mean, not just on your mobile site, but at the top of every page on all versions of your website? Of course you would! You don't, because you know they don't.
Despite the beautiful slide shows on many sites today, most everyone – and I mean everyone – avoids them. In fact, depending on the study you believe, only between one and five percent of the homepage clicks occur on these rotating images. That means 95 to 99 out of every 100 visitors to your homepage who click somewhere, click on something other than that giant banner ad taking up more than 70% of the screen!
I was able to verify this via recent visitor data on dealer websites that showed just 2.6 clicks on any one banner ad out of every 100 homepage visits. Moreover, of the banner clicks, about 60% of these were on the first slide in the rotation – this means those departments fighting for a place in the rotation (and relegated to the third or fourth or tenth spot) are often enjoying fewer than 10 clicks PER MONTH on their slide.
But We Can't Give Up Those 2.6 Clicks!
Earlier I wrote that we need to consider the alternate uses for that real estate if we're to determine the actual value of using a giant image slider on the homepage. I would argue (successfully given the terrible performance-to-date of these carousels) that virtually any use of the homepage is likely better than a slide show receiving so few clicks.
Think about it, how much time does your team spend each month on creation, compliance, and approval of these rotating images? Is there adequate return on this investment of time and money knowing that some of this effort will produce click counts in the single digits?
Before you decide, let's look at the consumer realities of moving ads across your homepage every five seconds:
Not everyone is as tech savvy as your team. When you present images and text that invite clicks – yet change every few seconds – you frustrate those site visitors who lack the acumen that your digital marketing manager possesses.
Some users often don't even have enough time to read the information before the next slide appears – especially when these are filled with disclaimers.
If you have just six slides in rotation, your most attractive deal is on display just 18% of the time.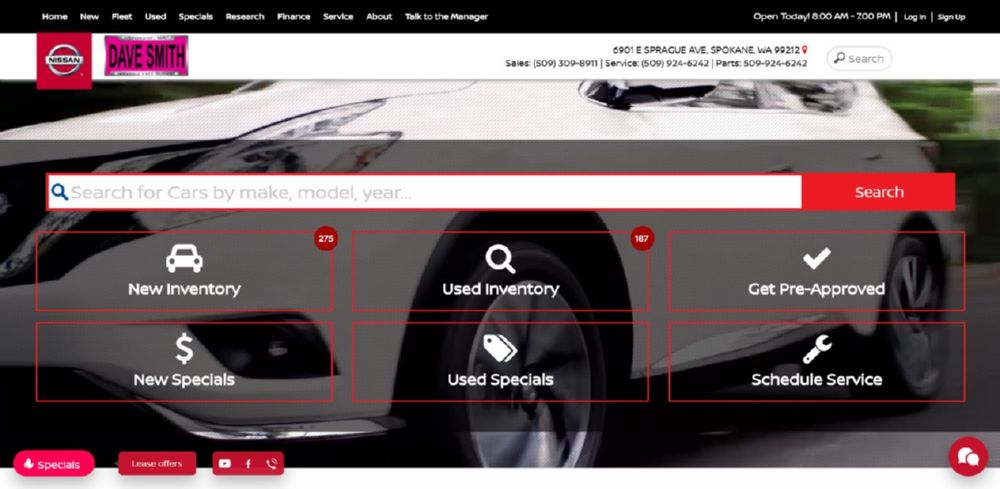 Instead of wasting that real estate on fluff that drives almost no interaction and takes an inordinate amount of time and energy to create and maintain, why not just do what many dealers are doing on their mobile sites? That is, why not just offer a few simple-looking boxes/buttons that invite the actions you want your customers to take:
Schedule Service
Today's Deals
Lease Specials
Search New
Search Used
Value Your Trade-In
Get a Quick Quote
Get Pre-Approved
These buttons can be as elaborate and striking as you wish. Additionally, you can get very specific with the verbiage and imagery. For example, you could use one of these for that attractive $199/month lease special that currently generates fewer clicks than the link to your Privacy Policy.
I believe offering these quick-link boxes will allow you to move your visitors to the content they want more efficiently, while garnering you way more than 2.6 clicks per hundred visitors. Furthermore, your site will appear more consumer-friendly given it now contains fewer "ads."
Good selling!
Steve is the author of Assumptive Selling: The Complete Guide to Selling More Vehicles for More Money to Today's Connected Customers;" as well ...