I carefully navigated the NADA website, clicking the button to download one of my favorite semi-annual automotive industry reports.
I had heard the 2017 results were finally available, and I was anxious to dive into the data. I double-clicked to open the report, quickly scrolling to the "Advertising Expenditures" section. And then…my jaw dropped.
I'm not sure why I was so surprised, perhaps it was just affirmation of what I saw starting in the late 1990s: The birth of the internet advertising segment for automobile dealers.
For the past 20-plus years, I've relied on the "NADA DATA" report.  If you haven't used this resource in the past, you definitely should.  It is extremely detailed, reliable (NADA, of course!), and gives you solid summary of the prior year's results for the automotive industry.  Click here for free downloads from the NADA site: http://bit.ly/NADA-DATA
Here is the stat that dropped my jaw…
The percentage of total advertising spend for internet media jumped from 33.6% to 55.4%!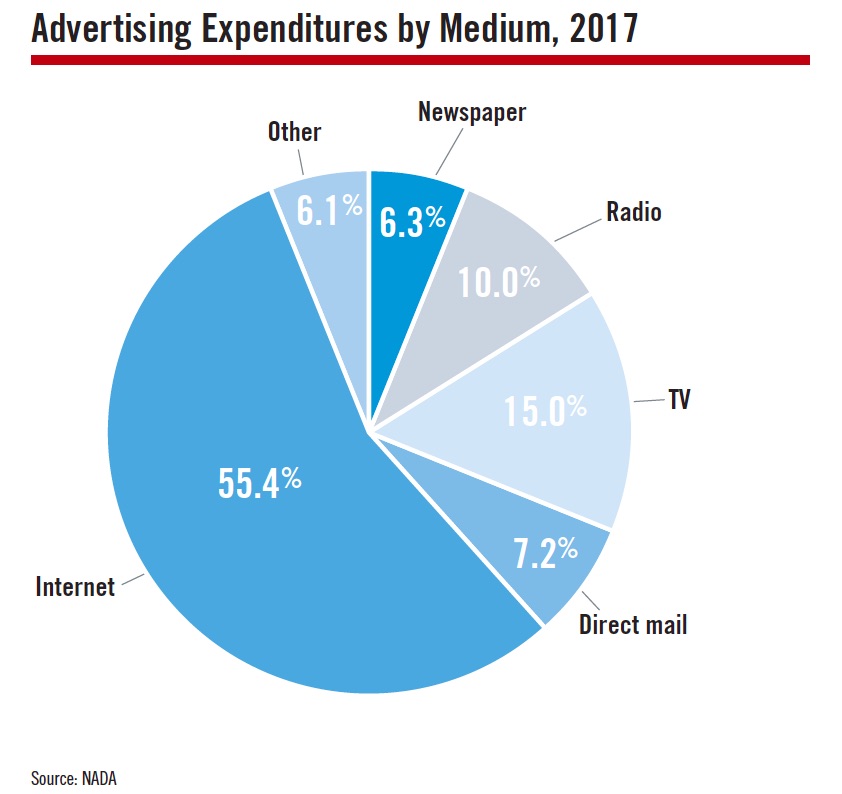 That's right, Internet as a media segment is now 55.4% of retail dealerships annual advertising budget, or $26,750 per month. I know what you're saying, didn't this happen a long time ago? According to NADA, it has never even been close to 50%.
Here is a look at both 2016 and 2015: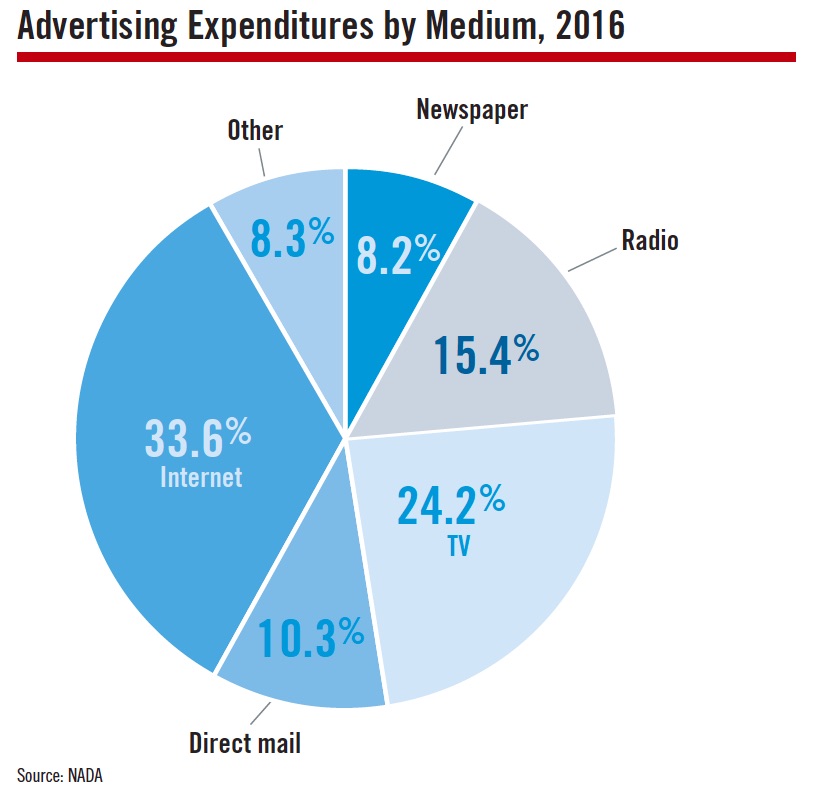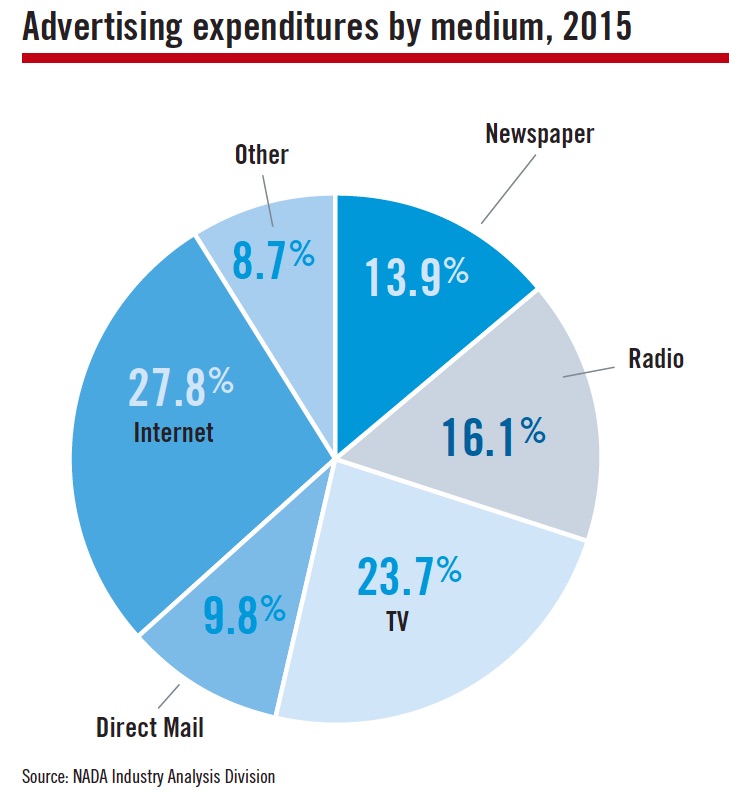 In 2016, internet advertising was 33.6% of the dealership's budgeted advertising, or $16,458 per month. In 2015, NADA reported that dealers only spent $12,047 per month, or 27.8% of their total advertising budget.
So, what caused this 62.5% jump, over $10,000 per month, from 2016 to 2017 for internet advertising?
Perhaps it is a change in the way NADA is tabulating this information? Could it be the many additional fees that are now included to run OEM or other campaigns?  I would argue the reason is that we have finally reached the tipping point where dealership advertising dollars have largely shifted from traditional media to digital.
This stat is even more remarkable given that the overall annual advertising budget for dealers actually shrank by over $8,000. Which media segments lost ground with this new advertising mix?
The biggest hit was to television, which lost a whopping $55,330 in annual advertising spend, over 9 full percentage points. Radio was next, with $32,577 in lost annual revenue per dealership, or nearly 5 ½ percentage points. Newspapers, who have already lost their dominance in the segment, lost an additional $11,579 in annual advertising spend for dealers, which is nearly 2 percentage points.
This shift in spending has been needed over the years in order to make sure dealer advertising spending more closely aligns with consumer time spent in media, and now the numbers are starting to line up.
The message here, as traditional advertising spending continues to shrink and dealers are spending increasing amounts on digital marketing, is that they need to inspect these investments.
Dealerships should closely monitor and compare key success metrics for third-party classified sites and measure what they are paying for. Dealers also need to inspect paid search, social and other traffic-driving campaigns to their website using Google Analytics, to hold agencies accountable for results.